Zoe Kravitz Admits She Didn't Identify With Black Culture & Lost "Batman" Role Because Of Race
Jul 10 | by _YBF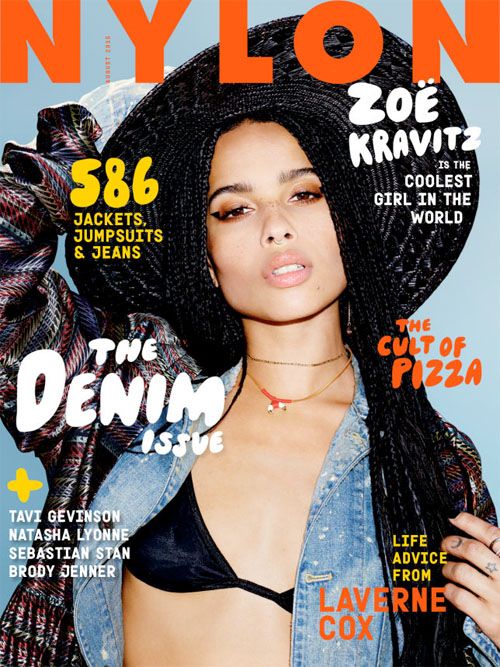 Zoe Kravitz gets candid about her privileged life growing up with two famous parents rocker Lenny Kravitz and actress Lisa Bonet. While she seems more in touch with her "ethnic" side nowadays, back then, she says she didn't identify with black culture...at all. Find out what she said inside….
Imagine growing up and your father is one of the most famous rockers of our time and your mom starred on a show that totally changed the way black people were viewed on television. Well…that was the life of actress/singer Zoe Kravitz, daughter to rock legend Lenny Kravitz and actress Lisa Bonet.
Growing up as one of the few brown faces (she's black and both her mother & father are half Jewish) at her predominately white school, the DOPE actress says she totally identified with white culture and was oblivious to black culture. In the cover story for NYLON magazine, she revealed she would tell always tell her white friends "I'm just as white as y'all," in hopes of fitting in.
She explained,
"I didn't identify with black culture, like, I didn't like Tyler Perry movies, and I wasn't into hip-hop music. I liked Neil Young."
Um, ok.
But as she got older, the young starlet realized there was more to black culture than Madea and what plays on Hot 97. She said,
"Black culture is so much deeper than that," she says, "but unfortunately that is what's fed through the media. That's what people see. That's what I saw. But then I got older and listened to A Tribe Called Quest and watched films with Sidney Poitier, and heard Billie Holiday and Nina Simone. I had to un-brainwash myself. It's my mission, especially as an actress."
Seeing that her mother lived out her teens and early 20's on uplifiting, hit black tv shows, it's interesting that black culture wasn't explained more depth.
Growing up, although she lived a privileged lifestyle, she said her father did his best to keep her grounded. He would make her do chores and often encouraged her to finish all of her food because there are kids across the world starving from hunger.
She tells a funny story of how she clapped back at her pops when he threw that line at her one time during dinner saying,
"I knew we were very lucky, and my dad raised me in an old-school way. His mom was from the Bahamas, and it was about manners and making the bed. It's that old black shit, really—like, you get smacked if you talk the wrong way. It was about having respect for your elders and being thankful for what we had. He wanted to make sure I had chores, and not because we didn't have a housekeeper, but because of the principle of the thing." Of course, like any child, she tested the waters: "When I was about 11, my dad was trying to make me finish my dinner, but I didn't want any more. He said, 'There are starving kids in Africa.' So I took an envelope and put potatoes in it and was like, 'Send it to them.' He was like, 'You go upstairs right now!' I was dead." By this time, she'd already come to realize that her family was different.
Ha!
Nowadays, it appears the Insurgent star has fully embraced both cultures that make her unique. But being half-black and half Jewish in Hollywood has come with a few obstacles. Obviously, race being one them. She recalls a time she couldn't audition for a role in a major film because of her race, sharing,
"In the last Batman movie [The Dark Knight Rises], they told me that I couldn't get an audition for a small role they were casting because they weren't 'going urban,'" she says. "It was like, 'What does that have to do with anything?' I have to play the role like, 'Yo, what's up, Batman? What's going on wit chu?'"
While that was a downer, her talents have caused some producers to change up a role to fit her ethnic background.
On the other hand, there were certain films she never thought she'd land, like 2007's The Brave One, in which she appeared alongside Jodie Foster. "That part was written for a white Russian girl," says Kravitz. "I auditioned, and they changed the role for me."
Sweet.
Switching gears, the Mad Max:Fury Road star dished a bit on her personal life. While she has been linked to sexy actor Chris Pine and (recently extra sexy) Drake, she says she's single right now, but would eventually want to settle down and start a family.
She talks about the Chris Pine (a former flame from back in the day) dating rumors saying, "Chris is like my brother. People will continue to think we're dating because we will continue to hang out. We met through mutual friends years ago, and we just became like bros."
Ok girl....
As for Drizzy, she admits there was "flirtatious moment" but apparently, the reality of who she really is was different from the fantasy of whom he thought she was. She did say they are "really good friends who respect each other and have a very similar sense of humor."
Well that's that.
You can check out the rest of her interview here.
Below are a few extra hot shots from her spread: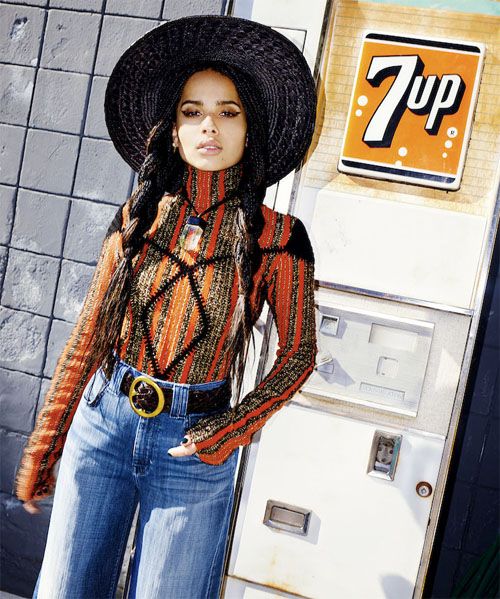 Gorge!
Photos: Bella Howard/NYLON