SHADY TEENS: Amandla Stenberg Reads Kylie Jenner For Filth About Her Cornrows, Kylie Drags Jaden Smith Into The Drama
​
Jul 12 | by Natasha
​ ​ ​ ​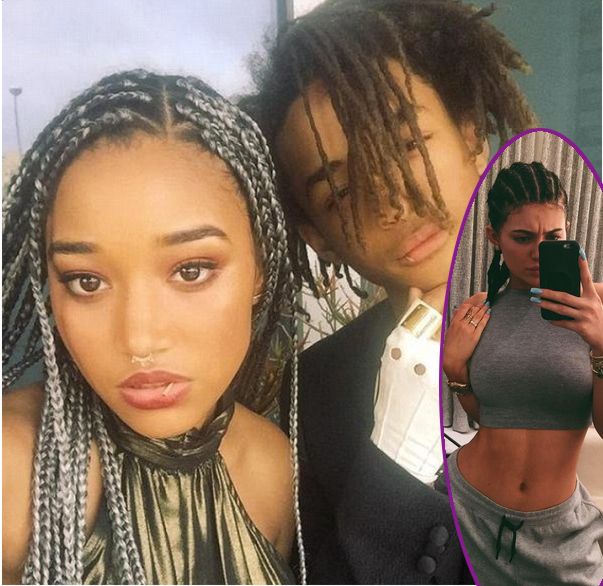 Our new fave YBF teen isn't here for Kylie Jenner's culture vulture ish. See inside how Hunger Games star Amandla Stenberg read Kylie Jenner for filth about her new conrows, and Kylie trying to clap back...
When Kylie Jenner posted up a pic of her hair in cornrows, Amandla Stenberg went on her page and left a comment to school her on cultural appropriation.
Amandla, the 17-year-old who plays "Rue" in the huge box office hit film, is no stranger to schooling people on the concept. Back in April, she posted one of her high school projects to her Tumblr account explaining cultural appropriation in depth....and it went viral. She was only 16 at the time.
Now, fast forward to several hours ago when Amandla caught wind of Kylie Jenner's recent Instagram post where the reality star is flossing in some cornrows. We all know Kylie loves to mimic natural features of black women, and she is completely oblivious to why her imitation -- that she often pays for -- is problematic. It doesn't help that she receives praise for the very features and cultural adaptations that black women themselves get berated for.
Well, Amandla gave Kylie quite the reading. She did so while simultnaeasuly hijacking the trending hashtag #whitegirlsdoitbetter. Genius. Check out the comment she left on Kylie's IG post below: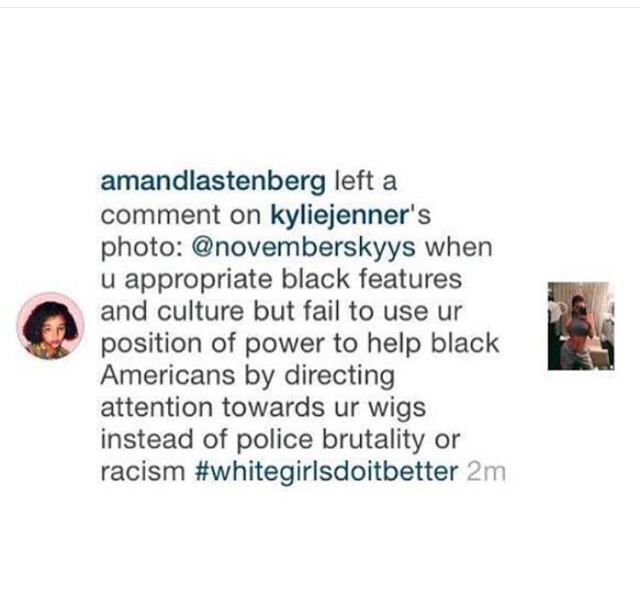 Bloop.
Kylie wrote back, "Mad if I do...Mad if I don't. Why don't you go be w Jaden or something."
Yes, homegirl dragged Jaden Smith into this foolery. If you recall, before she spent every waking minute with Tyga, Kylie spent most of her time glued at the hip to Jaden. She denied anything was going on between them, but we all know how much credibility her denials hold.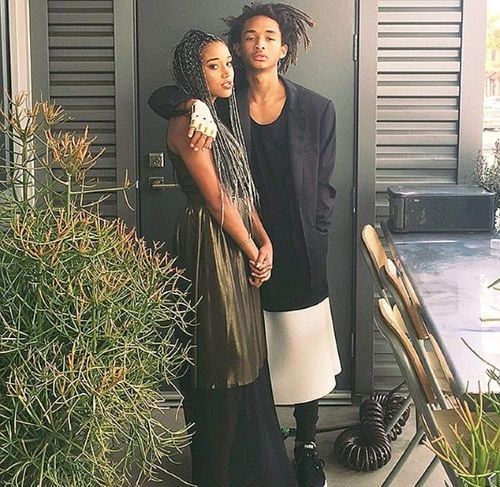 Meanwhile, Amandla and Jaden hang out often, and Jaden even took her to her prom this past May.
Keep speaking up Amandla...
Photos: Amandla's IG/Kylie's IG
​ ​
​ ​ ​