Official 'Suicide Squad' Trailer Gets Released…And It's Everything You Hoped For + Brandy Brings The Laughs While Singing Incognito On NYC Subway
​
Jul 13 | by _YBF
​ ​ ​ ​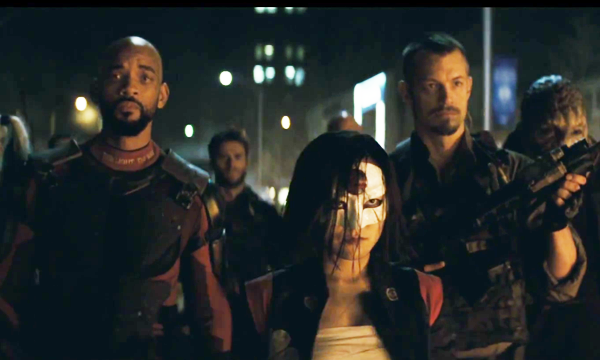 Catch the very first look at Will Smith, Viola Davis and more in the upcoming action thriller Suicide Squad. And in another clip, check out Brandy hilariously earning her NYC stripes on the subway inside….
If you're a comic book fan, get uber excited.
Comic-Con just released the official trailer of the upcoming DC Comics action thriller Suicide Squad, starring FOCUS star Will Smith (who stars as imprisoned super-villain Deadshot), "How To Get Away With Murder" actress Viola Davis (who will play head of top secret Project Cadmus Dr. Amanda Blake Waller), Thor: The Dark World star Adewale Akinnuoye-Agbaje (who stars as Killer Croc) and a host of others.
An unofficial trailer was leaked after a presentation at the 2015 San Diego Comic-Con, which made its rounds on the "Innanets." So Warner Bros. decided to release the official trailer early…much to our delight.
Sucide Squad, directed David Ayer, will follow a secret government agency who recruits imprisoned supervillains to execute dangerous black ops missions in exchange for clemency, according to IMDB. The rest of the cast includes Jared Leto, Joel Kinnaman, Jay Hernandez, Jai Courtney, Adam Beach, Jim Parrack, Ike Barinholtz, Cara Delevingne, Margot Robbie and Karen Fukuhara.
The film is expected to hit theaters August 5, 2016. We are SO here for it. In the meantime, check out the first look below:
Who's excited?
In another new video...
Brandy is really working on becoming a true New Yorker during her stint as Roxie Hart in the Broadway musical "Chicago." She has rode the bus, hung out in Central Park and experienced Times Square. Now, she's tackling the infamous subway.
The R&B songstress got dressed in disguise and hopped on a subway in NYC. Once on the train, she begins singing her heart out in front of unsuspecting passengers. And their reactions are hilarious. She wrote about her experience on her personal blog sharing,
Recently, Frank Silent and I took a little subway ride after I'd left the gym. Frank, his camera, and I always equal a good time.

I decided to hit the subway and sing my little heart out. You've GOTTA check out this video and see why this fun-filled morning left me asking: Can a Sistah get ONE fan?!
Ha! Check it above.

​ ​
​ ​ ​