BABY I'M BEGGING: Tyrese DESPERATELY Wants His Woman Back—CLAIMS He Wrote 'Black Rose' For Her & Hates Coming Home To An Empty House!
Jul 17 | by _YBF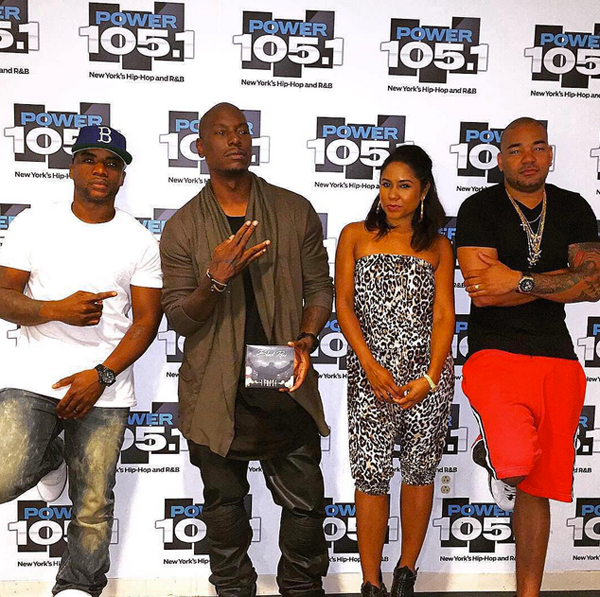 As Tyrese's new studio album Black Rose climbs the charts, the R&B crooner reveals he wrote the entire album for his ex. And he desperately wants her back! More inside…
Tyrese has been on the promo trail something heavy for his newest album Black Rose. If you follow his Instagram, postings, you see he's been doing a lot of grassroots marketing to promote his new LP, including singing on the bus and shooting mini videos with homeless people.
On his quest for a No. 1 album (which is currently #1 in twelve countries), he has also been heavily participating in conventional forms of advertising, hosting meet and greets and doing interviews for radio and TV. So this morning, he stopped by Power 105's The Breakfast Club to chop it up with the radio hosts about his sixth studio album, dubbing it his final LP.
While chopping it up with the Breakfast Club hosts, he made it crystal clear this album (which by the way is independent) was written for the woman he spent the last five years in a relationship with, much like Robin Thicke did with his Paula LP to try and save his marriage with his now ex-wife Paula Patton. (Let's hope, for Tyrese's sake, he's more successful than Robin).
According to Ty, Black Rose will be his last album due to a judge granting him more custody with his daughter Shayla Gibson. He said he can't be out in these streets weeks at a time after asking a judge to grant him more time with his daughter, so he decided to put fatherhood first and solely focus on continuing to build his special bond with his daughter.
So what inspired Ty to release a new R&B album? He revealed he was in a relationship for over five years where he "effed" it up. He said he did some things he's ashamed of and now he's hoping to make it right.
While talking about his new single "Shame" (which features Jennifer Hudson), he talked about how his personal life put him into overdrive in his musical career after his girl decided to leave him (which we assume is over infidelity situations). Break-ups always seem to have that effect. He explained,
"And that's where the inspiration for the song 'Shame' came from. It's a song about being honest, transparent and vulnerable. For it to be No. 2 on Billboard right now, its just confirmation that when you do things from your heart, it affects hearts."
It's clear his break-up has inspired some good music, considering how his album is currently climbing the charts. But apparently, the music charts aren't the only thing he's after. He wants his girl back! And isn't afraid to show it. In fact, he hopes the interviews he's conducting while promoting the album will help him get back good with his main chick. He said,
"My girl been gone for like 10 months. I don't like coming home and my girl ain't there. I don't like it. I been doing interviews to figure out what I can say and do to get my girl back. I'm ashamed." When asked if he wants his girl back he said, "I do!"
Later, he talked about pride and ego being the No. 1 relationship killer. So Ty has seen the light and wants his girl back…by any means necessary. Gotta do what you gotta do.
In the interview, he also talks about racial barriers in the music industry (comparing how urban stations will play artists like Sam Smith & Justin Timberlake, but Pop stations won't play his records), why R&B music is dying, and he talks about working with "Empire" star V. Bozeman through his Voltron label to help complete her debut album. So, we can probably put the dating rumors to rest.
SIDEBAR- Tyrese will be guest starring on the upcoming season of "Empire" (Sept. 23rd).
Check out his full interview below:
EXTRAS:
1. According to multiple reports, the mistress of former NFLer Buster Barnett kidnapped his wife, then reportedly killed her before taking her own life. Absolutely tragic. Story

Photo: Tyrese's IG