DO-GOODERS: Wale, First Lady Michelle Obama & Terrence J Join Forces At The White House To Tell Students "Reach Higher"
​
Jul 23 | by _YBF
​ ​ ​ ​
We love when YBF celebs and our political leaders join forces for the common good. And that's exactly what Wale, First Lady Michelle Obama and Terrence J were up to today at the White House. Find out how they used their star power to encourage kids to go to college inside….
Before we get into what went down at the White House this afternoon, peep Wale's face in the picture above. Priceless!
Ok...here's the scoop...
First Lady Michelle Obama and D.C. native Wale hosted a panel, moderated by E! co-anchor Terrence J, to promote access to higher education at the 2015 Beating the Odds Summit, as part of her "Reach Higher" initiative.
FLOTUS (a Princeton & Harvard Law grad), Wale (who attended Bowie State and Virginia State University before exiting before graduating), TJ (a North Carolina A&T grad), rising Brown University senior Manuel Contreras and Education Secretary Arne Duncan sat on the panel in the East Room of the White House. The crew spoke before 130+ students from urban, rural, foster, homeless and special-needs backgrounds "who have overcome substantial obstacles to persist through high school and make it to college," according to the press release.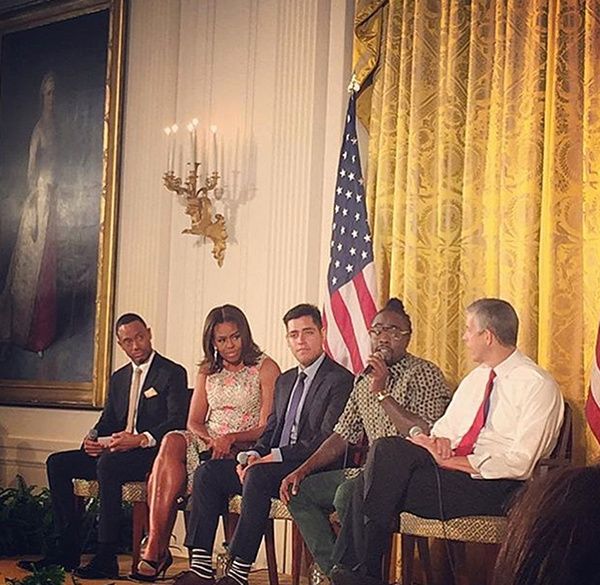 Wale recapped his college experience saying:
"The important thing about college to me -- it gave me -- it allowed me to have more time to figure out what I want to do. I think, honestly, when you're 18, when you graduate, you don't know much about life. You don't know what you want to do. A lot of people going to college, undecided majors and things of that nature. But even a community college, you have time to think about it. You have time to get serious. You have time to learn your independence. You have time to learn how to make "oodles of noodles" at 1:00 in the morning while studying a test for tomorrow. (Laughter.) Like, you learn these life skills that you're going to need."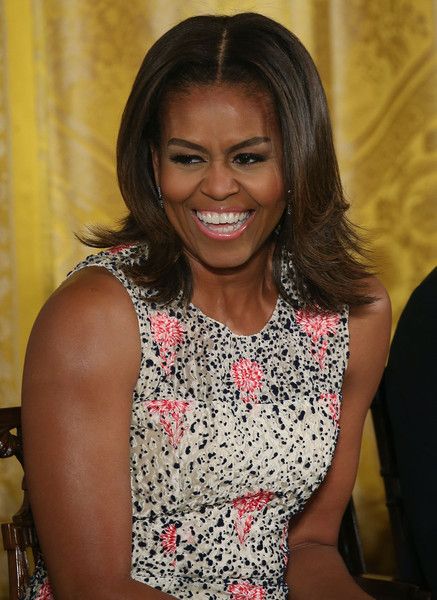 During the all-day event, the future college students were equipped with tools and strategies to help successfully transition from high school to college and were provided resources to help them successfully complete the next level of their education. Sweet!
Our First Lady gave her personal take on the transition saying:
"I went to Whitney Young, which was a top magnet school. But getting there, I'd never used a syllabus before. I'd never been in big lectures before. I'd never lived in a dorm, sharing a bathroom. And many times you're walking down stairs and around the block in the basement to go to the bathroom. That's a little overwhelming, figuring out how to just get in the groove with your schedule. It takes some adjustment, plus feeling like, what am I doing here? Feeling like maybe my counselors were right, that I had reached too high, and I had overstepped my abilities."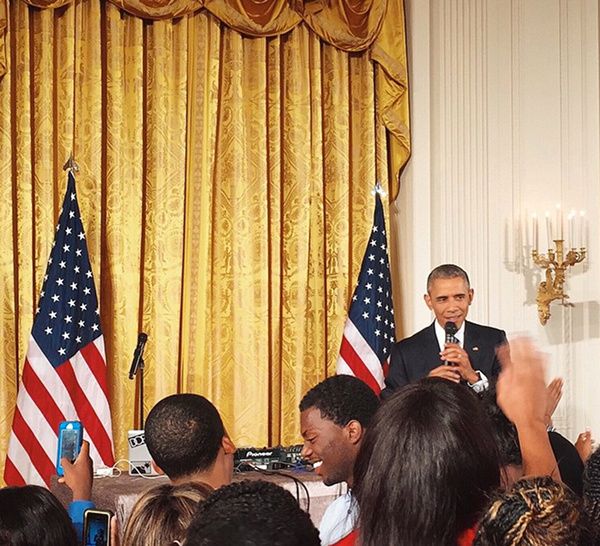 President Barack Obama also came out to chat with the rising college pupils. He ended with his usual swag saying:
I've got to go give the mic back so the main attraction can come back out here. My rapping skills are terrible. That's one thing I can't do is rap. I like rap, but I cannot rap. Although I have enough of a rap that I got Michelle to marry me, though.
Ha!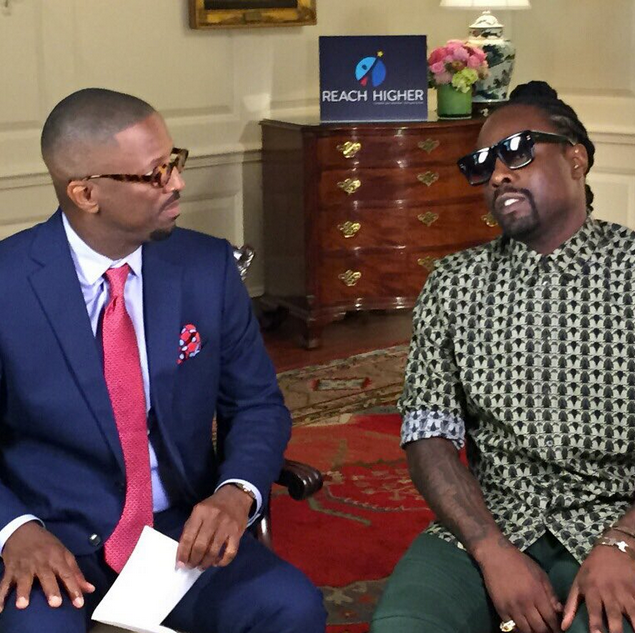 Radio host Rickey Smiley got a chance to chop it up with our gorgeous First Lady and the MMG rapper at the White House.
Fraternity brothers Terrence & Ricky repped for Omega Psi Phi Fraternity, Inc.
Then....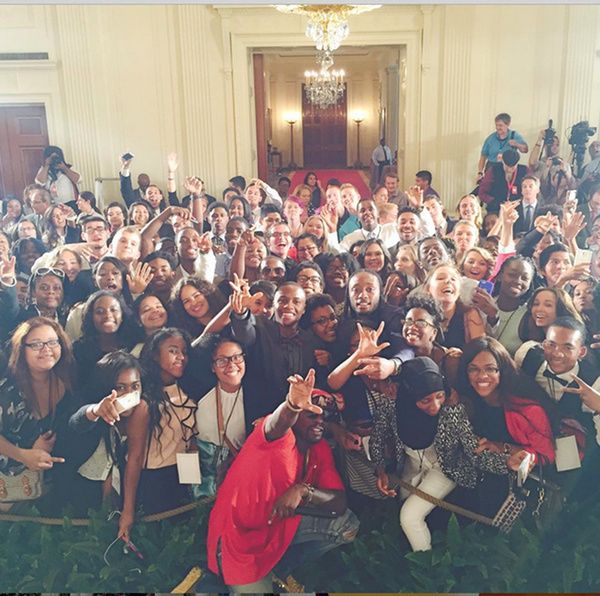 The "Matrimony" rapper hit the stage to perform for the well-deserving students. And to snap a few epic us-ies We're sure they were uber excited about that.
And he made sure to make the most out of his visit to the White House: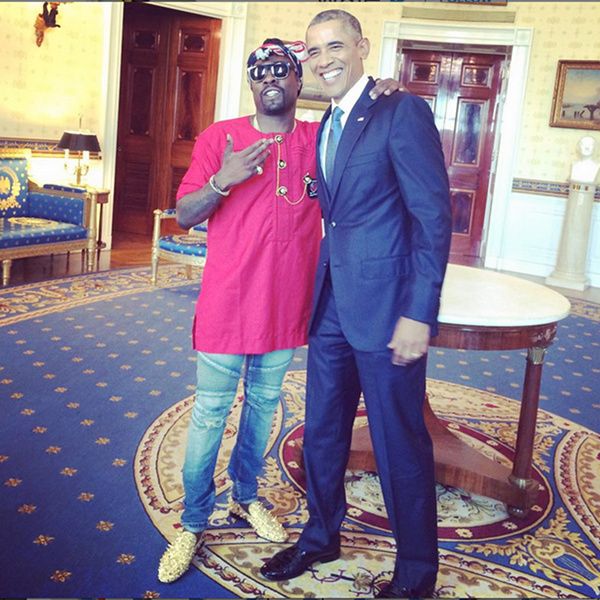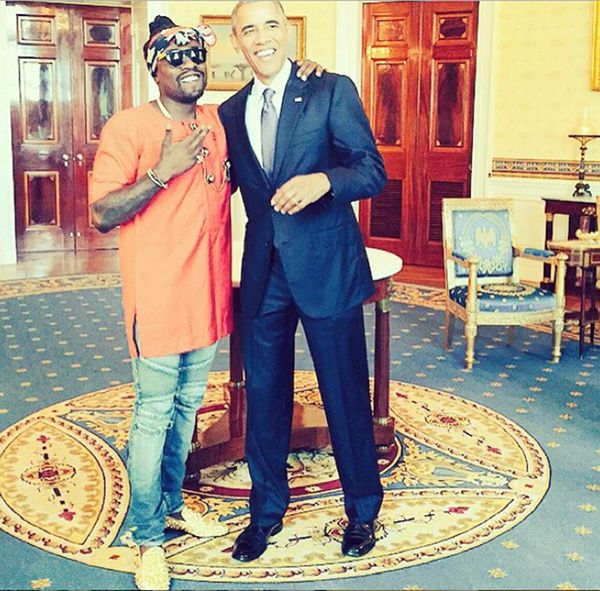 The "Ambition" rapper got the chance to snap it up in the Oval Office with POTUS....
Hit up the basketball court...
And he made his way to the front lawn for a few IG shots. Nice!
Photos: Getty/TJ's IG/Wale's IG/Ricky's IG

​ ​
​ ​ ​