"Bring It" Coach Miss D SHUTS DOWN All Talk About Dancers Leaving The Team!
​
Aug 05 | by _YBF
​ ​ ​ ​
The Miss D we see on the show, is definitely her real life persona. At least that's the vibe we got. TheYBF.com chatted with "Bring It" coach Dianna "Miss D" Williams about all of the behind-the-scenes drama allegedly popping off at the Doll House on the hit Lifetime show. Find out how she reacted to our questions inside...
Dianna "Miss D" Williams leads an energetic hip-hop majorette dance team that stars on the hit LIFETIME docu-series "Bring It." The tough talking yet quite talented coach and "Dancing Dolls" have been wowing viewers for over a year now with their lively dance moves and fun personalities. And we're huge fans.
The "DD4L" crew kicks ass and takes names in pretty much every city they roll into for competitions. Keeping up their reputation will be harder than getting that reputation.
This new season of the show that just kicked off this past Friday (Lifetime is calling this season 2B) is sure to bring many twists and turns, ups and downs and emotional roller coasters, if it's anything like the previous seasons. There are new moms, new dance coaches, Sunjai & Captain Kayla have graduated, and according to Coach D, there is lots of drama!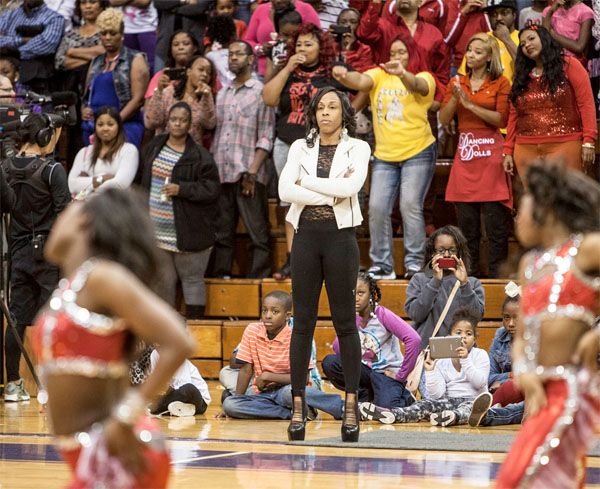 Plenty of said drama has been going at the Doll House (her dance studio) in Jackson, Mississippi. Based on what we gather from Instagram, two members from the Dancing Dolls, Tamia (who was in the running for captain) and Shakayla, are no longer with the team and have joined their rivals the Purple Diamonds! Tamia has been very vocal on social media about what went down and why she was booted off the team.
Below is a snippet of her explaining her side of what went down via Instagram:
There's always 2 sides to every story . You heard their side (which was second hand information). Now here is our side which is 1st hand information . Now you decide!!! Facts:
1. I'm not going to even speak on her [Miss D] husband because he wasn't around to see any of the incidents or fights happen. By all means protect your wife, but speak on things you know and not here say. His accusations and so called (FACTS) are NULL AND VOID‼️ And the answer to your question (why didn't I leave the team if it was so bad?) because I love to dance and we were all supposed to be family. And in fact I don't get paid a dime to be on the show!

2. First fight the coach knew there were a group of women and their daughters outside the Dollhouse in a huddle because she just had a verbal altercation with them. The coach could have prevented the altercation but she was scared of the same people because she was in the middle of the drama herself. Instead of telling these group of women to leave the premises she folded under pressure because she just kicked 2 of the dance members off ; therefore she just let them linger around. When my sister pulled up, they immediately started talking noise to my sister and her 2friends. In the midst of words being exchange all 8 females including parents walked up on my sister and tried to jump her . With 8 people trying to jump my sister all she could've done was protect herself and fight back . Why in gods name would my sister walk up to 8 females by herself ? The fight happened by my sisters car so that lets you know that they walked up on her. After the fight , she gave me the option to either stay inside the factory or go outside to see about my family. Which one option would you have taken ?
3. As far as the gun situation, no one had one. Only 1 person claimed they saw a gun and the coach just ran with that , instead of listening to our side of the story. When this situation happened, she seized the opportunity to demote me!!

4. A particular girl that's 18 trespassed and came to where I live. My mom asked her why she wanted to fight me. She disrespected my mom and called me out my name, but I was on my way to practice and I didn't have time for the drama. Later that the same girl came to the Dollhouse and caught me off guard and tried to fight my mom and I and she brought two other girls with her. I had no control of her coming to the Dollhouse nor was I aware that she was coming up there. I didn't have control over neither fight , but the 1st one could have been avoided if proper actions were taken. The coach nor her husband were outside for either fight.

5. The team voted for me as their captain, so if I brought so much negativity to the Dollhouse and the team , why was I picked as captain ? After all this happened , why did they vote for me to come back ?

6. Why haven't the coach hired any security for the building ? The only time the Dollhouse has security is when the cameras are there. Without having security , she leaves her girls vulnerable to any outside fans or enemy's including herself.
Yikes!
So obviously, we just had to ask Miss D about it all.
TheYBF.com got the chance to chop it up with the fiesty coach recently where we asked her about all of the shocking drama unfolding. Clearly, Coach D wasn't here for the alleged rumors and allegations and made sure we knew it.
"Well I don't think that's really anybody's business," she tells TheYBF.com. "It's no one's business as to what happened with two members of the organization who are no longer affiliated with the team."
Some would say the social media postings made it everyone's business.
When we asked if Tamia and Shakayla would be returning to the upcoming season of "Bring It," she informed us Shakayla was never apart of the battle squad (which means we won't see her on the show), but she never mentioned anything about Tamia. She did say:
"I'm not willing to answer that question, so you can scratch that question because I'm not going to answer that. It's nobody's business."
Well, that's that.
Since we couldn't get that cleared up, we asked who took over as captain of the team since their last captain Kayla graduated. She wasn't budging. She didn't reveal who claimed the title, so we'll just have to watch the new season to find out (even though Tamia hinted that she had the title before she ended up outside of the company).
Dianna dished to us about her own dancing start saying:
"I've been dancing for as long as I can remember. I started dancing at the age of 4 with tap."
Growing up watching icons like Janet Jackson and Tina Turner is what inspired her to start her dance team. She revealed to us that it has been hard to keep up with the trending dance styles (referencing the Whip/Nae Nae), but sticking true to who she is is what has keeps her team successful.
Nice!

"Bring It" airs Fridays at 9/8c on LIFETIME.
Check out the summer premiere trailer below:
Photos: LIFETIME
​ ​
​ ​ ​