Wait…Did Shaunie O'Neal FIRE Brandi Maxiell In The Midst Of A HEATED Argument?! + Brandi's SHADEFUL Response
​
Oct 05 | by _YBF
​ ​ ​ ​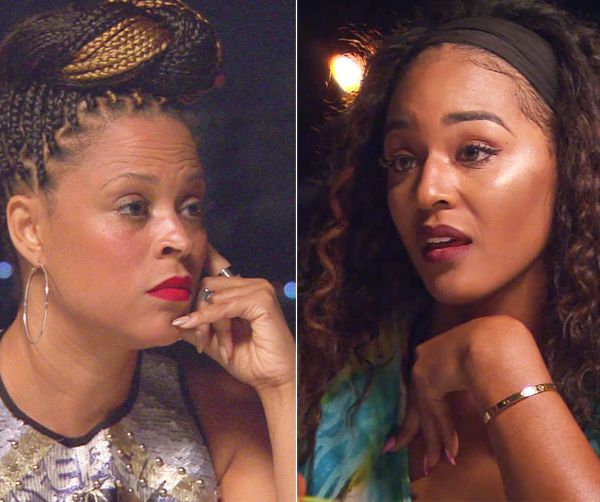 -Ish hit the fan on last night's episode of "Basketball Wives: L.A." during an intense argument between BBW honcho Shaunie O'Neal and L.A. co-star Brandi Maxiell. Brandi took it as far as calling Shaunie a B*TCH and all hell broke loose after that. Did Brandi get fired? Peep the heated clip and find out inside….
The ladies on "Basketball Wives: L.A." went from 0 to 100….real quick during last night's episode.
The BBW ladies jetted off to Puerto Rico for a "bonding" type trip (orchestrated by Shaunie) where BBW OG Tami Roman could get better acquainted with the new "circle" of "friends" and for the ladies to have some fun in the sun.
Well…on their last day in Puerto Rico, the ladies decided to have a group dinner to close out their girls' getaway. Tensions were already high after Brandi Maxiell got into it with Tami after she assumed Tami and Shaunie were laughing at her and her bestie Malaysia Pargo. And before that, newbie co-star Mehgan James broke bad on Draya's bestie Angel while they were hanging out on the beach.
Back to the dinner…
Brandi obviously had enough of Shaunie's "boogie," condescending ways, so she confronted her about how she belittles the L.A. cast during dinner. And that's how it all started. Shaunie barked back with some nice-nasty shade, telling Brandi, "If you want to keep it real, Brandi, I technically brought you to this group."
After some more back and forth, Brandi finally reached her boiling point and called Shaunie a B*TCH. Yes, chile…she tried it. Shaunie politely responded, "Thank you for your services," and Brandi was dismissed! Did she FIRE Brandi? Or did she just "dismiss" her from the table?
Decide for yourself below:
Sheesh!
Well...soon after the show aired, Brandi took to her Twitter account in her own defense. She's basically not backing down over her issue with Shaunie and feels if Shaunie (or whoever else) can say anything they want, then she's going to do the same. Oh..and get this. About that firing? Yea, it seems Brandi may NOT be fired from the show after all. Let her tell it, if Shaunie had the power she portrays to have, then a lot of the other ladies from the BBW franchise would have been axed from the show. Bloop!
Peep her tweets:
If someone can talk about my character and say what they want then I should be able to as well.

— Brandi Maxiell (@BrandiMaxiell) October 5, 2015
So don't talk down on me I won't do it to you. Fair is fair.

— Brandi Maxiell (@BrandiMaxiell) October 5, 2015
Condescending.

— Brandi Maxiell (@BrandiMaxiell) October 5, 2015
I don't care. No one is going to insult me. I don't WORK FOR NO ONE.

— Brandi Maxiell (@BrandiMaxiell) October 5, 2015
No shade...BUT if someone had so much power I'm pretty sure you wouldn't have seen a couple ladies on our Franchise.

— Brandi Maxiell (@BrandiMaxiell) October 5, 2015
Guess we will see if Brandi has been terminated on the upcoming reunion special. Who's watching?
Photos: VH1
​ ​
​ ​ ​