#AssaultAtSpringValleyHigh: Officer Ben Fields Fired, Has Been Sued Twice Before - Now The FBI & Justice Dept. Are Involved!
​
Oct 28 | by _YBF
​ ​ ​ ​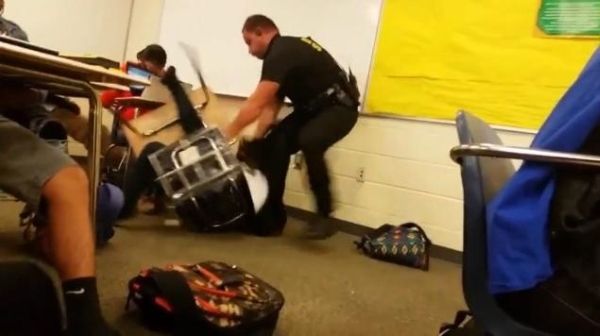 We've got some breaking news about the Spring Valley High assault, where a police officer violently reprimanded a Black female teenager. Find out the latest about the officer and the students involved inside....
By now....you've seen the video below. On Monday, at Spring Valley High in South Carolina, an officer named Ben Fields was filmed flipping and tossing a Black female student across the room after she ignored his orders to get up and leave the classroom.
According to news reports, it all started when the young lady in question was caught texting during class. She allegedly disobeyed the teacher who asked her to put her phone away. According to Lt. Curtis Wilson, a spokesman for the Richland County Sheriff's Department, she also ignored the instructor when the instructor asked her "to leave the class several times."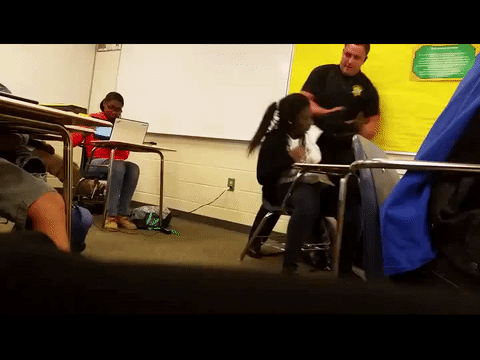 Lt. Wilson, (in a statement sent to CNN) says, "The assistant principal was there as well. Then the officer was called to actually have the student removed from that location. The student refused."
It's unclear why the Principal was not called in, or parents called, or any other measure (is detention no longer an option in schools?) taken before calling a cop in to handle a cell phone situation.
It's also unclear how or why the situation escalated to the video above. It's disturbing to know a cop, who goes into schools often, isn't skilled enough to DE-escalate a situation and deal with minors without harming them.
We're not convinced there's any reason possible that would justify that action inside of a classroom from a police officer.
Once the cop arrived, that's when the confrontation started.
Now that the video went viral, Officer Ben Fields has been fired from his job. The announcement was made Wednesday morning by Richland County Sheriff Leon Lott after an internal investigation. At a news conference, he said,
"From the very beginning that's what's caused me to be upset, and continued to upset me is that he picked the student up and threw the student across the room."
Lott then said this foolishness with his "defense" during Tuesday's press conference. The NY Daily News reports:
"Deputy Ben Fields has been dating an African-American woman for "quite some time," Richard County Sheriff Leon Lott said.

"Would that have a bearing on his thought process?" Lott mused. "It may have, but I would think that would have effected it in a positive way, not a negative way."
Sigh.
Here's more background on Ben Fields:
-He can squat 940 pounds and bench press at least 600 pounds


-Thanks to his aggressive behavior and reputation, students at the school called him "The Incredible Hulk."


-Spring Valley Principal Karen Beaman gave Fields the Culture of Excellence Award in 2014 for being an "exceptional role model to the students he serves and protects."


-He is ALREADY involved in a lawsuit. A former Spring Valley student accused him of harboring a racial bias. That student is suing him for targeting black students.


-In ANOTHER lawsuit, he is accused of roughing up Army veteran, Carlos Martin, and his wife, Tashiana, during a 2005 arrest, three years before the sheriff's office assigned him to patrol Spring Valley. He is accused of throwing Tashiana against a car and then kneeing her husband, Carlos.
The young woman in the video (whose name has been withheld) was released to her parents after the incident and faces a charge of disturbing schools.
Another female student, Niya Kenny, faces the same charge after allegedly standing up for the other teenager, this according to her mother, Doris Ballard, who explained told her story to CNN. According to the incident report, the second student yelled and cursed at the officer.
Niya has since been arrested after filming the incident and standing up for the student in question during the altercation. She told WLTX news:
"I know this girl don't got nobody and I couldn't believe this was happening," Kenny explained. "I had never seen nothing like that in my life, a man use that much force on a little girl. A big man, like 300 pounds of full muscle. I was like 'no way, no way.' You can't do nothing like that to a little girl. I'm talking about she's like 5'6"."
Watch Niya Kenny do an interview with the local news below:
We've also learned the both the FBI and the Department of Justice are now involved. A Department of Justice spokeswoman said in a statement,
"The Columbia FBI Field Office, the Civil Rights Division, and the U.S. Attorney's Office for the District of South Carolina have opened a civil rights investigation into the circumstances surrounding the arrest of a student at Spring Valley High School. The FBI will collect all available facts and evidence in order to determine whether a federal law was violated. As this is an ongoing investigation, per Department of Justice policy we are unable to comment further at this time."
Online, many high profile names have spoken out against the assault: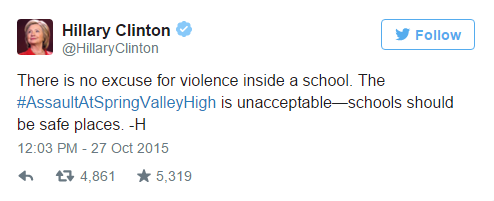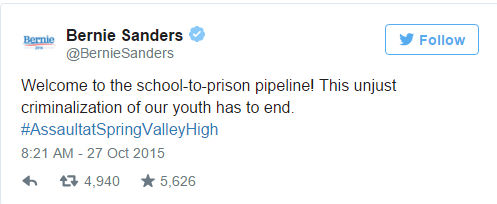 We'll keep you updated as the story develops.......
​ ​
​ ​ ​