TEACHING HIM A LESSON: Kordell Stewart Files Lawsuit Over Gay Accusations, Says Andrew Caldwell LIED To Promote A Reality Show!
​
Oct 29 | by _YBF
​ ​ ​ ​
Retired NFL player Kordell Stewart filed has lawsuit against Andrew Caldwell because he lied about them having a sexual relationship. We'll break it all down inside....
The day Kordell Stewart retired from the NFL, we suspect he planned to live a life of leisure while raising his son. Unfortunately, those folks in Atlanta haven't let him have a moment of rest.
First, he messed around and married Porsha Williams, which introduced him to a new generation of internet trolls, haters and fame-seekers. You would have thought after he divorced Porsha, he could fade back into obscurity....but no! Andrew Caldwell wasn't gonna let that happen.....he's got a reality show to promote.
A few weeks ago, internet sensation Andrew made headlines across the nation after he gave a radio interview about his "alleged" sexual relationship with Kordell. The interview went viral and garnered Andrew what he craves....attention. However, he backtracked a few days later, admitting that he lied. But the damage was done.
We're not sure how much damage was done, but Kordell and his legal team have definitely put a price tag on his pain, according to the Atlanta-Journal Constitution.
Kordell filed suit in DeKalb County Superior Court this week, accusing Andrew only promoting false and defamatory allegations that harmed his reputation and image. But Andrew isn't the only defendant, Kordel is also suing Jarrius Keyun Moon and Catalyst Next LLC, which controls the Internet morning show "The ShakeUP."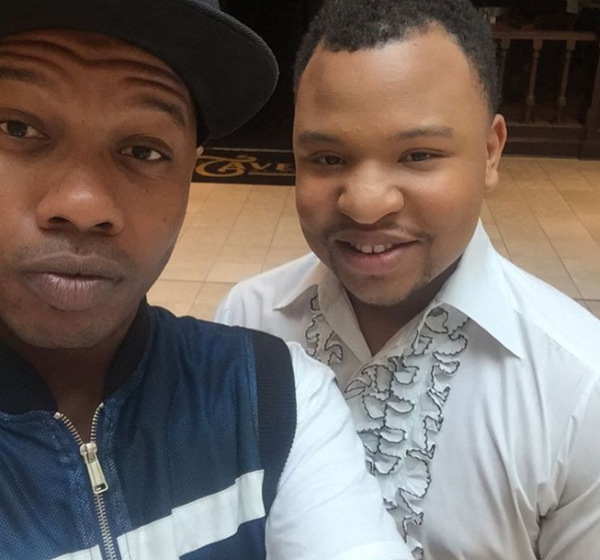 We're sure you're wondering who Jarrius is......catch this tea. Jarrius is a reality tv producer and he's launching a show called "The Gospel Truth" starring....you guessed it.....Andrew Caldwell (both shown above).
In his lawsuit, Kordell asserts that Andrew and Jarrius got together and concocted the "lie" to serve as a PR spring board for their upcoming show. SHADE!
A portion of the suit states,
"Although they are well aware that Mr. Caldwell has admitted that he lied on 'The ShakeUP,' Defendant Catalyst Next continues to proudly share and broadcast the Interview on their website online…although they know that the statements concerning Mr. Stewart are false. As a result of the Defendants' continuous intentional and malicious conduct, Mr. Stewart has been subject to public embarrassment and ridicule as the statements have operated to impair his career, damage his reputation and cause acute anguish to him and his family."
TMZ Sports reached out to Andrew about the lawsuit and he was cocky and unapologetic. He told them, "It's true, I never dated Kordell. But I'm not worried about the lawsuit. If Kordell wants money, he has money. I don't owe him a dime."
In spite of the cockiness, Andrew did admit to TMZ that he was dead wrong for what he did. "[What I said] did damage Kordell. He has a son. For his son to think, 'Is my dad gay?' That is damaging."
We've got one last bit. Hold on to your chair. Andrew says he might file a lawsuit against Kordell, because he was very "negative" towards him while denying the accusations. "I may go after Kordell. Yes, I hurt his name, but he also hurt mine." #isheserious
We will keep you posted about the lawsuit developments as they occur.....
Extras:
1. "The Real" was just renewed for two more seasons! STORY

Photos via Kordell's IG/Jarrius Moon IG
​ ​
​ ​ ​