August Alsina Opens Up About His CRAZY Family DRAMA, Suicidal Thoughts & Chris Brown Suggesting Therapy + August's Mom RESPONDS On Social Media
​
Nov 05 | by _YBF
​ ​ ​ ​
August Alsina sat down with "The Breakfast Club" for a very candid, and quite emotional, interview about his family drama, having suicidal thoughts and dealing with depression, why he groped a woman on stage during a performance, Chris Brown suggesting therapy and more. Highlights inside…
Singer August Alsina is giving a inside look at what life is like for him these days. If you've been keeping up with the New Orleans native, you know he's been making headlines for things like groping up a fan onstage during a performance, his eye surgery and his family drama. Yes, dude has been going through it.
Through it all, he's making a return to the music scene with his upcoming sophomore album This Thing Called Life, and it's scheduled to drop December 11th.
To promote his new LP, the 23-year-old singer sat down with Power 105's "The Breakfast Club" this AM to chop it up about a number of things...and he held nothing back.
The conversation turns dark (and quite deep) when he reveals he's had suicidal thoughts and is dealing with major depression. (He even painted the walls in his room black).
August also reveals Breezy once suggested he get therapy. Oh..and yes he's rocking his real hair. #NoShade to Fetty Wap.
From that text message from his cousin blaming him for killing his brother, to his multiple surgeries, to his severely strained relationship with his mom…he lets us all the way in. Check the highlights below: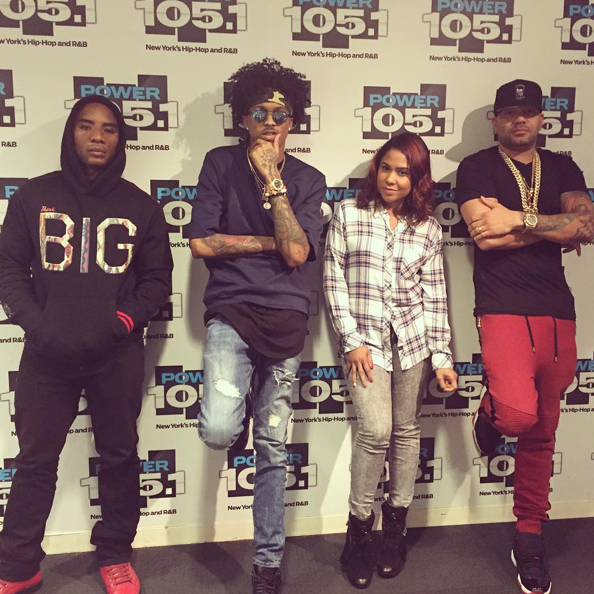 On his female cousin popping off on him in a text and accusing him of killing his brother:
"I posted that to put other people on game to see how it is out here. That's not a he that's a SHE. Everybody feel like I should do this and do that for them and they are just angry. I can't do nothing about that. The people that's suppose to be here for you, I don't have that aspect in my life. It's ROUGH when your own people can talk to you like that."

On his cousin saying she was going to expose him:
"All that sh*t about exposing me or whatever. It's nothing you can tell the world about me because they already know. I live my truth so that you can't use that sh*t against me. This fame sh*t has my family going a whole different f*cked up direction. What they don't understand, ain't no coming from that sh*t. The same person texted me back after that message like 'Oh, we family, we not suppose to hold grudges against each other. And I still love you.' Man, f*ck you b*tch. I can't f*ck with you."

On not having family:
"To be honest, I don't have no family. I'm my family. It's just me. I have my brother, but he figuring his life out. I got my nieces, that's my family."

On his strained relationship with his mom:
"My mom is a queen for one reason, she gave me life and she raised me. I can never take that away from my mom. We all have issues."

"My mom is my mom. I don't expect people to really understand the situation with my mom and her kids. Sometimes we go years, months without talking to her. I applaud my mom for doing all that she has done for us as a parent, but I think that sometimes the mother side gets pushed to the side. I just imagine me having a kid and my kid being an artist and in a song my child sings 'I try to buy my mama love she don't appreciate me.' My reaction isn't to go online to explain myself to the world. My reaction is…let me see what's wrong with my child because I'm the parent and you're the child. I feel like a regular person to my mom, not her son."

On having suicidal thoughts:
"I have thoughts about that sh*t. I just remember being super, overly depressed. Not knowing how to deal with the sh*t. Not having a mother to talk to, my father is dead. I don't have anyone out here to teach me sh*t. I'm doing all this on my own. I went through so many surgeries, my mama didn't even check on a n*gga. I'm damn near dead and losing my vision and you don't check on your kid? It teached me when I have a child is when I'll have a family. That's why I put "Song Cry" out. This is my truth. People can take that as depressing or looking for attention, but I'm just giving you my reality. Everybody else is out here living this fantasy world."
On if he still feels like he wants to kill himself:
"[Pause] Hmm..I don't know man. I'm just kind of all over the place. I'm not just out here moping and depressed. We alive. We breathing."

On talking to Chris Brown about getting therapy:
"I was talking to Chris about it one time. I sat down and did that [therapy] before, it's just not my thing. I'm not into it. I help myself over time. It just take me a longer time to go through it and figure it out."
On groping a woman's breast on stage in Baton Rouge:
"It was the part where I call a lady on stage. To be honest, when I saw the video I didn't even know, I had no idea that was even happening. I grabbed her titty. She had this sequin dress on and I couldn't even feel. I talked to her because that's what media do…make you out to be a monster. She was actually more upset for me because she was a real fan. Don't try to corrupt my fans. Do I look like a n*gga who pressed to grab a titty? That moment was very innocent."

On always being sick:
"I'm just a sickly man and I just have to accept that sh*t. I'm good. I been taking care of myself better than before. Not only that, I'm in a better place spiritually and mentally. The last surgery I had was on my sinuses. I basically couldn't breathe out one side of my nose, so they had to break it."

"I feel nothing. I don't feel anything. It's just whatever with me at this point. I done been through so much sh*t I just have to play the cards how they come."

On if he was sickly before getting into the industry:
"The industry just amplified it. The industry put my sickness on steroids."

On doing drugs:
"Let me be clear, I don't do coke. I don't snort cocaine."

On This Thing Called Life album trailer:
"At the end of the day I think that's when we do the most of our thinking. That's when my mind races the most. I just wanted to put that reality on wax because I think a lot of people hide from that sh*t. A lot of people are just living a lie and want to make it look good to the world. I'm teaching myself everything!"
We really hope he finds the help and love he's looking for. Check out his full interview below:
Peep the album trailer below:
This Thing Called Life drops December 11th.
After August's interview aired....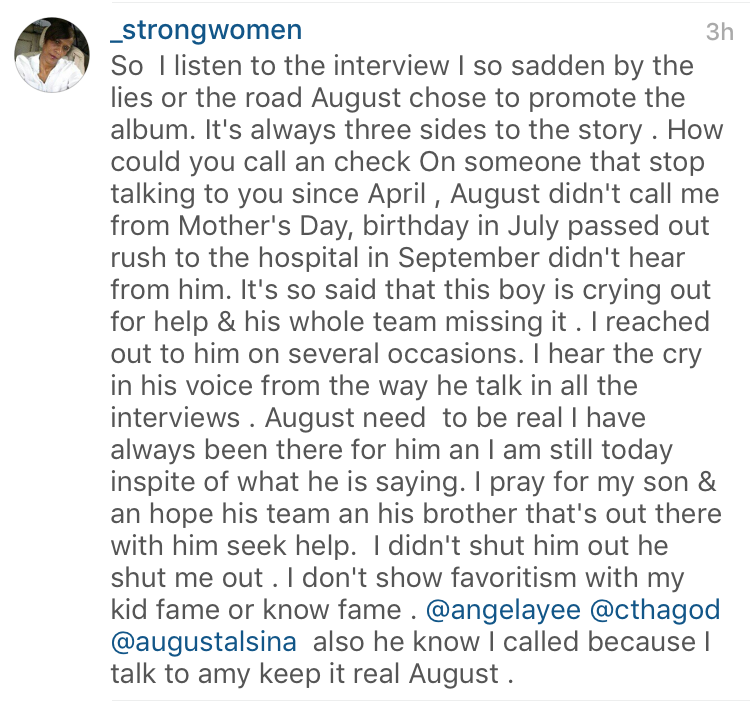 His mom Sheila Blair hopped in the comments on radio host Angela Yee's IG page to tell her side of the story explaining she has always been there for him and that he's the one not speaking to her. Check it above.
Then on her IG account, she responded to a concerned follower saying: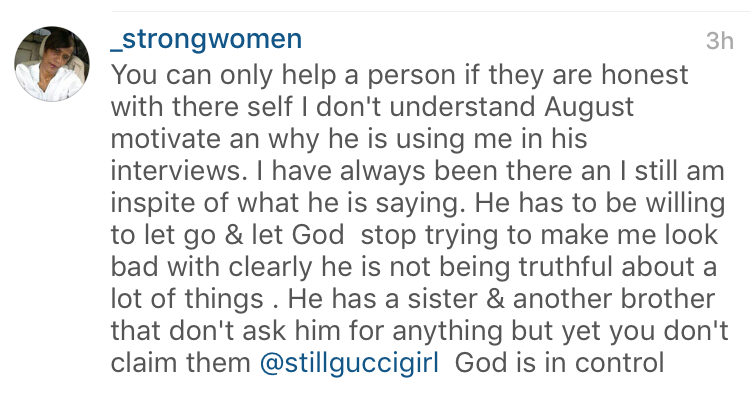 And about a week ago she posted...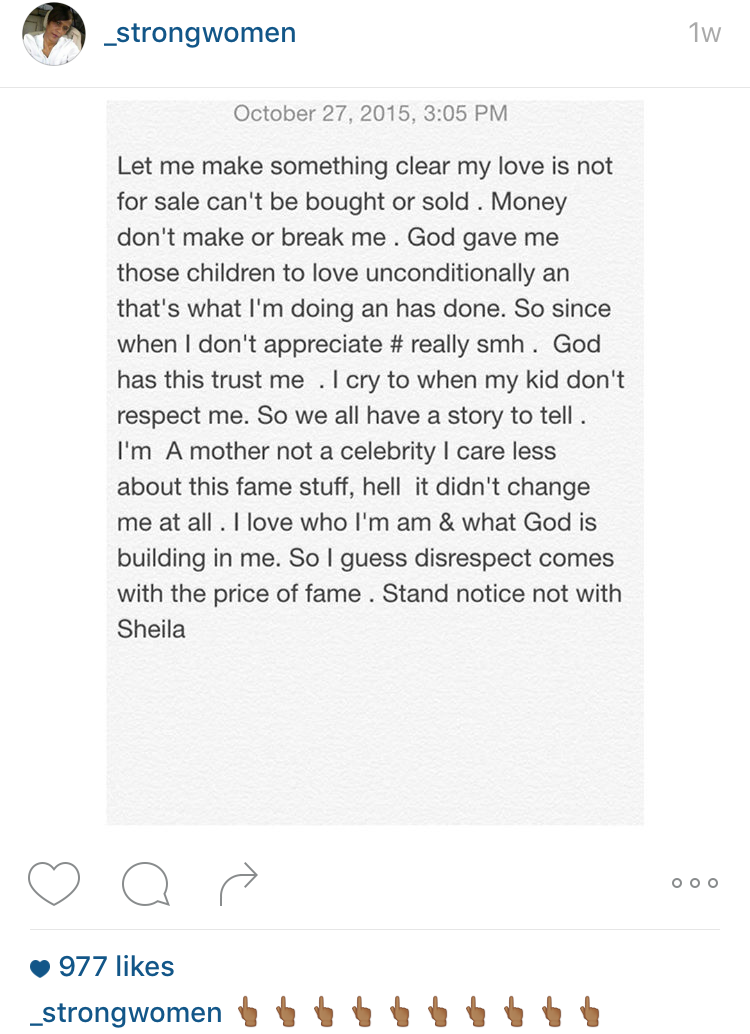 Sounds like this mother and son need to sit down and have a one-on-one conversation to work out their issues.
Photo: DJ Envy's IG/Angela Yee's IG

​ ​
​ ​ ​