Meek Mill Faces Jail Time After Judge Rules He VIOLATED Probation + Chris Brown DEFENDS Meek In Twitter Rant + "Little More (Royalty)" Video
Dec 18 | by _YBF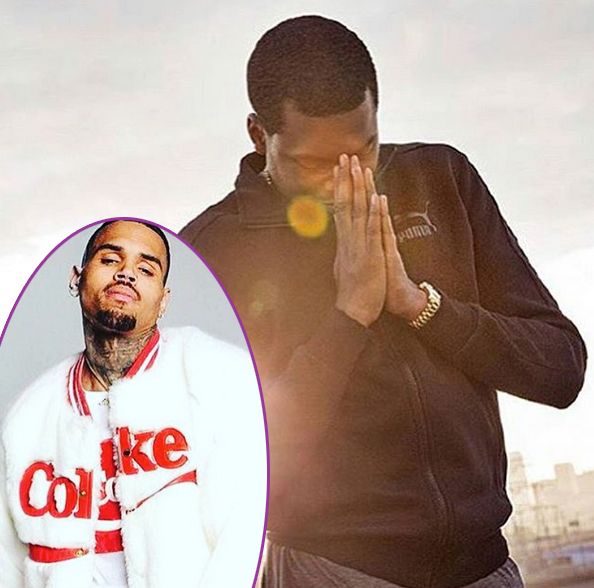 Meek Mill went before a judge again yesterday pleading for leniency, but the judge is fed up and ruled he violated his probation. Soon after the news broke, Chris Brown hopped on social media to defend him. Get the deets from the courtroom, find out what Breezy said and check out his new video for "Little More (Royalty)" inside…
Meek Mill had his day in court yesterday with his girlfriend Nicki Minaj by his side, but the ruling will definitely put a damper on his holiday plans.
Common Pleas Judge Genece Brinkley ruled the Philly rapper violated his probation terms from a 2007 arrest. So, he has to stay within a 5 county radius in Philadelphia until his sentencing February 2016. The judge said Meek failed to check-in to report his traveling plans and he also turned in a urine sample that turned out to be water! Tsk Tsk.
And get this, this is his FOURTH violation.
His probation terms stem from when Meek was charged and convicted of carrying a gun without a license plus a few other charges. According to reports, in 2009 he was sentenced to a year in county prison, but was released on parole five months later.
City desk reporter at WHYY Philly, Bobby Allyn, was in the courtroom yesterday and gave a play-by-play of everything that went down. He tweeted how Meek had a few people speak on his behalf as character witnesses and Nicki's reaction to the DA. Peep his tweets (read from the bottom up):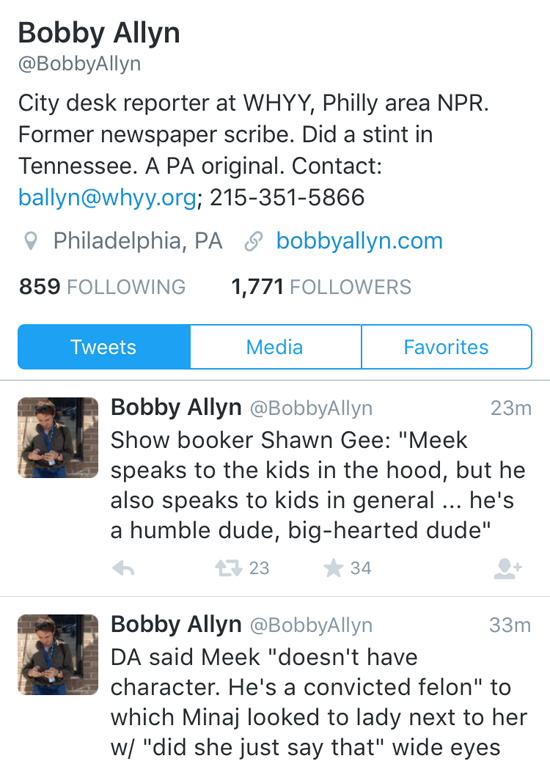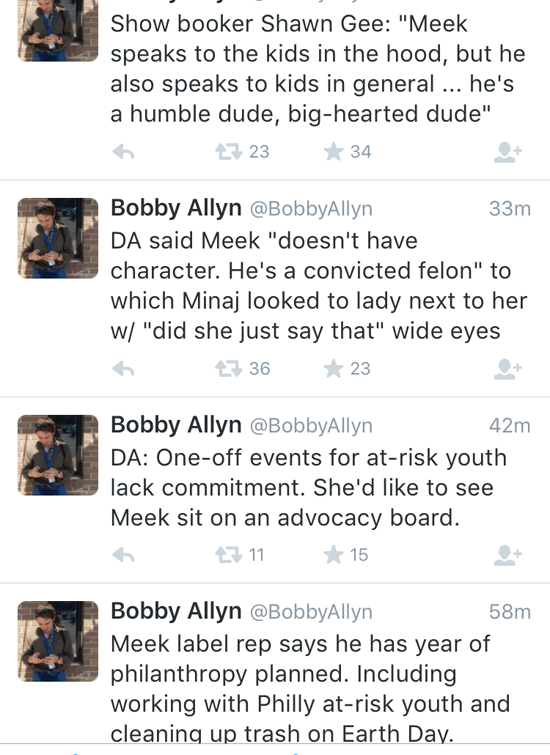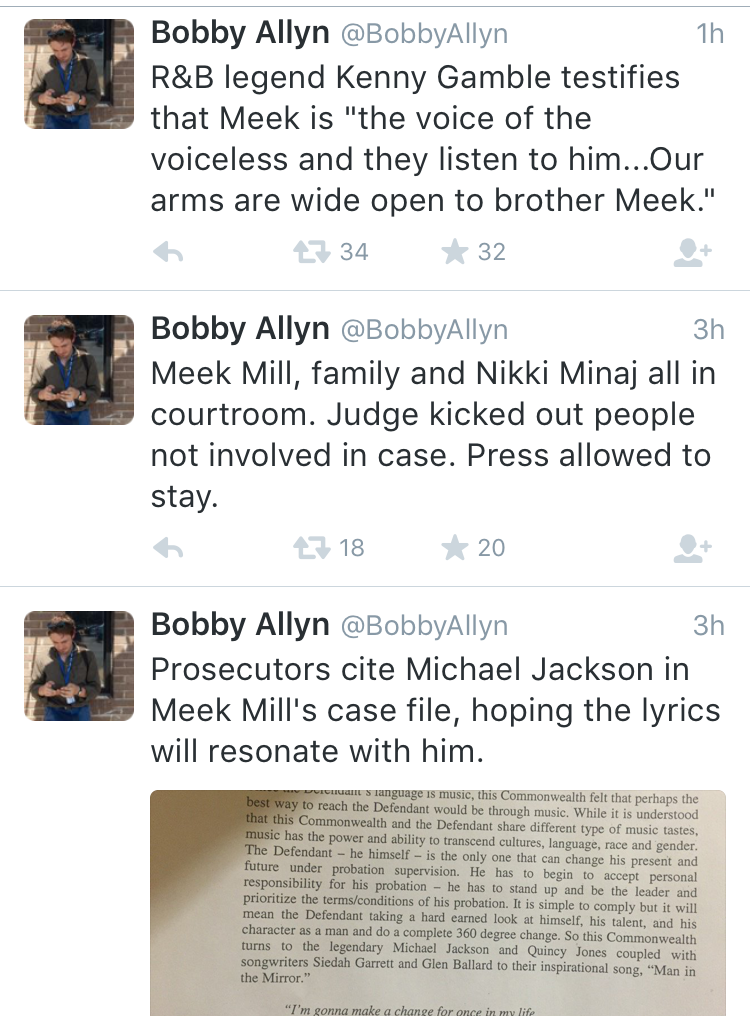 Then he gave details on what Meek was saying on the stand as he pleaded to the judge for another chance. He tried his best to convince the judge he's not a gangsta (read from the bottom up):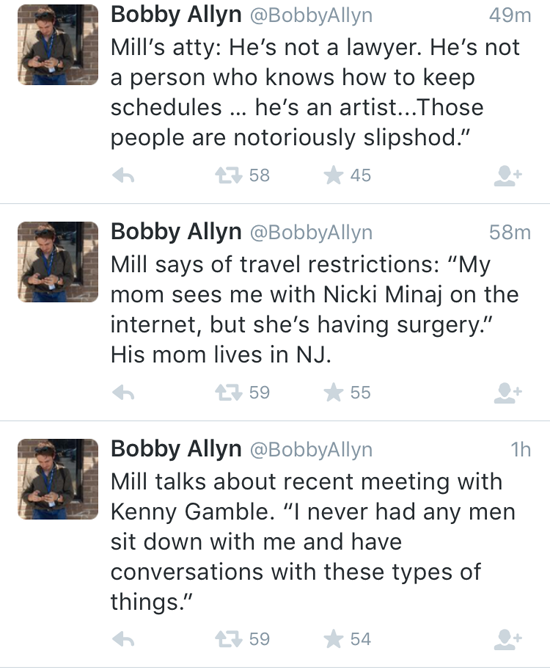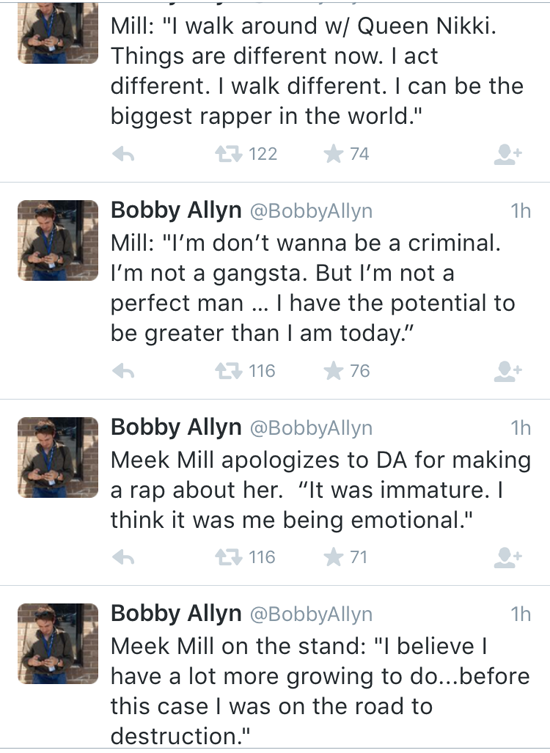 Shortly following Meek's outcome in court, his homie Chris Brown hopped on Twitter to defend him. He even seemingly compared the MMG rapper's situation to the late Freddie Gray's in Baltimore. Hmm..apples and oranges Chris.
Peep his rant below (read from the bottom up):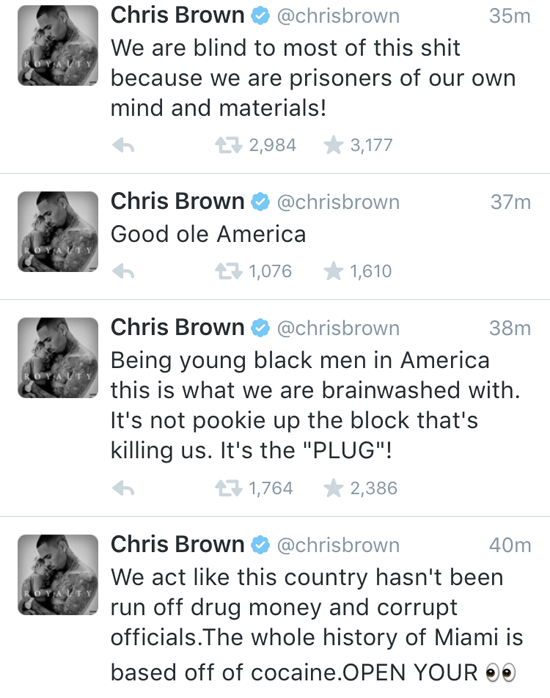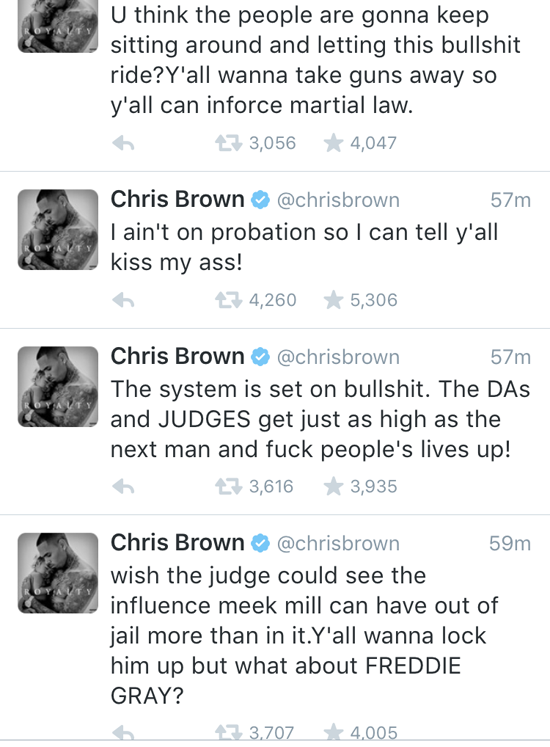 Hmm...
In music news...
Royalty has officially dropped! And as promised, Chris Brown dropped a new video for his single "Little More (Royalty)."
Breezy's newest visuals tap into his life as a dad to his baby girl Royalty.
The clip starts off replaying his real-life past seemingly played out in his videos "Liquor," "Back to Sleep" and "Wrist." Cutie Royalty makes her video cameo with her pops as they spend a daddy-daughter day together. It's adorable. Peep the cuteness above.
Make sure you cop Breezy's new album. It's in stores and online today.
Photos: Meek's IG/Chris' IG