IN CASE YOU MISSED: President Barack Obama Speaks On #OscarsSoWhite + Just Changed The Criminal Justice Game Again
Jan 28 | by _YBF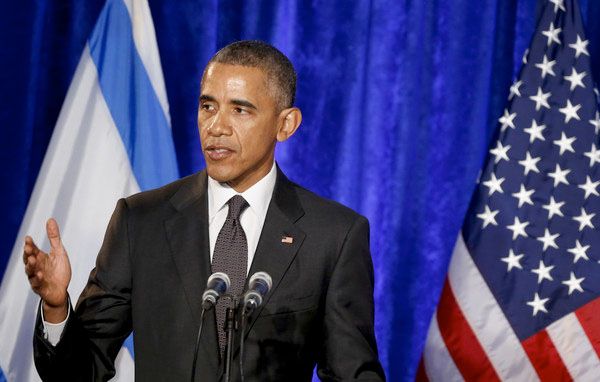 President Barack Obama is tackling a major issue before his Presidency ends. He recently announced that he is banning solitary confinement for juvenile offenders and low-level offenders in federal prison. Find out the details on his new executive actions inside, plus his perfect response to the #OscarsSoWhite campaign….
When the President of the United States weighs in on the #OscarsSoWhite campaign, it's a pretty big deal. While speaking to CNN affiliate KABC in a White House interview, Obama said we have to make sure everyone is getting a fair shot.
"As a whole, the industry should do what every other industry should do, which is to look for talent and provide opportunity to everybody. And I think the Oscar debate is really just an expression of this broader issue of are we making sure that everybody is getting a fair shot?"
Exactly. He continued:
"I think that when everybody's story is told, then that makes for better art; it makes for better entertainment; it makes everybody feel part of one American family."
Perfectly put.
Before President Barack Obama leaves the Oval Office, he's also tackling criminal justice reform in a major way.
President Obama recently announced that he is banning solitary confinement for juvenile offenders in federal prisons. For the first time in history, a US president is paying close attention -- including physical visits to federal prisons -- to an issue that has plagued this country for many years. And it's also a move in the right direction to improving mental health issues.
In a Washington Post op-ed, POTUS called solitary confinement "overused". He stated that it could potentially lead to devastating, lasting psychological consequences, such as depression, alienation, withdrawal, a reduced ability to interact with others and the potential for violent behavior. This is a significant observation as the black community is severely disproportionately affected, in many ways, by the prison system.
Agreed.
He told the story about a 16-year-old named Kalief Browder from the Bronx who was confined for nearly two years at Rikers Island as he awaited trial for reportedly stealing a backpack. Kalief was eventually released from prison, having never stood trial, and completed a successful semester at Bronx Community College. After being locked away for 23 hours a day during his prison stay, it was a struggle for Kalief to adjust back into society. At the age of 22, he committed suicide at home.
"How can we subject prisoners to unnecessary solitary confinement, knowing its effects, and then expect them to return to our communities as whole people?" POTUS wrote in his op-ed piece. "It doesn't make us safer. It's an affront to our common humanity."
Other new executive actions call for prohibiting solitary confinement for "low level infractions," expanding treatment for the mentally ill and increasing the amount of time inmates in solitary can spend outside of their cells. Bottom line, POTUS is a proponent of the reformation of offenders, not only the punishment of those individuals. Smart move, as many of these offenders WILL be released back into society one day and it's in everyone's interest that the offenders come out a better person than they went in.
The new rules could affect about 10,000 inmates and POTUS hopes the new federal reforms will push states to follow suit.
With all of the negative effects of solitary confinement, we're glad to see a President who cares about the well-being of people...even those who have made bad decisions in their lives. Hopefully, this new policy is the beginning of more reforms to help incarcerated individuals transform into upstanding citizens one day.
Thoughts?
Photo: Getty