GRAMMY SURPRISES -- Beyoncé, Lauryn Hill No-Show, Bow Wow's LIVE Countdown Mishap & More
Feb 16 | by Natasha
There were a few surprises during last night's GRAMMYs show, and not all were good ones. Get Beyoncé's "surprise" appearance, pics you didn't see during the show, and the mishaps with Bow Wow, Lauryn Hill, and Run DMC inside....
Beyoncé's appearance during last night's show may have been a surprise to the audience at home, but it wasn't a total surprise for everyone.
Before King Bey sashayed out on stage in this stark white Inbal Dror gown to present the Record of the Year Award, and before the GRAMMYs teased her appearance on a commercial break, her seating placecard was discovered by a few folks at GRAMMY rehearsals and soundcheck earlier that day.
E! reports that her dressing room didn't have her name, but instead was marked "PB & J" on the outside. Cute.
While backstage, Bey was spotted catching up with her NYC neighbor Taylor Swift as they floated past one another.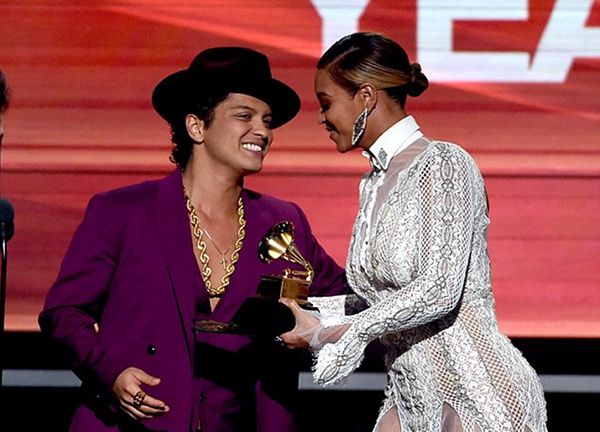 And the "Formation" singer took the stage to announce Mark Ronson ft. Bruno Mars "Uptown Funk" as the winner of the Record of the Year Grammy.
As for the mishaps, there were a few.
If you follow us on social media, you saw us re-post one of Lauryn Hill's band members' pics as he announced they were rehearsing for a surprise performance with The Weeknd.
But as nominee's performance of "Can't Feel My Face" and "In the Night" came and went last night with no sign of Lauryn, folks were confused.
Lauryn's rep then put out a statement saying the performance was supposed to be a surprise, but it just didn't come into fruition at the last minute. And Grammys shouldn't have announced it so early (well, L Boogie's own bandmate did, technically):
"The Grammy's announced a performance by Ms. Lauryn Hill prematurely and without approval," said Hill's rep. "Ms. Hill had concerts all weekend, leaving no time to prepare, and was uncertain she would even be able to make it to L.A. in time to rehearse for the event."

"Any performance that could have happened was never confirmed, and should not have been advertised as such," added the rep. "Ms. Hill was invited to do a collaboration with an artist she appreciates. The performance was intended to be a surprise and unfortunately due to its last minute nature, was unable to come to fruition."
While the rep stated Lauryn was unsure she would make it to L.A. in time, band members themselves said they arrived at the 8 AM rehearsal in L.A. Not only that, our source inside the rehearsals tells us that not only did Lauryn rehearse, she was definitely rehearsing inside the Staples Center and sounded prepared to perform.
The Recording Academy President was also pretty pissed. He told USA Today:
It's a disappointment to us and a disappointment to her," Recording Academy president Neil Portnow said of the missing Hill after the Grammys. "Our intention was, and we were ready, right up to the moment of the performance, for her to step up on stage."
So if she was in L.A. for rehearsals, why didn't the notoriously late singer make it to the stage? Neil says she simply didn't make it back in time:
"None of that statement is accurate," he said, adding that Hill attended rehearsals Monday morning. "She was there for it, completed it and left the building. And then she did not get back in time to make the show. I'm sorry, that's the bottom line. That's the truth. That's unfortunate. I guess those things happen."
Chile...
Another No-Show:
Rev Run and wife Justine Simmons hit the red carpet before last night's Awards. He (and Run DMC) was set to receive the Lifetime Achievement Award. While the Rev was definitely there in the building, for some reason, the Grammys telecast didn't include the Award being given. Several different tributes occurred last night - from Lionel Richie's to David Bowie's to Maurice White -- but no Run DMC.
No word yet on the reasoning.
In another mishap:
Bow Wow, aka Shad Moss, was tapped to host CBS' LIVE Grammy pre-show. The "CSI: Cyber" actor was getting his Terrence J doing the hosting thing. That is, until he randomly threw to the show opening....a whole minute and a half before it started. And he did that MULTIPLE times. It was the longest, most awkward countdown ever. Was no one speaking to him on the earpiece?!
But, at least he nabbed an Adele photobomb.
Check out the cringe-worthy mishap below:
Click through the celebrity backstage and audience gallery below to see what you DIDN'T see on TV...
EXTRAS:
1. R.I.P. to Vanity, former protege of Prince. STORY
Photos: Getty/Instagram