AT IT AGAIN: Kanye West SLAMS Producer Bob Ezrin & Shades Taylor Swfit On Twitter, Debuts "Closest Thing To Einstein" Track
​
Feb 24 | by _YBF
​ ​ ​ ​
Kanye West is back to his Twitter antics, this time aiming his frustrations at music producer Bob Ezrin and throwing in a little shade at Taylor Swift. Conveniently, he debuted a new track "Closest Thing To Einstein" last night as well. Get it all inside….
Same ish, different day.
Kanye West went on yet another Twitter rant late last night slamming music producer Bob Ezrin. So what set him off? Apparently, the music producer, who has worked with acts like Lou Reed, Alice Cooper, Kiss and more, penned a harsh critique of Yeezy that pissed him off.
The 66-year-old producer called Yeezy's music unmemorable compared to legends like Jay Z, Biggie and Tupac. He went IN, saying Ye's greatest achievements aren't in music. He said his greatest achievements have been in the form of "excessive behavior, egomaniacal tantrums and tasteless grandstanding." Hmph.
Well, Ye caught wind of Bob's open letter and decided to respond…via Twitter. Of course.
In a series of tweets, the "No Parties In L.A." rapper popped off demanding Bob to NEVER speak to him ever again and that he's tired of old people commenting on music. He also threw some shade at other artists (we assume at Taylor Swift) who are recognized for their works, while his albums go unnoticed. After all his foolishness he then says "all positive vibes."
Peep his tweets below (read from the bottom up):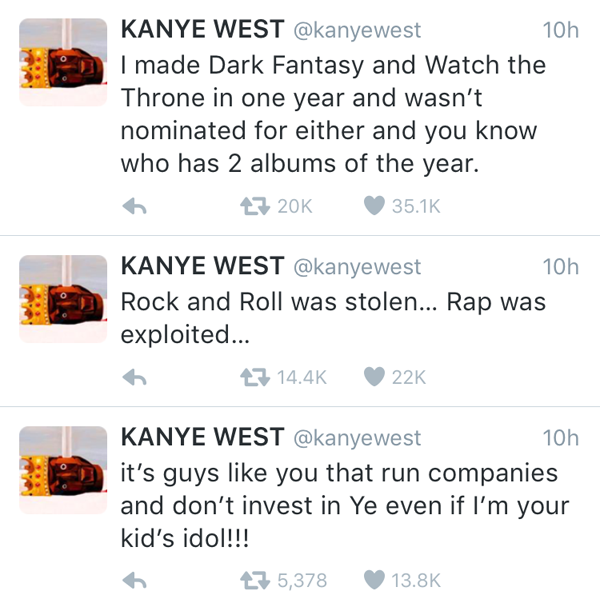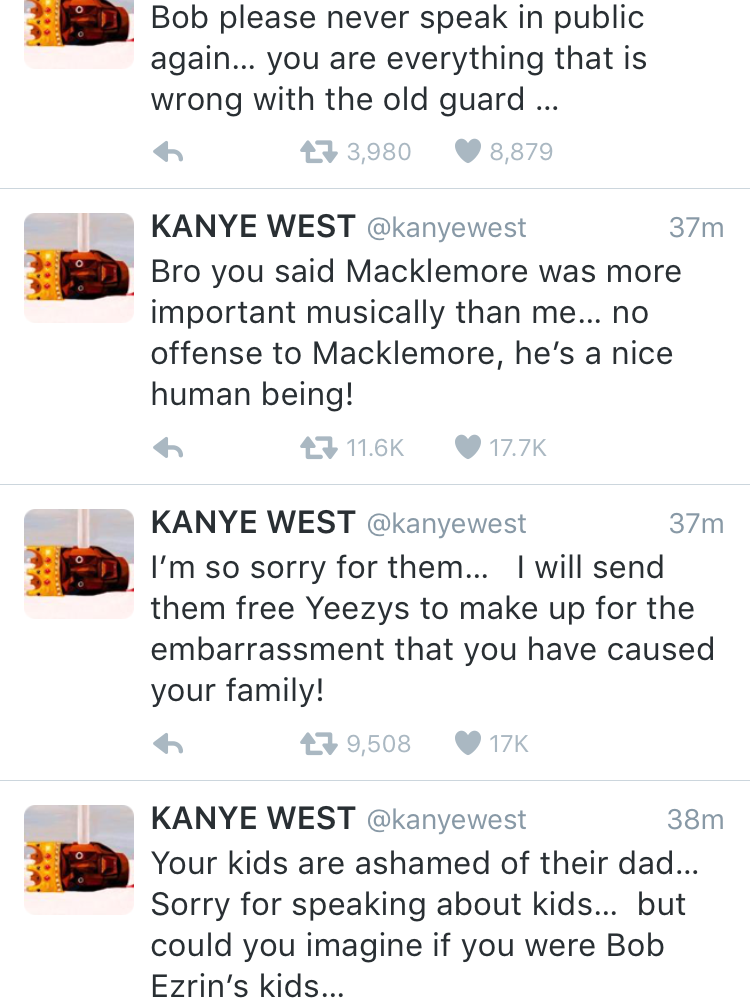 But he didn't stop there....
After his Twitter rant, he hit the stage at Yo Gotti's album release party at 1Oak in L.A. last night where he unleashed yet another one of his rants. The "Mercy" rapper started going off about people who look at him differently since he revealed he was in debt. He confirmed, yet again, that he talked to Taylor Swift before he released the track "Famous" where he called her a b*tch. He also talked about Louis Vuitton backing out at the last minute after they signed a deal. Oh, and he also said Amber Rose never stuck her fingers in his booty because he doesn't play like that!
Peep the clips below:
After popping off, Ye debuted his new track titled "Closest Thing To Einstein" where he addresses his multi-million dollar debt, his outlandish Twitter rants and the state of his mental health.
Take a listen to the live rip below:
Oh Ye...
Photo: Getty
​ ​
​ ​ ​