Nina Simone's Estate Goes In On Zoe Saldana! + "Nina" Movie Distributor Responds To Criticism & Backs Zoe's Performance
Mar 03 | by _YBF
Nina Simone's estate is still not here for the upcoming biopic, NINA, where Zoe Saldana has been tapped to play the iconic singer. Get the tea on the estate poppin' off at Zoe at find out what RLJ Entertainment had to say about Zoe's performance inside….
Twitter was all in a frenzy last night after Nina Simone's estate popped off on Zoe Saldana!
The estate, which may be run by Nina's daughter Lisa Simone but this has yet to be verified, is still not here for Zoe playing the late jazz singer in the upcoming NINA biopic. Following the film's cover art, official date and trailer being released, Zoe posted a Nina Simone quote. And that's when ish went all the way left.
Peep the tweets: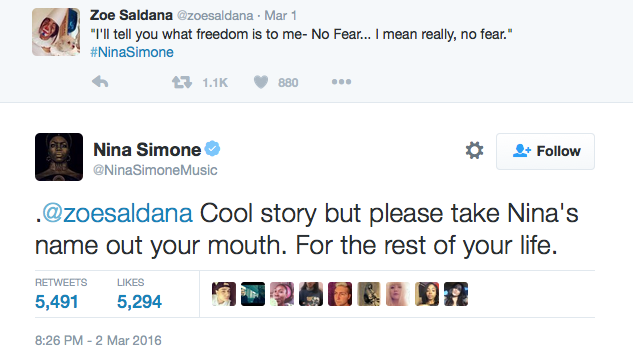 Welp.
Zoe hasn't responded...yet.
As you know by now, there has been much controversy about the Avatar actress portraying the iconic singer. Folks are up in arms that Zoe looks to be in "black face" and is using prosthetics to resemble NINA. Fans say the role should have been given to someone else who resembles Nina more. Especially considering the concept of non-traditional beauty is so much of who Nina was.
Lisa Simone even penned an open letter where she revealed the project was unauthorized and that the Nina Simone Estate was "never asked permission, not invited to participate," which would explain why she's so against the film.
She also claims the storyline of the film is false. The biopic will follow a relationship between Nina her assistant Clifton Henderson (played by David Oyelowo), but Simone claims Clifton is gay and he never had that type of relationship with her mother.
Yikes.
Now, RLJ Entertainment founder Robert L. Johnson (also the founder of BET) is speaking out. RLJ Entertainment acquired distribution for the film.
In a statement, Mr. Johnson addresses the controversy head on. While he said Zoe may not look like Nina, folks should look at her performance before judging. He said,
"Zoe Saldana delivers an exceptional and mesmerizing tribute to Nina Simone. She gave her heart and soul to the role and displayed her extraordinary talent. The most important thing is that creativity or quality of performance should never be judged on the basis of color, or ethnicity, or physical likeness. Quality entertainment should be measured by the sheer force of creativity and the commitment that an actor or actress brings to the performance. We are proud to distribute the film headlined by Zoe Saldana and David Oyelowo on April 22, 2016."
NINA hits theaters and VOD April 22nd.
We have to ask...are there any other celebs you would have preferred to see play Nina Simone? We have our list. Tell us yours in the comments!