CURVES IN FORMATION: EBONY Magazine Just Set Off Women's History Month With Jazmine, Danielle & More Serving BAWDY -- And We Love It!
​
Mar 04 | by Natasha
​ ​ ​ ​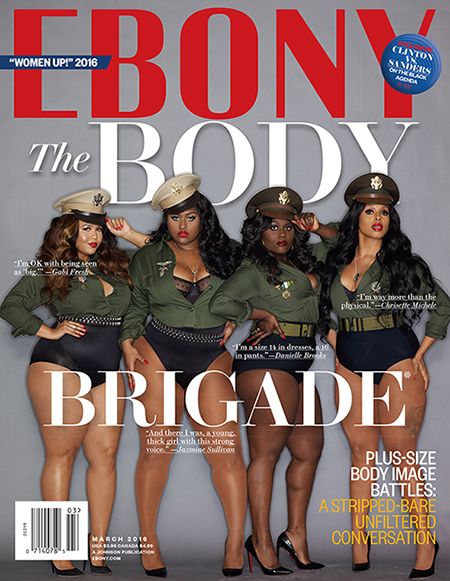 Curvy, larger-than-average physiques (not just Jennifer Lopez single-digit-size-curvy) are a hot button issue for folks in America. Yes, even the black community. EBONY is facing the critics and everyone else head on with a bombshell March 2016 cover story featuring 4 curvy women in the limelight -- Gabi Fresh, Jazmine Sullivan, Danielle Brooks and Chrisette Michelle. And they're talking about EVERYTHING body.
Get it all inside...
Welcome to Women's History Month...and to the struggles many black women face with body image.
For the March 2016 issue of EBONY magazine, a few of our fave YBF chicks are put on blast in the most fabulous way -- slaying the cover while embracing their body confidence.
The cover story, dubbed "The Curvy Confessionals," features a war room like setting (peep the war-inspired shot below) with four women getting EXTRA candid about the good, the bad, and the ugly of being more than a size 12 in the public eye.
While it may be true the average American woman is a size 12-14, that has never stopped internet trolls, in-person trolls, or society as a whole from body shaming and tearing down any woman who fits that description or larger.
So, EBONY decided to talk about it with their four cover stars. Swimsuit designer/plus size fashion blogger Gabi Fresh, singer Jazmine Sullivan, singer/actress Danielle Brooks and singer/reality star Chrisette Michele are suited up, while showing some major bawwwdy, to get extra real about body image. The story starts out making the reader check their judgment:
What would be evoked in you, readers, if I said said the women photographed here—Grammy winner Chrisette Michele, 33; R&B chart topper Jazmine Sullivan, 28; Orange Is the New Black actress Danielle Brooks, 26; and plus-size blogger and swimwear designer Gabi Fresh, 26)—and I were sitting around a steakhouse table selecting from family-style options including filet mignon, roasted chicken, mac 'n' cheese, mashed potatoes, creamy spinach, salad and, eff it, cheesecake? Would you frown in disgust? Shake your head? Cheer us on? Think nothing of it?
Those of us who identify as chunky, curvy, plus-size, big, ample, full-figured, BBW, big-boned, thick, voluptuous, heavy-set or fat are fully aware of the obsession-rejection, push-pull, love-hate relationship society has with our physiques. What others may think about what we do or don't eat doesn't matter; the greater judgments, regardless of whether they are favorable, come from within.
While black women who are average or larger-sized are often demonized and made to be "the face" of bad health, the cover story will get real about the actual stats:
Though African-American women have the dubious honor of weighing in as the most obese of any group in the country (recent national data finds that 80 percent of Black women are considered overweight or obese), it's worth noting that nearly 70 percent of Black men are overweight or obese as well, compared with 71 percent of White men and 63 percent of White women.
The mag also gets real about health and positive body image:
With nearly 80 million obese adults—and in 2008, more than $145 billion spent on related medical costs—the relationship between weight and deadly health conditions (e.g., type 2 diabetes, stroke and heart disease) likely loomed large in National Consciousness Raiser-in-Chief Oprah Winfrey's decision to purchase 10 percent of diet company Weight Watchers last fall.
The questions persist: Does Winfrey set a good example by wanting to be thinner or a bad one for implying there is something wrong with the way she looks now? Does having issues with your weight mean you don't love yourself?
Can't wait to read what the ladies have to say about it all when the issue hits newsstands soon. We applaud EBONY for thinking outside the box and tackling such a "touchy" topic oh so fabulously.
Photographs by Keith Major
​ ​
​ ​ ​