Evelyn Lozada & Kids Leo & Shaniece Ready For Season 2 + Tiny Harris Shows Off Celeb Gifts For Baby Heiress + "Survivor's Remorse" BTS
​
Apr 06 | by Natasha
​ ​ ​ ​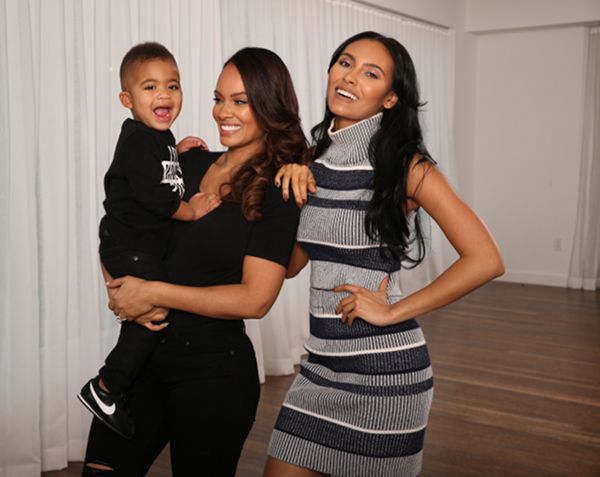 Evelyn Lozada is bringing her adorable son Leo and fab daughter Shaniece back to season 3 of her reality show. We've got the first sneak peek inside plus sneak peeks of "Survivor's Remorse" and T.I. & Tiny's baby's stash of presents from celebs...
Aww Leo is growing up! The cute tiny tot is about to be on OWN again for "Living Lozada" with his mom, reformed bad girl Evelyn Lozada and his baller dad Carl Crawford, and big sister Shaniece.
We've got the first promo pic (above) and sneak peek below. Evelyn will be dealing with more difficulties of trying to have a second baby by Carl now that she's turning 40. Meanwhile, her daughter is linking up with Bow Wow. Here's what's going down starting Saturday, May 7:
In the all-new season, Evelyn, her fiancé, L.A. Dodgers star Carl Crawford, and their toddler son, Leo, head back to their home in Arizona for the off-season. Tensions arise when Evelyn's 22-year-old daughter, Shaniece, finds herself feeling alone in LA as she tries to launch her burgeoning modeling career, including a potential lucrative offer from Bow Wow. While mother and daughter work out some deep-seated issues in their relationship through therapy, they'll head to Houston to spend the holidays with Carl's family, and venture back to their Bronx-roots in NYC, for an emotional sit-down with celebrity medium, John Edward. Finally, as the big 4-0 approaches for Evelyn, she begins to realize that her dream of conceiving another child with Carl may come with a series of seemingly insurmountable challenges.
Check out the sneak peek below:
Speaking of babies and families:
We're still unsure if T.I. & Tiny's baby girl is actually named "Heiress" or if they're just referring to her as such. With their other kids' names having Major, King, Ya'Majesy in them, we wouldn't be surprised.
[UPDATE: We've confirmed the baby IS named Heiress.]
The baby girl's celeb aunties hooked her up. Tiny showed off top of the line strollers from Toya Wright, Shakinah and Kandi Burruss. Also one from her dad. Tiny said:
Troubleman31 trying to mess up my video of me thanking some of my friends including him for these wonderful strollers for my Heiress.. A bit over board I know..but I have wonderful friends..Thank u
T.I.P. himself chimed in with the golden question, "How many damn strollers does a baby need?"
The "Survivor's Remorse" crew is ready for season 3. And it looks like Mike Epps is also returning after his major accident last season. The gang's back together again -- TICHINA ARNOLD, MIKE EPPS, RONREACO LEE, TEYONAH PARRIS, ERICA ASH, JESSIE T. USHER, MEAGAN TANDY, and more. Check out the BTS action from the upcoming season returning to Starz this summer below:
EXTRAS:
1. Grammy Award and third season "American Idol" winner FANTASIA returns to the "American Idol" stage for their last bow on the series finale on April 7. She will make her national debut performance of "Ugly," a song from her forthcoming album The Definition Of…
​ ​
​ ​ ​