Madonna Responds To Getting Dragged For That Prince Tribute Saying "Deal With It!", Questlove DEFENDS Her
​
May 23 | by Natasha
​ ​ ​ ​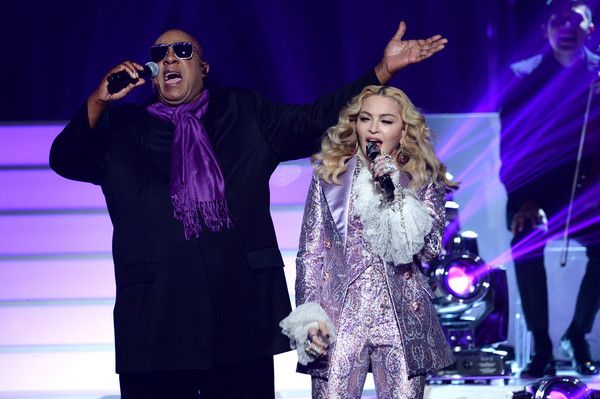 As Madonna performed that so-called tribute to Prince last night during the Billboard Music Awards, then dragged poor Stevie Wonder into it, we couldn't roll our eyes hard enough. And apparently, most of the internets weren't here for it either. But Madge just issued her own version of an F U and someone is coming to her defense. Deets inside...
The internets lost its chill a long time ago, so last night....folks were on one.
As Madge attempted to sing her heart out to Prince's "Nothing Compares To You" and struggled throughout, the internets said a collective "Girl BYE!" The fact tons of folks, including 9,000 people who signed a petition telling Billboard to reconsider their choice in Madonna for the tribute, were against this tribute to begin with doesn't help.
Here's a few clips (Billboard won't allow the full video anywhere):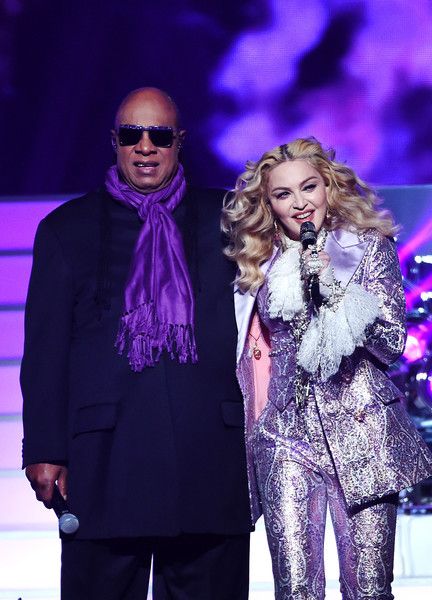 Madonna, wearing a #Gucci custom lurex and silk jacquard iridescent lilac paisley printed suit with a white Chantilly lace blouse with ruffle sleeves, brought out Stevie for "Purple Rain". And we can't even say it saved the performance.
BET responded faster than they've ever responded to anything in life, and it was flaw free shade:
They ran a promo for the upcoming BET Award '16 saying "Yeah, we saw that. Don't worry. We got you." BLOOP!
While the internet memes ran rampant dragging Madonna for filth, Questlove -- who introduced the performance and helped produce it -- came to her defense. He tweeted:
"Because of [Prince's] well-known love for the *poof* vanishing act, a lot of us are left feeling incomplete in the act of saying goodbye. For starters it's hard to accept him no longer being here. & in the upcoming award season for '17 there will be a gang of tributes [with] the fact that Prince -- (an on the surface) face of health & invincible agelessness [succumb] to something so....friggin basic.

So [with] mourning will come sadness & anger. 1st week I cried. 2nd week I tried to atone for his sins w gettin 8-10 hrs of sleep he didn't get. Now anger is in the air [with] who (in our eyes) is allowed to mourn & how they are allowed to mourn.---none of us were prepared for his death."
He responded to the BET shade saying:
"Every Prince rendition will not be a life-changing orgasmic xperience. Just to SING his work is brave enough.

"EVERYBODY wants and deserves a chance to say goodbye in their own way. But remember: there will be AMAs, SoulTrain, NAACP, mtv, GRAMMYS. And a gazillion other tributes. But the point is let's not get ugly w playing the 'Prince would and wouldn't approve' game. & this isn't *just about* the Madge/Stevie tribute btw."
Madonna posted right after the performance:
"An Epic Moment for Me to sing in honor of Prince with Stevie Wonder. #luckiestgirlintheworld Such an AmaaaaaaaaaaIng Moment for Me! Thanks to all who made it happen!!!"
And after seeing all the shade, she responded saying "Deal with it," amongst other things:
Photos: Getty
​ ​
​ ​ ​