The Weeknd & Rapper Belly Back Out Of "Kimmel" Performance To Protest Donald Trump + Meek Mill Fires Shots At Drake On "All The Way Up" Freestyle
​
May 26 | by _YBF
​ ​ ​ ​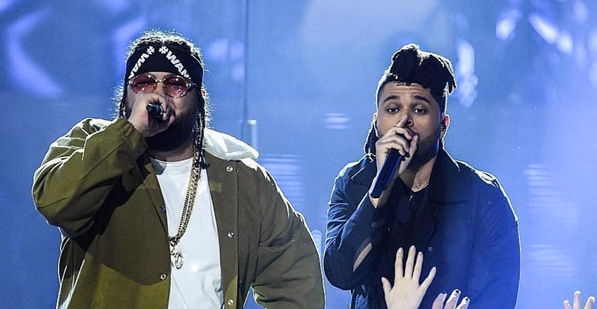 Canadian natives The Weeknd and Belly are taking a stand against presidential hopeful Donald Trump. Get the deets on the twosome backing out of a late night television performance. Also, Meek Mill is firing shots at Drake (again) on a new freestyle while his girlfriend Nicki Minaj is busy posting lingerie selfies on social media. Get it all inside....
R&B crooner The Weeknd and newcomer Belly, who's signed to The Weeknd's XO label and Roc Nation, are taking a public stand against presidential hopeful Donald Trump.
Belly was scheduled to make his network television debut on "Jimmy Kimmel Live!" to perform his track "Might Not" with the XO honcho. But, he and the R&B crooner backed out of their taping Wednesday night because they found out Donald Trump was set to appear on the same episode. His television debut was meant to support the release of his new mixtape Another Day In Paradise that's dropping on Friday.
"I feel like the way I was raised was to be able to see through all the titles in this world — from religion to race," Belly said in a statement. "I just didn't want to feel like I was a part of a celebration for somebody who has beliefs that majority of us don't agree with."
Belly grew up as a minority immigrant in Canada and has a strong conviction against Donald Trump's radical beliefs. So, it's no surprise he decided to back out of the performance. He said in a statement:
"I'm here on a campaign of positivity and love and to contribute what I can to music," Belly said. "I create songs people go to sleep and wake up to, songs that they fall in love to. For me, being Muslim and being somebody that appreciates my access here in America, I love the fact that I'm able to be here. To play my part in this business is a privilege and a beautiful thing. The fact that I could lose that ability through the actions of someone such as Donald Trump isn't right to me. At all."
FYI – Donald Trump just officially won the Republican nomination for president. Ugh.
Nice to see celebs stand up for their beliefs on such a public platform.
Elsewhere in the rap world....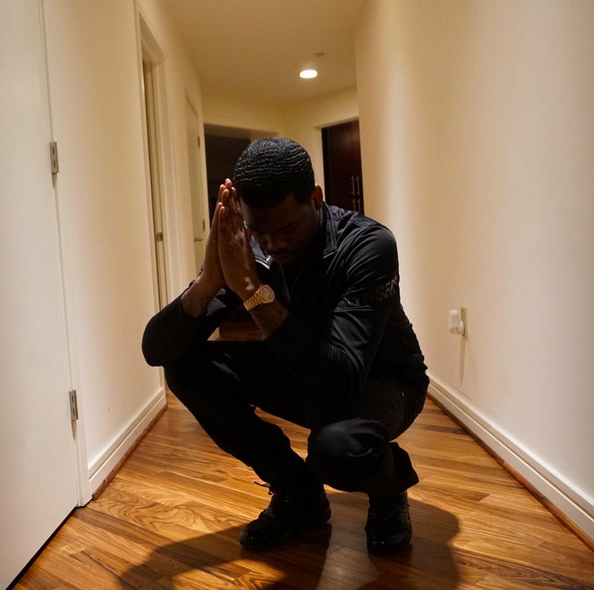 Meek Mill and his waves may be stuck in Philly serving a house arrest sentence, but that hasn't stopped him from hopping in the studio to drop new heat.
It appears the MMG honcho is ready for another round in his on-going rap beef with his enemy Drake. Most folks would agree Drizzy bodied Meek during their last rap battle, so Meek is looking for revenge. #SummerSixteen
Following Jay Z's "All The Way Up" remix, the Dreamchasers rapper is following suit spitting a new freestyle on the track, this one featuring fellow east coast rapper featuring Fabolous.
On the track, Meek takes several shots at the Young Money rapper. He's calling out Drizzy for using a ghostwriter (again) and references Drake's hometown of Toronto.
Peep some of his lyrics below:
"Views from the projects, nigga I'm the prospect"

"This is hip-hop, you ain't write it don't record it/I don't know how they getting down across the border."

"I be in the 6 man 6 man, Dion Waiters."
Take a listen below:
Do we think Drizzy will respond?
Meanwhile...
Meek's girlfriend Nicki Minaj is back to posting scantily clad flicks on social media. She posted up these lingerie shots to congratulate Meek on his Billboard Award. We assume any reason would have been good enough to pose it up half naked on her account.
Photos: Belly's IG/Meek's IG/Nicki's IG
​ ​
​ ​ ​