Happy Birthday 50 Cent -- You're Out Of BANKRUPTCY! Judge Approves Reorganization Plan
​
Jul 06 | by Natasha
​ ​ ​ ​
50 Cent better be thanking his lucky birthday stars today. He's officially settled his bankruptcy! Deets inside on the new reorganization and payment plan a judge just approved, and if his baby's mother will be seeing any parts of that $7 mill she's owed....
Curtis "50 Cent" Jackson skipped over to Hartford, Connecticut's Federal Court House court today, on his 41st birthday, after appearing on "Live with Kelly." And that's where he received some good news, after arriving by helicopter.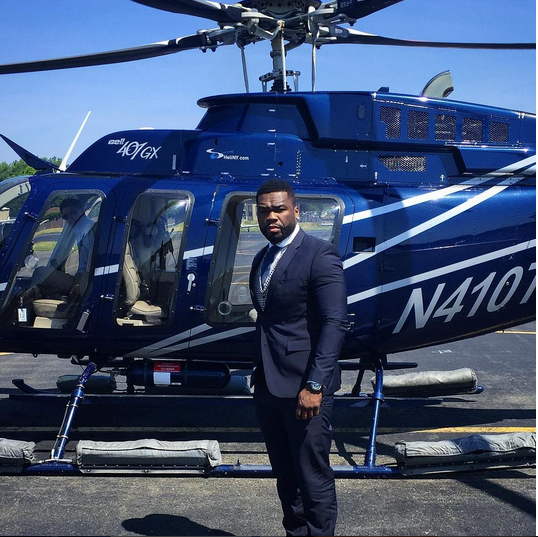 After filing for bankruptcy in July of last year due to several lawsuits resulting in him needing to pay up huge sums, it's all been settled. The Hartford Courant reports today:
U.S. bankruptcy court judge on Wednesday approved a Chapter 11 reorganization plan for hip-hop mogul and businessman 50 Cent.

The effective date of the plan will be 15 days from the time formal approval is entered into the record by U.S. Bankruptcy Judge Ann M. Nevins. She said that will be Wednesday or Thursday.

On the effective date, 50 Cent will make a $7.4 million payment to begin the process.

---

The judge praised Jackson, the creditors and their lawyers for working out a plan agreeable to all.
Yeah, he's basically paying almost everything owed. Basically re-affirming what we already knew, he filed mainly out of pettiness.
Now he can stop all the "I'm so broke" Instagram posts. But he won't. He just posted a troll-worthy IG pic saying, "oh now I remember where I put that Money. LMAO #EFFENVODKA #FRIGO."
As for that $7 million his ex-girlfriend, Lastonia Leviston, was awarded after 50 lost that privacy case involving him leaking her sex tape:
Those holding unsecured claims against Jackson will receive 74 percent to 92 percent of the money they are owed, depending on how quickly Jackson makes payments, under the agreement Nevins approved. The faster he pays, the less he has to pay. Jackson has five years to make the payments.
The judge also said Fif "has a significant ability to generate income." Duh!
Looks like Lastonia will be getting her money eventually. So well Sleek Audio, who won an $18.1 million arbitration award against 50 last year. They are now set to receive $17.5 million of that sum.
His Farmington mansion is up for sale and up to $6 million of the proceeds would go to the settlement.
BONUS: 50's youngest son Sire sent him a b-day message:
Photos: 50 Cent's IG
​ ​
​ ​ ​