Slay Then, Leslie! "Ghostbusters" Star Looks FAB In Custom Christian Siriano Gown After Lack Of Support From Other Designers
​
Jul 11 | by Natasha
​ ​ ​ ​
Leslie Jones showed up on this weekend's Ghostbusters red carpet making a huge statement -- Don't ignore her slay. Check out the custom gown she wore after that styling debacle, inside....
Girl, Yass! Nailed it.
Remember when Leslie Jones popped off on Twitter about designers shading her when it came to dressing her for big red premiere?
It's so funny how there are no designers wanting to help me with a premiere dress for movie. Hmmm that will change and I remember everything

— Leslie Jones (@Lesdoggg) June 28, 2016
And if you think she's just being a whiny, entitled star, she's got a response for that too:
@TruthPuking your name is "puke" you actually think I'm giving a fuck about your opinion PUKE!! BLOCKED!!

— Leslie Jones (@Lesdoggg) June 29, 2016
Bloop.
Christian responded to her initial tweet promising to dress her, and dress her he did in this bold red ensemble.
It shouldn't be exceptional to work with brilliant people just because they're not sample size. Congrats aren't in order, a change is.

— Christian Siriano (@CSiriano) June 29, 2016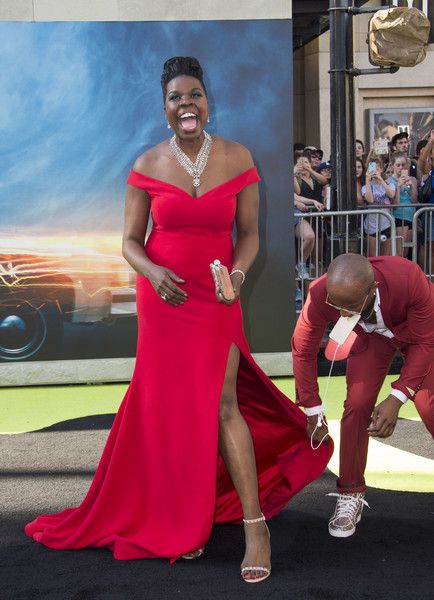 Then she gave the quintessential "Ef You" by hitting the carpet in a custom Christian Siriano concoction. Her statement got other folks' attention too. A few fashion designers and retailers responded to her initial tweet saying:
We're always here for your fashion emergencies @Lesdoggg!

— Rent the Runway (@RenttheRunway) June 29, 2016
@missbeaux @Lesdoggg Hi Leslie, We can definitely help find you the perfect dress! Can you please DM us your contact info so we may assist?

— Neiman Marcus (@neimanmarcus) June 29, 2016
@Lesdoggg I'm so sorry to hear that. Come to me next time. We'll gladly hook you up at CO+CO! @cocobycocorocha

— Coco Rocha (@cocorocha) June 29, 2016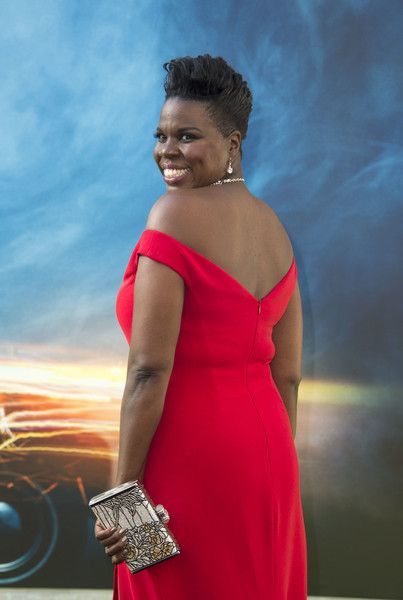 Christian seemed pleased with his work, tweeting out this "Boom"-worthy post:
Now that's how you do it! Simple, elegant, and chic!! @Lesdoggg at the premiere of #Ghostbusters wearing Siriano! pic.twitter.com/gz3CmGFGaL

— Christian Siriano (@CSiriano) July 10, 2016
Work, Leslie!
By the way, Christian's husband wrote this spot-on note about why Leslie had every right to call for change:
About @Lesdoggg and @CSiriano and clueless people saying she's acting "entitled"... pic.twitter.com/vdgMk0ZKhS

— Brad Walsh (@BradWalsh) July 1, 2016
Photos: Getty/Twitter
​ ​
​ ​ ​