ANOTHER RING! Cavs Baller J.R. Smith Marries Jewel Harris!
​
Aug 09 | by Natasha
​ ​ ​ ​
Cleveland Cavalier J.R. Smith just got himself another ring. Deets inside on his new wife, new life and his wedding day yesterday....
The Summer of Swish is in full effect, and it apparently included a wedding!
The NBA champ has been calling Jewel Harris, mother to his kiddies, his wife all season. But they just made it official this week in their home state of New Jersey.
J.R.'s brothers Chris and Demitirus Smith, teammate Andy Lopez and more were on hand to see the NBA's former bad boy turn into an upstanding husband (and new business owner).
The groom tweeted about his big day saying:
Thinking about the big day.

— JR Smith (@TheRealJRSmith) August 7, 2016
2 rings Summer of 16 in the 216 https://t.co/H7JtZNGVUR

— ~Respek The Cavs~ (@JR_MESS) August 7, 2016
J.R. also talked to NBPA about the big changes in his life. He said:
Ever since I got back with my wife, Jewel, last year and proposed to her in August, things started going uphill slowly but surely.
Before I was doing so much thinking; now it's just reacting. So it's just taking stuff as things come and realizing what's more important between her and my girls, Demi and Peyton, as opposed to everything else.
Sounds like he's growing up!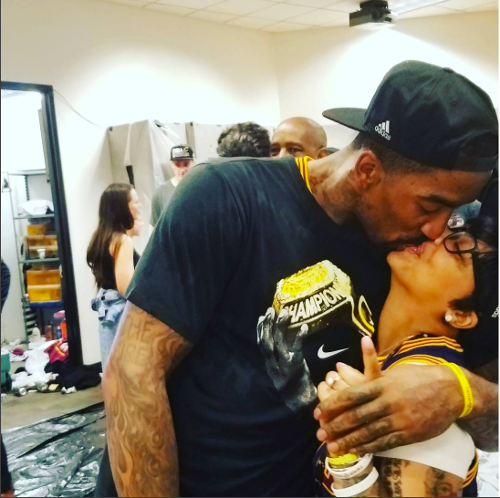 J.R. has been working on his own Team Swish lifestyle store, and he's building it himself with his dad:

It's incredible what my dad did with the store. He even built parts of my house. Still to this day I know how to do all that stuff that he taught me—houses, patios, everything. And it was great because it was almost like learning a trade. I remember days like this when it gets hotter wearing full-length heavy pants, carrying concrete blocks, just no shade, sun on you 24/7 until you go home. And it's, like, "I don't want to live like this. This is hard living." But it helped me gain strength for basketball.
About why he wants his store an future community center to take over:
Ever since I was a kid, I always dreamed of having my own sneaker store. When I was growing up, this was when Michael Jordan was in the prime of everything. So a fresh pair of kicks was always everything. No matter what else you had on, if you had a fresh pair of sneakers on, you were always the freshest guy in school—no matter what your pants looked like, no matter what your shirt looked like, hat, whatever. It was always about the shoes, so I got attached extremely early. If I were to do my own shoe, it'd definitely be like a lifestyle shoe. I also really want to do a golf line. I want to create my own golf shoes. I play all the time.

Looking ahead, I want to take over my community center. That's my new goal. I want to start my own little league program for basketball, football, baseball, soccer, golf, field hockey—whatever kids are into, whatever kids want to do. Family is everything to me. Growing up, I didn't have a lot of friends. All I had was my family. So for me, this is my family. For me, this is normal. To other people, they've got a lot of outside people coming in. But for me, it's the same people from day one for me—my family, my brothers, my sisters, my kids, my parents, my cousins. That's about it. Everybody else I've generally met through basketball, so it's not really the same.
Nice! Get his full interview HERE.
Get more pics of the happy newlyweds in the gallery below!
Photos: @chrissmith500/@daveophilly/JR's IG/Jewel's IG
​ ​
​ ​ ​