Colin Kaepernick – "I'm Not Going To Stand Up For A Flag Of A Country That Oppresses Black People"
​
Aug 28 | by _YBF
​ ​ ​ ​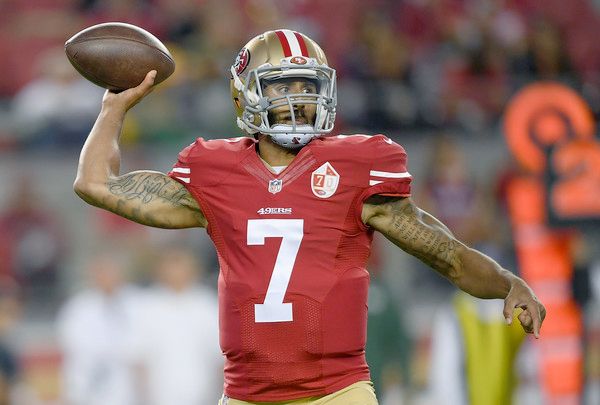 Colin Kaepernick is catching heat for sitting down during the National Anthem at a preseason game. But, he has a good reason for doing so and likely plans to continue. More inside…
San Francisco 49ers Colin Kaepernick is making headlines after he refused to stand up during the National Anthem at the 49ers vs. Green Bay Packers preseason game at Levi's Stadium Friday night. In fact, this isn't the first time he has done this. The woke NFL quarterback sat down during the anthem in at least one other preseason game.
Now, folks are calling him unpatriotic. Just like they did Olympic gymnast Gabby Douglas when she didn't place her hand over her heart during the National Anthem at the 2016 Rio Olympics. (Placing your hand over your heart is not protocol for the national anthem.)
The NFL quarterback, who's currently dating HOT 97 personality Nessa, explains why he deliberately refused to stand during the anthem telling NFL.com:
"I am not going to stand up to show pride in a flag for a country that oppresses black people and people of color," Kaepernick told NFL Media in an interview after the game. "To me, this is bigger than football and it would be selfish on my part to look the other way. There are bodies in the street and people getting paid leave and getting away with murder."
Sounds like he's using his platform for the greater good. He's seemingly following in the footsteps of NBA players LeBron James, Dwyane Wade, Carmelo Anthony and Chris Paul when they took a stand against racial injustices at the 2016 ESPY Awards. Several WNBA players also took a stand when they decided to wear black shirts during warm-ups and decided not to speak with the media about basketball after their games in support of the #BlackLivesMatter movement.
He's catching tons of heat with folks burning his jersey and other antics. But he's also getting plenty of support as well.
FUN FACT: Most people saying Colin Kaepernick is unpatriotic for criticizing America are wearing red ball caps that say America isn't great.

— Mrs. Betty Bowers (@BettyBowers) August 27, 2016
His actions have brought about some negative backlash from football fans, but the 28-year-old QB doesn't care. He's doing what he feels is the right thing to do and doesn't need anyone's approval to do so.
"This is not something that I am going to run by anybody," he said. "I am not looking for approval. I have to stand up for people that are oppressed. ... If they take football away, my endorsements from me, I know that I stood up for what is right."
Wow!
Y'all know how petty the NFL can be with the way they fine players, but luckily Colin won't have to worry about any fines.
The NFL released a statement about Colin not standing during the anthem saying:
"Players are encouraged but not required to stand during the playing of the national anthem."
The 49ers organization also released a statement on Colin's decision saying:
"The national anthem is and always will be a special part of the pre-game ceremony. It is an opportunity to honor our country and reflect on the great liberties we are afforded as its citizens. In respecting such American principles as freedom of religion and freedom of expression, we recognize the right of an individual to choose and participate, or not, in our celebration of the national anthem."
Thoughts?
Photos: Getty/@jenniferleechan
​ ​
​ ​ ​