Colin Kaepernick Picks Out His Afro & Continues Protest, Two NFLers Join Him + Colin Will Donate $1 Million To Racial Equality Groups
​
Sep 02 | by _YBF
​ ​ ​ ​
Colin Kaepernick picked out his afro and continued his protest against inequality in America. And this time, two NFLers joined him. He also announced he's donating $1 million dollars to racial equality groups. Pics and deets inside…
Say it loud!
San Francisco 49ers quarterback Colin Kaepernick continued his protest against police brutality at last night's pre-season game against the San Diego Chargers, taking a knee during the National Anthem. And he wasn't playing any games, picking out his afro to show off his black pride!
Folks didn't like it either. (And they will DEAL.) As he came out on the field, several football fans boo'd him. But, there were also a good amount of people in the stands cheering him on as well.
Colin's silent protest has caused a whirlwind of controversy since he first decided to refuse to stand during the national anthem. He said he refused to show pride for a nation that oppresses black people and people of color.
Those not in agreement with Colin -- some of them downright aggressive and nasty -- say he's disrespecting our military. That's far from his intent as the national anthem isn't solely about our military. In fact, there's a #VeteransForKaepernick hashtag with servicemen showing their support for Colin exercising his freedom of speech, the very freedom they fought most of their lives for us to have.
And now, a few NFL players are joining the movement.
Colin's teammate Eric Reid also took a knee during the National Anthem to show his support. Eric told Colin he supports his and movement and his message, so he joined the NFL QB during last night's game:
Kaepernick takes a knee during anthem. Joined by Eric Reid. pic.twitter.com/xNU5eaPr9x

— Ahmed Fareed (@AhmedFareedCSN) September 2, 2016
At another NFL game, Seattle Seahawks cornerback Jeremy Lane also decided to sit out during the pre-season game against the Oakland Raiders to show support for Colin's movement.
This is an @AP_NFL picture of #Seahawks CB Jeremy Lane sitting in protest during the national anthem tonight pic.twitter.com/AKOltqYJrt

— Ian Rapoport (@RapSheet) September 2, 2016
In a post game interview, Jeremy addressed the protest and said, "I just like what he's doing, and I'm standing behind him. It's something I plan on keep on doing, until I feel like justice is being served."
When asked if he was prepared to deal with the backlash that may follow his decision, he responded, "Yeah, I am prepared for it. And I don't mean no disrespect to anybody, but I'm just standing behind what I believe in."
The 49ers defeated the Chargers, 31-21. After the game: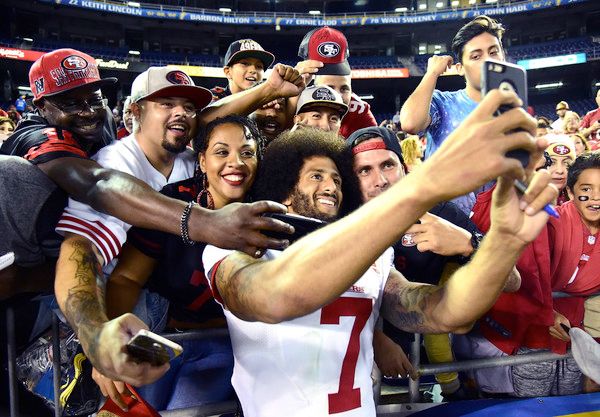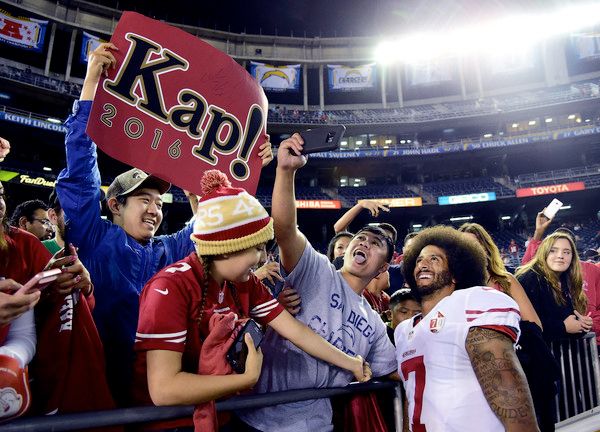 49er fans showered the quarterback with mad love as he walked over to them to snap pics and thank them for their support. Glad to see folks showing him support right now, he's going to need it.
Peep the video below:
Loves it!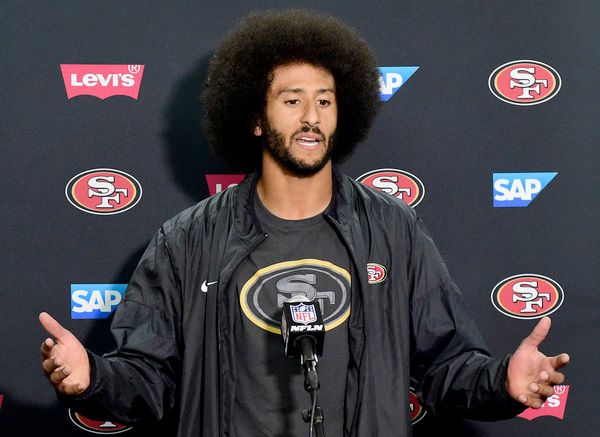 The 28-year-old NFLer then took the podium to speak with reporters for his post-game interview. Reporters tried their damnedest to come for Colin's protest, but he answered every last one of their questions with intelligent answers and schooled the masses on why he's doing what he's doing.
He also announced that he will be donating the first $1 million of his salary to organizations fighting injustice in America. Sweet!
The QB also explained his love and support for the men and women in the military, who put their lives on the line for us everyday saying, "I have the utmost respect for them. I think what I did was taken out of context and spun a different way."
Peep his insightful interview below:
To further prove he's not ANTI-military, Colin had a private meeting with Nate Boyer, an Army Green Beret and former standout football player, this according to New York Daily News writer Shaun King.
Shaun gave details about their meeting saying:
Colin invited Nate down to the game in San Diego so they could have an open dialogue about America, injustice, the military, the Star Spangled Banner, and so much more. They met for a good 90 minutes and talked about what a compromise would look like for Colin.

This is where Colin agreed to take a knee during the National Anthem. Colin has always loved and respected the men and women who serve.

Nate said, "We talked about change a lot and how to get positive change to happen. We talked about issues that are taking place in this country and how to prompt change but I also reminded Colin of the great freedoms and luxuries we have in America."

Tonight, Nate stood with Colin and the 49ers as their special guests before the game.
There you have it.
Along with his silent protest, Colin also drummed up more controversy, wearing socks that depict police as pigs during practice:
He addressed the reason behind why he decided to wear the socks saying:
Welp...
Photos: Getty/SportsCenter's IG/Shaun King's FB
​ ​
​ ​ ​