Blac Chyna Rips Wendy Williams To Shreds + BET Blasts Gabrielle Union & SAG For Playing Out Their Legal Beef In The Media
​
Nov 05 | by Natasha
​ ​ ​ ​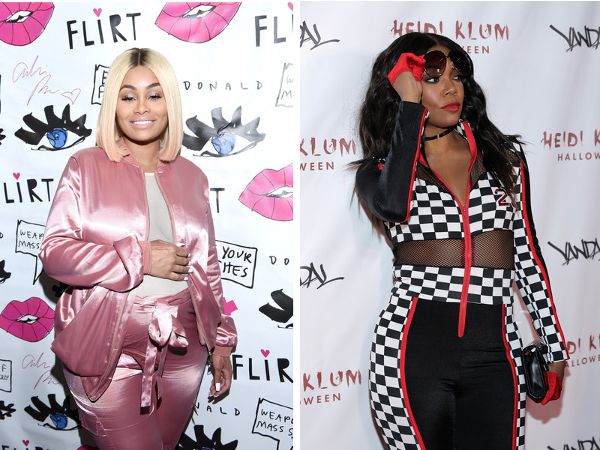 The drama is over flowing with celebs being accused of talking way too much ish they supposedly have no right to talk about. Find out why Blac Chyna went all savage on Wendy Williams and why BET is slamming their own star Gabrielle Union inside...
Yesterday we reported on the actors' union SAG-AFTRA getting involved in Gabrielle Union's lawsuit against her own network BET. Gabby is suing because she alleged BET is not holding up their end of her contract which states she must have an ample break between filming seasons of "Being Mary Jane." Now that SAG is involved, they're accusing BET of trying to over:
"It is outrageous that BET and Viacom have been taking advantage of the actors who appear on their television series by attempting to get what amounts to free options without paying the actors the compensation they are entitled to under their agreements," Union's attorney Marty Singer told Deadline today. "We are extremely pleased that SAG-AFTRA is pursuing the claim against the Network to protect their members and prevent the network from engaging in this egregious conduct in the future."
BET has now responded, and they're not happy. In a statement to Deadline, BET accuses Gabby and co. of playing out their beef in the media:
"We disagree with SAG-AFTRA's position," a network spokesperson told Deadline in a statement. "The clear contract language and the bargaining history do not support SAG-AFTRA's theory. We believe SAG-AFTRA and Ms. Union are playing this out in the media as they will not be able to prove in arbitration or court of law."
In other news, Blac Chyna is pissed. She saw Wendy Williams' show Friday (above, 3:03 mark) where Wendy was going in about Rob Kardashian and his lack of "manly ways." Chyna wasn't having it. Nobody's gonna play her baby's daddy/fiance. So she let Wendy HAVE it.
In case she deletes it, Chyna said:
Wendy.. Wendy.. Wendy....you lost your motherfuckin mind hoe? How dare you speak on me, my fiancé, and my mom like you were at the Christmas table with us?! I find it so funny how you love to talk about Rob and his insecurities like at a point in time you wasn't a fat 400 pound ass bitch on the radio! You telling him to put some some bass in his voice? You want him to be like Kevin? Right you want Rob to put some bass in his voice and a fist upside my head next right? You want him to be like your husband? Rob is MY MAN! MINE! I love him for who he is which is why we are together. Therefore it doesn't fucking matter what you "Think" or "Want" him to be he's not for you Bitch! Then let's not talk about this Lil vendetta you have with my mom. Wendy Bitch you're cruisin' Honestly, truly.. You go out there talking about my family like you just hit the pipe backstage! When I decided to do this show I knew I would be letting the world see us. But your horse face ass woke up on the wrong side of the stable and decide to go overboard with your fuck boy comments. Bitch fuck you ! "P" body ass hoe @wendyshow @wendyshow @wendyshow
Sheesh. Wendy is notorious for never responding to beefs people have with her, so we're sure she'll act like this never happened...
EXTRAS:
1. VIRAL STORY: A San Antonio cop was caught attempting to feed a homeless man a fecal filled sandwich. STORY
Photos: Getty
​ ​
​ ​ ​