Kanye's Breakdown Allegedly Has To Do With His MEDS + J.Cole Has Some Words For Kanye, Hits Courtside With Wale + Bill Murray Stans For Lupe Fiasco
​
Dec 03 | by Natasha
​ ​ ​ ​
As more news about what sparked Kanye's nervous breakdown comes to light, rapper J.Cole breaks his silence and has some words for Yeezy. He doesn't seem to be beefing with Wale though like folks thought. Plus, who knew Bill Murray was a Lupe Fiasco stan?!
When J.Cole announced his upcoming 4 Your Eyez Only album a few days ago, he followed up with a documentary and a couple fresh releases yesterday. Folks are all abuzz wondering if he fired shots at both Kanye West and Wale.
On "False Prophets (Be Like This)," Cole spits a whole verse about idolizing a rapper and him not turning out to be who he thought he was. He said the rapper is becoming the person he always said he wasn't, he's bugging out, and it's becoming harder for that guy to look at himself in the mirror. Cole also fired shots about said rapper having a ghost writer and just spitting rhymes that aren't even real life. Cole said he's just playing his old records knowing that rapper will never top that again. Kanye anyone?
Most people agree that's who the first verse is about (some even say Drake) but the second verse had folks thinking he was going at Wale. Cole raps about his homie who is anxious to get all the respect legends get but he's always stressing about the haters, and he's too bitter to see his own blessings.
I got a homie he a rapper and he wanna win bad. He want the fame, the acclaim, the respect that's been had by all the legends. So every time I see him he be stressing. talking about niggas don't fuck with him. Shit is depressing. He so bitter he can't see his own blessings. Got damn nigga. You too blind to see you got fans n*gga?
Wale anyone?
Wale seemingly thought it was about him as well. So he dropped a track called "GroundHog Day" today, which seems to be in response to Cole's track. He starts off with:
"I'm heavily flawed, but far from a false prophet....I remember me and Cole would open for Hov / Everyday a star is born / I guess I died in the womb."
Further along, he goes right at J. Cole saying,
"I just heard a song about me on a hip hop blog / from a kid I know / some n*ggas say a hip hop God / it hit home, 'cause this some truth."
But it seems everything is all good between the two. They were courtside at a basketball game today...together: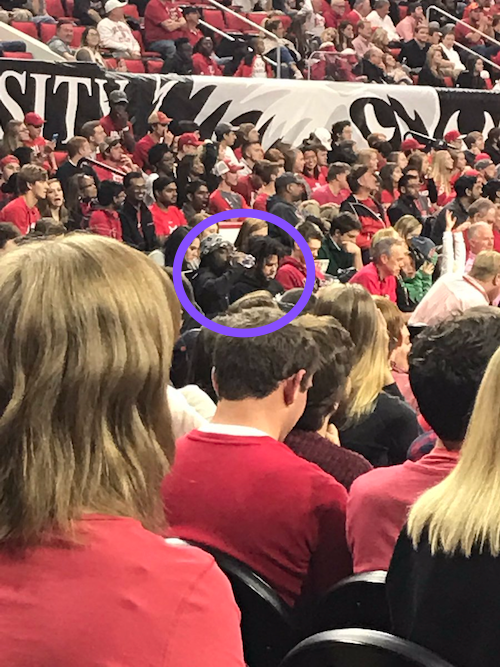 "See you at the game, Bro" pic.twitter.com/jgzxQ85uA5

— Wale (@Wale) December 3, 2016
Hmph.
Here's J. Cole's second vid he dropped, "Everybody Dies," and his 40-minute 4 Your Eyez Only documentary here.
As for Kanye, he may be home from the hospital but he's nowhere near out of the woods according to reports. He must stay on track with his medicine dosage as doctors allegedly feel him switiching it up was the cause for his recent breakdown. He's no longer receiving 24/7 treatment, only outpatient treatment. TMZ reports:
Our sources say Kanye has long suffered from psychological issues controllable by medication. We're told Kanye is steady on his meds, but deviated from the prescribed dosage ... and that's what led to the downward spiral and eventual mental breakdown.

It's still unclear if Kanye flat-out stopped taking some of the pills or just decided to take different amounts -- but we're told he made the biggest changes in the wake of Kim's Paris robbery. Doctors were able to keep Kanye in the hospital for 8 days, and during that time were able to medicate him, and get him more stable.
But there's some good news, according to Keeping Up With The Kardashians producer Ryan Secrest. He told the crowd at Jingle Ball in L.A. last night:
"I've spoken to Kim. I've not spoken to Kanye, but I think that things are going better now."

"There have been some reports that we halted production," he acknowledged. "We did stop for a little bit, briefly, after the Paris incident, but since then we've been back in full production," he said. "We're shooting season 13."
Speaking of rappers with a lot of ish to say, Chi-Town native Lupe Fiasco has an unexpected stan. Legendary actor Bill Murray came out to his show, AND demanded an encore:
When @BillMurray comes to your show in Austin, TX and proceeds to FORCE an encore!

(Gave me some amazing words of encouragement) pic.twitter.com/XSKQ9x0XWL

— Lupe Fiasco (@LupeFiasco) December 1, 2016
Bill is from Evanston, IL, right outside of the Chi, and is a hardcore Cubs fan. Something tells us he's all about repping for his city, even when it comes to rappers.
Photos: Getty/Twitter
​ ​
​ ​ ​