Stacey Dash Got Fired From Fox News On Her Day Off
Jan 22 | by Natasha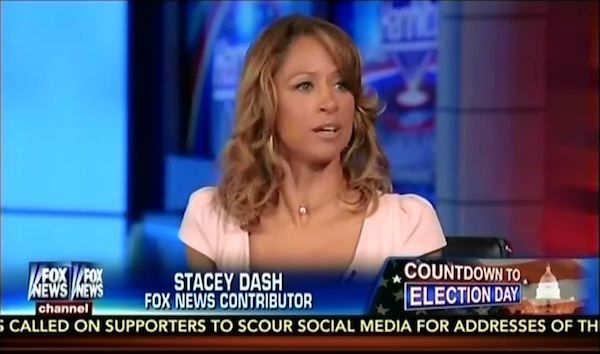 No good deed goes unpunished. The Conservative's biggest mouthpiece for PR stunts just got booted from the most conservative news network. Find out about Stacey Dash getting cut from Fox News inside...
Just when Stacey Dash thought her job was secure with Trump getting into the highest office, not so much.
The Hill reports Fox News decided not to renew a few contracts, including hers. Longtime political commentator George Will and Republican strategist Ed Rollins also won't be entering the Fox News building again, this according to a network spokesperson.
50-Year-Old Stacey was signed by the network in 2014 and appeared on the daily afternoon show "Outnumbered."
Not so coincidentally, Donald Trump blasted George Will, a Pulitzer-winning columnist, back in June after he left the Republican party:
George Will, one of the most overrated political pundits (who lost his way long ago), has left the Republican Party.He's made many bad calls

— Donald J. Trump (@realDonaldTrump) June 26, 2016
If you haven't caught on to the dictator ways of our new POTUS, it's time to get woke. He's been monsterizing, belittling, and discrediting media since day one, something that dictators throughout world history have done when they know credible media can destroy their propaganda filled platform. It's the first steps to disbanding and controlling media in general. When that happens, those media properties no longer become the vehicles for information that the public needs. Trump's administration has an agenda, one directly in line with Fox News. In order for them to stay best buds, we wouldn't be shocked if Fox got rid of anyone who doesn't promote that agenda.
Further proof -- Fox hired a VERY vocal trump supporter on Friday as well. The Hill reports:
On Friday, Fox announced the signing of former U.K. Independence Party leader Nigel Farage as a contributor.

Farage is a major backer of Brexit and outspoken supporter of President Trump.
Hmph.
We also can't help but worry about another possibility. Was Stacey "let go" because Trump is making room for her in his least qualified Cabinet of all time? At the rate these Cabinet appointments are going....
Meanwhile, the Twitter dragging is very real.
Live feed of Stacey Dash collecting her last paycheck at Fox. pic.twitter.com/opagxC0k0q

— Disgon B. Gud (@disgonbgud) January 22, 2017
Fox got rid of Stacey Dash? When you try and sell your soul and they put that hoe in the clearance bin.

— Genghis Khandra (@LadyBugAssassin) January 22, 2017
Kanye and Stacey Dash been begging for rich white acceptance & look how they were treated. They earned the door being slammed in their face.

— Andreas Hale (@AndreasHale) January 22, 2017
Heh: Stacey Dash humiliated as Fox News fails to renew contract. Even Faux News doesn't want you! Sad! https://t.co/GS3K88f0cP

— Valerie (@Ms_valerie_g) January 22, 2017
Me when I found out that Fox news fired Stacey Dash...
Let this be a lesson to all black people: IT DOESN'T PAY TO COON pic.twitter.com/M8z83rYyZ7

— Will H. (@Will_CLT_2017) January 22, 2017
Stacey Dash and Kanye West can remake the "All Falls Down" video together after being used as props and getting kicked to the curb.

— Andreas Hale (@AndreasHale) January 22, 2017
Stacey Dash: Working here is great. I'm ready to do another season at Fox News!

Fox News: pic.twitter.com/jFTEEGFwjG

— muva. (@jahnaimonroe) January 22, 2017
Stacey Dash : So, can I come to the barbecue?

Black People: pic.twitter.com/1LCSlP1uq9

— LoveIs.... (@Naise83) January 22, 2017
Bloop.