ALL THE DRAMA! Karrueche Files A RESTRAINING Order Against Chris Brown, Claims She Was Punched In Her Stomach + Soulja Boy DRAGS Breezy For Supposedly Calling Off Boxing Match
Feb 21 | by _YBF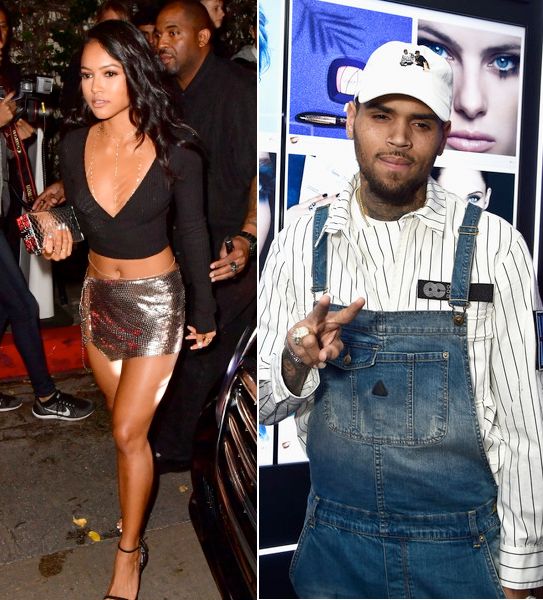 Chris Brown is in the center of some major drama. His ex-girlfriend Karrueche has filed a restraining order against him and Soulja Boy is dragging him for his life for cancelling their boxing match. Deets and receipts inside….
Chris Brown has a lot of drama on his hands.
Breezy's ex-girlfriend Karrueche has filed a restraining order against him because she says she fears for her life. TMZ got their hands on legal documents Kae filed earlier this month.
In a sworn statement, Kae explained to a judge the "Loyal" singer "told a few people that he was going to kill me." The "Claws" actress also said he was going to "take me out" and even "threatened to shoot me." Not only that, he allegedly told some friends that if he can't have her, no one can. Sheesh!
The legal documents also revealed Breezy punched Kae in her stomach twice and he allegedly pushed her down the stairs several years ago. The abuse reportedly happened when Breezy was on probation for beating Rihanna.
Not only has Chris allegedly threatened her life, he also supposedly sent out threats to some of her friends as well. Reportedly, she filed the restraining order because she feels Chris may actually act out on his threats.
Maybe this video Chris posted (then deleted) about being the crazy ex-boyfriend who can't let go had something to do with her filing:
It's interesting to note, both Chris and Kae hit up Chance The Rapper's Grammy afterparty. Breezy arrived with a new chick on his arm and Kae popped up with her bestie Christina Milian.
That's not all Breezy is dealing with....
Soulja Boy and Chris Brown were supposed to duke it out in a boxing match, but it appears the "Look At Me Now" singer has had a change of heart.
After both Soulja and Chris exchanged a war of words on social media, the heated exchange transformed into an all out boxing match. The bout started after Soulja started leaving comments on Kae's Instagram pictures.
Soulja has been busy dragging Breezy online after he allegedly refused to sign off on the fight. He's pissed.
Soulja's timeline is riddled with threats that he's going to punch Breezy in the face whenever they cross paths and he continued to call Chris a "b*tch a** n*gga."
Check out the video above and his tweets below: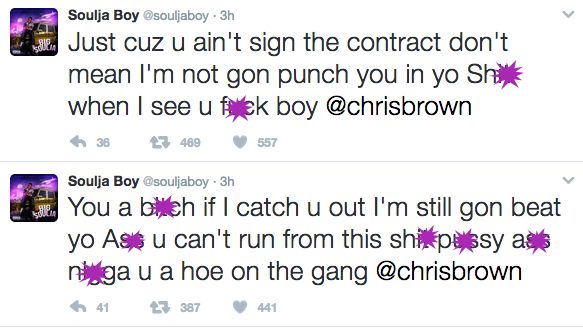 #TeamTooMuch
We checked Chris' social media and he hasn't responded...yet. Wait for it.
UPDATE: Breezy has responded to the Soulja Boy drama and surprisingly, he took the mature route. He said he called off the boxing match because too many other people got in the mix trying to get "a piece of the pie" and he wasn't with that. Listen to his full response below:
Photos: Getty/ATLpics.net