STRAIGHT SAVAGE! Remy Ma BODIES Nicki Minaj On New Diss Track "ShETHER"
​
Feb 25 | by _YBF
​ ​ ​ ​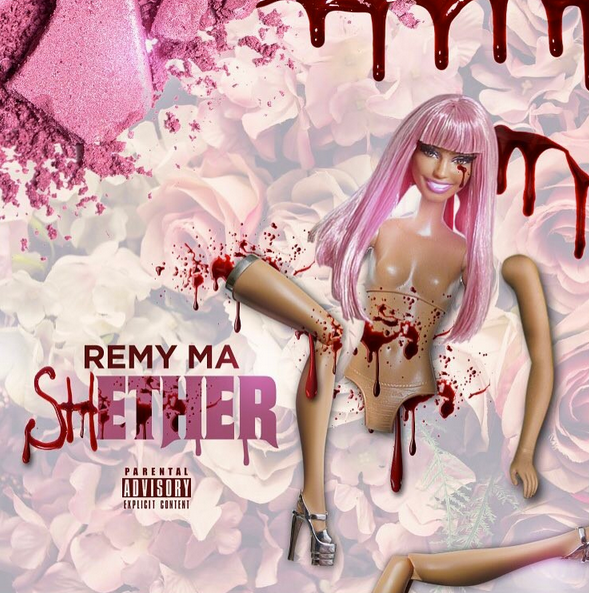 It's on! Remy Ma claps back at Nicki Minaj on a new diss track titled "ShETHER" and Rem went straight SAVAGE on the Head Barb! Take a listen inside…
A female rap beef has just ignited!
Nicki Minaj hopped on Gucci Mane's "Make Love" track and threw tons of shade and subliminals at Remy Ma. Now, Remy is responding and she straight ethers the Young Money rapper.
Rapping over the beat of Nas' 2001 Jay Z diss "Ether," Remy fired several shots at the bootylicious rapper. The diss track opens with a clip of Nicki Minaj yelling, "Free Remy!"
Then, Remy went in on Nicki for allegedly getting a** shots.
She spits:
I told you I wasn't talking about your dumb a**

You look stupid. You literally got a dumb a**

Talking cray, and we all know you dumb as

You get Donkey of the Day. Yeah you, dumb a**

Let's be honest you stole that line about b*tches being your sons

How you take my '09 jail tweet and run

Talking about bringing knives to a fight with guns

When the only shots you ever took was in your buns
Sheesh!
Remy then dropped bars about chatting it up with Nicki's ex-boyfriend Meek Mill during the NBA All-Star festivities last weekend. She said Meek told her he couldn't have sex with Nicki for three months because her "a** dropped" and had to get it plumped back up.
She raps:
I don't think y'all understand how bad her ass got

The implants that she had put in her ass popped

I was like damn 90 days and you couldn't have box

Did she at least compensate by giving you mad top

Her name Minaj right? She ain't throw you some mad thots.

He said 'Nah' That's when I knew you were a trash bot
Remy also went in on Nicki for allegedly having a ghostwriter rapping:
No to be the Queen of Rap you can't have a ghostwriter

And that's why this is my house, Flo-Rida

N*ggas done seen Drake penning Wayne penning

And since your first boyfriend left bitch ain't winning
Damn!
The Bronx MC even went in on Nicki supporting her brother Jelani Maraj, who has been charged with the rape of a 12-year-old child. She accused Nicki of sleeping with Gucci Mane, Lil Wayne, HOT 97's Ebro Darden and singer Trey Songz. Rem even implied she has footage of Nicki sniffing cocaine.
Take a listen to Nicki's "L" below:
Savage!
Remy did say in a recent interview that if she had an issue with someone and wanted to put it in a track she would call out that person's name and anyone associated with them.
After Remy released the track, Nicki hopped on social media to clap back:
And it looks like Nicki is begging for help from Beyonce's BEYHIVE with this post:
Nicki needs to hit the studio ASAP! Thoughts?
Photo: Remy's IG
​ ​
​ ​ ​