MESSY! Tamar Braxton Alleges A Woman Is Claiming To Be Vince's Baby's Mama, Mother Of The Child Accuses Tamar Of Faking The Whole Story!
​
Mar 09 | by Natasha
​ ​ ​ ​
What in the ENTIRE hell is going on here?! Tamar Braxton says there's a Maury situation with some woman claiming to have her husband Vince's child. Hours later, the real-life mother of the child Tamar blasted chimed in calling FOUL on Tay's whole story. PR stunt? Deets inside...
Listen, we're usually all for a Maury's Envelope storyline, but this here is just downright odd.
Tamar Braxton hopped on Instagram earlier today with an entire umpteen-word essay -- a pic included -- about a woman alleging to be Vincent Herbert's baby's mother. Tamar posted a pic of the child and a ridiculously long read about why she's mad someone would "go and start a rumor like this."
Interestingly, she screenshot the pic from an account that goes by the name "ParisHebert". Yeah, we thought that was odd too. Did this person change her last name to Vince's and go looking for trouble? We all know how Tamar tries to cut *ishes over some Vince.
Here's Tamar's whole rant about the "secret baby" story we never heard about until Tamar posted it herself: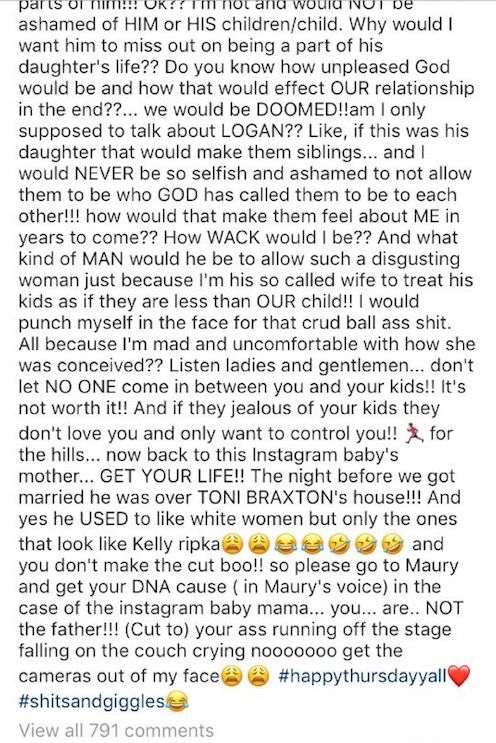 She deleted the whole post, and now we may know why.
Just moments ago, a woman named Jessica Denmark came forward saying the little girl in the picture is her biological daughter. And she has no idea how Tamar got the pic or where she got this story from.
Interestingly, we were told by a source that the little girl's name is Hailey and she has nothing to do with this entire story. The source revealed Hailey's mom is a creator on Pinterest and it seems as though the pics were stolen. Looks like the mom could very well be Jessica.
When Jessica posted that this is, in fact, her daughter, and included pics from the same day, the ParisHebert account chimed in putting Tamar on blast! The person claims Tamar "sent her a picture" and asked her to post it. So she did. Because she "found it not to be a big deal."
Chile. Check it:
While people are in the comments sections of Jessica's account calling HER a liar about the little girl being her real-life daughter and defending Tamar, we're in awe at how quickly ish went left.
Is Tamar creating fake drama before the new season of "Braxton Family Values" premieres next week?
Hmmmm....
Photos: Instagram
​ ​
​ ​ ​