Peter Thomas & Matt Jordan Allegedly Fight At A Radio Station, Peter & Todd Tucker Respond To Matt's 'Money Coaching' Claims
Mar 22 | by _YBF
There's drama between the co-stars of "Real Housewives of Atlanta," and this time it's the fellas at odds. Get the latest between Matt Jordan, Peter Thomas and Todd Tucker inside...
We're used to seeing the ladies on the "Real Housewives of Atlanta" go at it. But now, the fellas are firing shots at one another.
Apparently, Kenya Moore's ex-boyfriend Matt Jordan is pissed about how he's being compensated for starring on the show, so he's calling out two of his co-stars, Peter Thomas and Todd Tucker, for their ill-advising.
Over the weekend, Matt hopped on social media to call out Peter AND Todd for coaching him into getting money out of Kenya Moore. He said Peter and Todd told him he would be paid $10,000 for taping the reunion (that went down last Thursday) and $5,000 for appearing throughout the show.
Well, he must have not gotten the money he THOUGHT he was getting, so now, he's blasting Peter and Todd. We're not exactly sure why he's mad at them instead of Kenya if she's the one who is supposed to be coughing up the dough. Since he and Kenya are at odds, she likely didn't give him his cut IF the rumors about her giving him a percentage of her earnings are true.
Here's what he said in a clip he uploaded on social media:
He also fired shots at Peter and Todd on Instagram: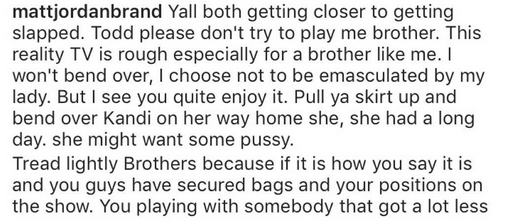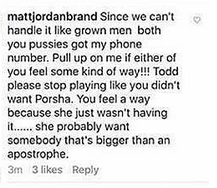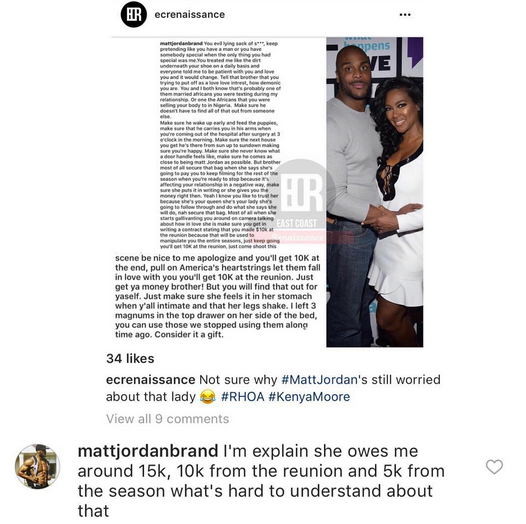 Well, Peter and Todd have responded to Matt's claims and they're basically saying they have NOTHING to do with him being compensated. Check it:
According to FreddyO.com, ish went from 0 to 100 real quick when Matt and Peter ended up at the same radio station.
The site reports:
From what Matt told multiple sources, Peter was talking shit and he needed to let him know that all of this should be handled, man on man. Long story short, the quarrel happened at a radio station somebody ended up on the floor, somebody was choked, but most importantly the cops were called and charges will be filed. Although there aren't any details of why Peter was at the radio station, or why Matt was that furious with Peter, charges will be filed against Matt for assault.

We exclusively spoke to Peter and he's currently focused on keeping his brand clean he said,

"I wasn't trying to fight at the radio station which is so unprofessional, but I will be pressing charges". Matt, on the other hand, is also not playing sources report he refused to sign the waiver from the radio station to allow them to release video footage from the fight so if he doesn't release it you might not ever get to see it unless somebody snakes and puts it out."
Sounds like Matt is trying to create a storyline of his own to stay on the show.
Photos: BRAVO/Instagram