Aretha Franklin Just Came For Dionne Warwick's Wig Over An Umpteen Year Beef!
​
Apr 25 | by Natasha
​ ​ ​ ​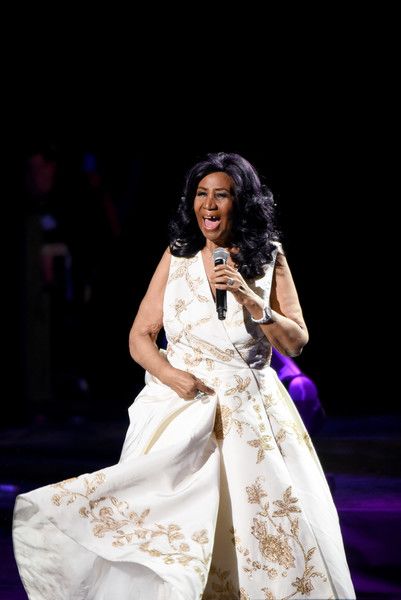 Whoever is showing Auntie 'Retha old videos on the iPad really needs to stop. Because she's all up in her feelings over old ish. Deets inside on how she just tried to yank Dionne Warwick's wig over an incident from YEARS ago....
During Whitney Houston's funeral five years ago, Dionne Warwick first told attendees that Aretha Franklin was there, but then backtracked when she "realized" she wasn't saying:
"'Ree's not here, but she is here," Warwick said, referring to Franklin by a nickname. "She loves Whitney as if she were born to her. She is her godmother."
Aretha may have thought she was was trying to throw undercover shade since Dionne supposedly knew from the get Aretha wasn't coming.
Days later, Cissy Houston made sure to "correct" the godmother potion of what Dionne said, telling media that Aretha was not Whitney's godmother. Singer Darlene Love was.
For some reason, Aretha's held on to this "slight" tighter than a pack of church mints. She felt compelled to send the Associated Press a fax earlier this week (yes, A FAX!) saying she wasn't at the funeral because of her swollen feet that she had to care for in order to perform at Radio City Music Hall later on that night. She also said Dionne's statements were "libelous":
Franklin called The Associated Press on Tuesday, after sending a lengthy fax the day before, to address what she claimed was a "libelous" statement against her made five years ago at Houston's funeral.
Apparently, ReRe was set off after a run in with Dionne the other night at Clive Davis' event where Aretha performed (above):
"[Dionne] said, 'Give me a hug.' I said, 'Oh hell no. You couldn't be serious,'" Franklin said.

When asked if she wanted an apology from Warwick, she said: "I don't care about her apology, at this point it isn't about an apology, it's about libel."

She added: "We've never been friends and I don't think that Dionne has ever liked me."
Bloop. By the way, Dionne's people said she's not dignifying Aretha's statements with a response.
Photo: Getty
​ ​
​ ​ ​