Fyre Festival Disaster: Organizers Blew Threw Money On Models, IG Posts, & Yachts + Lawsuits Left & Right
May 04 | by _YBF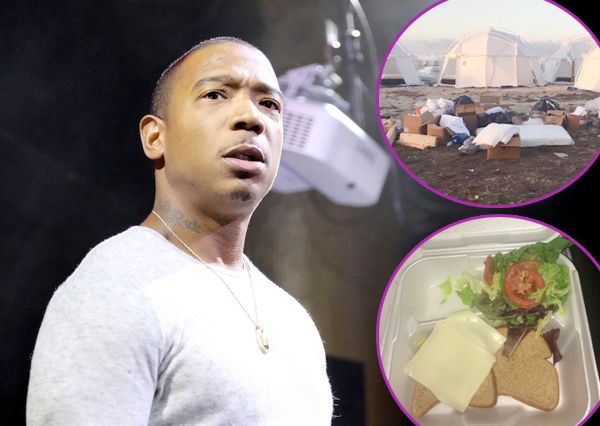 Details about the train wreck that is the Fyre Festival are coming out. And it sounds like someone is about to be coughing up some SERIOUS cash. Get the latest inside…
As you all know, Ja Rule and (alleged) tech entrepreneur Bill McFarland's inaugural Fyre Festival was a total disaster. There was NOTHING luxury about it like they hyped it up to be on Instagram. Folks who were paying tens of thousands of dollars for tix now know where their money really went.
Now, details about how the festival crumbled before everyone's eyes are leaking out. And it's very telling.
For starters, organizers ran into a huge problem. They got low on cash! Yep, a month before festivalgoers were expected to descend on a remote island in the Bahamas the people putting the festival together had run out of money. The reason? They were too busy shelling out cash to models to promote the festival on their personal social media accounts.
A source who worked on the festival told VICE:
"He [McFarland] spent $250,000 on a single Instagram post from Kim Kardashian's half-sister Kendall Jenner and laid out hundreds of thousands more on lesser-name 'influencers,' none of whom were paid less than $20,000."
Whet?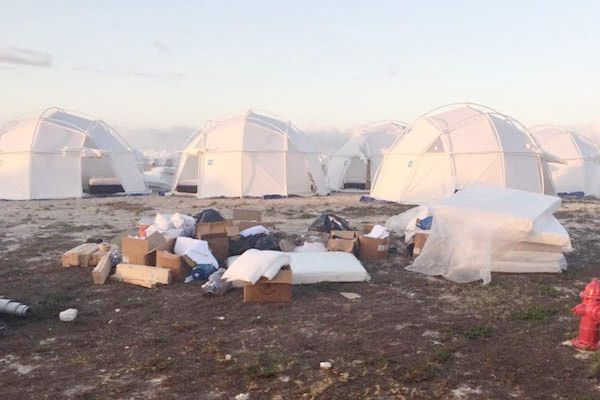 Organizers were scrambling a month before the festival trying to secure toilets, showers, tents and other fundamental necessities. Apparently, they didn't consider a thing called customs and how long it would take materials to go through that process.
"There was no infrastructure to even support the equipment. They didn't even have a loading dock, they had no understanding of what vehicles were on the island to even move the stuff off the ship once it got there," a supplier spilled to the site. "They said stuff like, 'Don't worry about customs; it's only for a weekend, you don't have to worry about customs."

"Interviews with dozens of people, including former Fyre employees, contractors, and potential investors, reveal the organizers behind Fyre Fest knew months in advance that they were not going to be able to provide even a fraction of what they were selling."
Organizers tapped models like Kendall Jenner, Hailey Baldwin and Bella Hadid to promote the festival on their social media accounts. But, they failed to mention the posts were promotional ads. And a class action lawsuit points out that their posts were violating the Federal Trade Commission guidelines.
"These 'sponsored posts' were in direct violation of Federal Trade Commission guidelines on disclosing material connections between advertisers and endorsers," the suit alleges. "Social Media 'influencers' made no attempt to disclose to consumers that they were being compensated for promoting the Fyre Festival. Instead these influencers gave the impression that the guest list was full of the Social Elite and other celebrities."
Now, Fyre Festival organizers are trying to save face, offering festivalgoers full refunds OR tickets to next year's festival. Umm…really? The company posted an apology on their official website promising to give their money back or VIP passes for 2018:
"All festival goers this year will be refunded in full. We will be working on refunds over the next few days and will be in touch directly with guests with more details. Also, all guests from this year will have free VIP passes to next year's festival.
And get this, many folks say they WOULD attend next year.
Chile…
High profile attorney Mark Geragos filed a $100 million lawsuit against Ja Rule and the organizers on Sunday (April 30th). See the paperwork here.
A second lawsuit popped up on Tuesday (May 2nd). Attorney John Girardi is representing Chelsea Chinery, Shannon McAuliffe, and Desiree Flores in a lawsuit over breach of contract, negligent misrepresentation, and fraud suit, according to THR.
A third lawsuit was filed by attendees Matthew Herlihy and Anthony Lauriello who are suing over "false representations, material omissions, and negligence regarding the 'Fyre Festival' and their failure to organize, prepare, and provide attendees with the experience that the Defendants marketed as being a luxurious private-island getaway."
We can assume more lawsuits will follow.
What a tragic, steaming mess.
Photos: Getty/Twitter