Jalen Rose Blames Cavs' Defeat On The 'Kardashian Kurse' + Draymond Green's Mom Fights A Cavs Fan In Game 3
​
Jun 08 | by _YBF
​ ​ ​ ​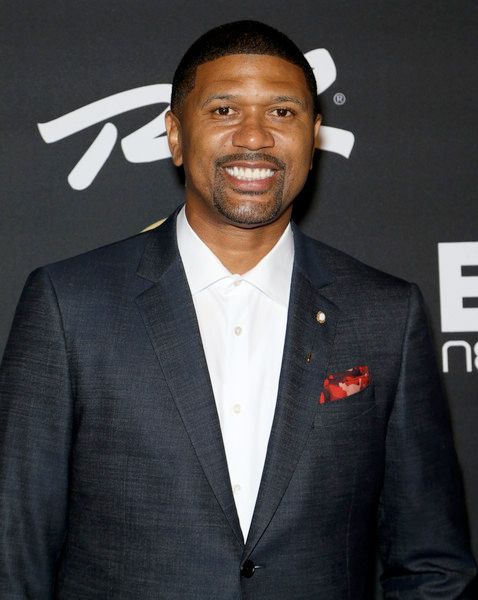 Jalen Rose is blaming the Kardashian Kurse on the Cleveland Cavaliers' losing streak. And Draymond Green's mom Mary Babers is going to war in the stands with Cavs fans. Peep the clips inside....
Is the Kardashian Kurse real? Jalen Rose seems to think so.
During an appearance on ESPN's "First Take" last night ahead of Game 3 of the 2017 NBA Finals, analyst Jalen Rose served up his thoughts on the "Kardashian Kurse." And he reiterated his opinion after the game as well.
As you all know, Cleveland Cavaliers baller Tristan Thompson is in a relationship with reality star Khloe Kardashian. There were rumors that Tristan and Khloe broke up right before the playoffs, but she (predictably) posted a picture of him on her SnapChat to prove they're still together. It's unclear what the current status of their relationship is right now, but it definitely seems like the "Kardashian Kurse" is real.
Not only did the Cavs lose to the Golden State Warriors (118-113)on their home court last night, Tristan played an awful game. For him. Throughout the entire game, he played for 23 minutes, shot 0-of-1 and finished the game with 3 rebounds and 2 assists. Oh, and he also ran into his teammate LeBron James, knocking him to the ground for a brief moment.
Well, Jalen spoke up about Tristan's performance and we can't help but laugh (and semi-agree):
Do you agree?
And then THIS happened during Game 3:
Draymond Green's mom Mary Babers had to boss up on some Cleveland Cavaliers fans who got out of control. She didn't back down either. That's right mom! Stan out for your son. Peep the clip above.
By the way, ratings for Game 3 of the 2017 NBA Finals went up 14% from last year's game. In addition, the NBA Finals on ABC continue to produce record streaming numbers, including several for Game 3. Nearly two million unique viewers (1,964,000) streamed the game with an average minute audience of 440,700 viewers - all records for an NBA Finals Game 3.
Check out LeBron's post-game interview where he talks about the Warriors' explosive play below:
BONUS:
Draymond's mom dishes on Kevin Durant's defense. Peep the clip above.
The Cavs and the Warriors will meet again for Game 4 tomorrow, July 9th in Cleveland at 9pm EST. Who y'all got?
Photo: Getty
​ ​
​ ​ ​