Serena Williams & Baby Bump STUNT IN VOGUE Magazine + LeBron & Savannah James Are Philanthropic Goals
​
Aug 16 | by _YBF
​ ​ ​ ​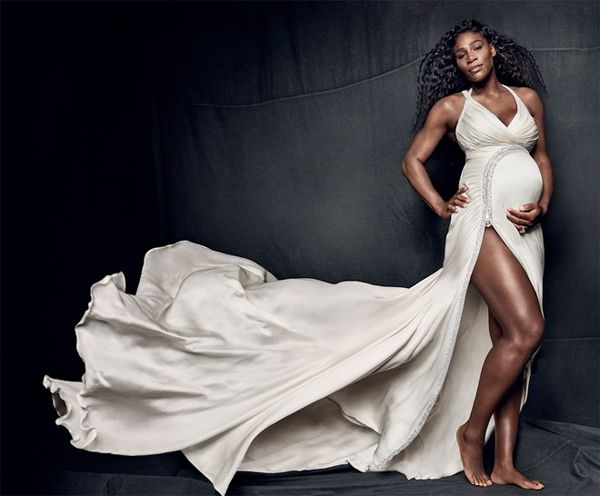 Serena Williams and her baby bump are taking over VOGUE magazine. She's not the only one. LeBron and Savannah James are also featured in the magazine. Everything inside…
Pregnancy looks damn good on Serena Williams. She and her fiancé Alexis Ohanian are gearing up to welcome their first child and they couldn't be happier.
Rena was tapped to be interviewed by VOGUE magazine and her soon-to-be husband joined her as she sat answering questions about her pregnancy, tennis and entering motherhood.
The question everyone wants to know….will she be returning to tennis? She has said it before and she'll say it again, YES. Age and post-pregnancy are non-factors.
"It's hard to figure out what the end of your tennis career should look like," she said. "I used to think I'd want to retire when I have kids, but no. I'm definitely coming back. Walking out there and hearing the crowd, it may seem like nothing. But there's no better feeling in the world."
The 35-year-old tennis star said being pregnant has restored her with new power.
"Obviously, if I have a chance to go out there and catch up with Margaret, I am not going to pass that up," she said. "If anything, this pregnancy has given me a new power."
We are SO ready to cheer her on when she returns to whoop some ***.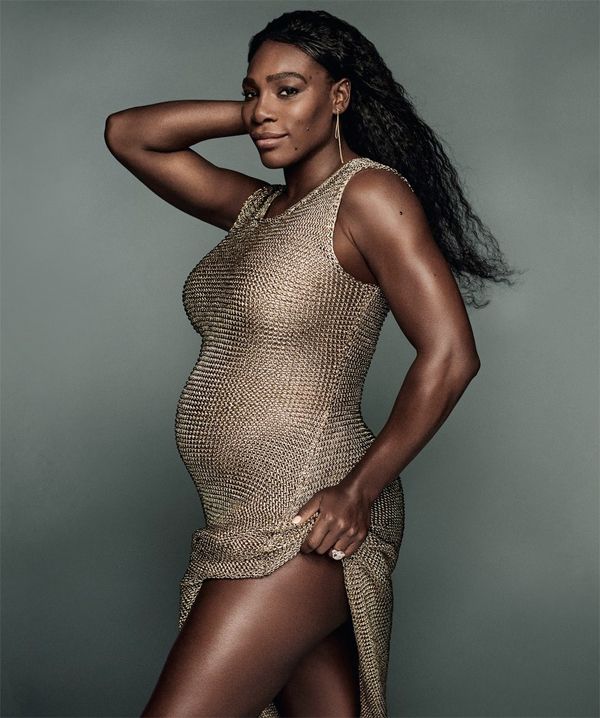 Proving motherhood starts even before the baby is born, Rena talked about how she had to pop off on former Romanian tennis player Ilie Nastase not once, but TWICE.
"I'm like, dude, are you serious? Classless," she explained. "Don't come for me, and don't come for my baby. And then the drug rant! I'm tested all the time. I'm not putting poison in this body. If I can't beat you, I'm not going to cheat to win. End of story." (Ohanian says that his fiancée's fastidiousness borders on the paranoid: "I'll be eating a protein bar and she's starving, and she'll be like, Nope. Can't risk it. Not sure that's approved.")
You hear that? Don't come for her or her baby!
The sex of the baby is still unknown, but they both have a theory on the baby's sex.
"Alexis thinks we're having a boy, but I have a strong suspicion that it's a girl," she said "Two weeks after we found out, I played the Australian Open. I told Alexis it has to be a girl because there I was playing in 100-degree weather, and that baby never gave me any trouble. Ride or die. Women are tough that way."
Over the weekend...
Serena Williams Takes Her Fetus Grocery Shopping. Check it out on @XumoTV https://t.co/q4JEFCfTDg

— TMZ (@TMZ) August 16, 2017
The soon-to-be mom, her future husband and her mom Oracene Price were spotted on a grocery run at Publix in Palm Beach Gardens.
Also in VOGUE magazine...
Cleveland Cavaliers baller LeBron James and his wife Savannah James are relationship goals, times 10. They've been together since high school and there aren't any cheating scandals or break babies in the headlines. They have three beautiful children and the four-time NBA MVP treats his wife like a queen. They seem to still be madly in love with one another after being together for so many years.
Not only that, they're both big on philanthropy. They love giving back to their hometown of Cleveland, the place they grew up and met one another. The happy couple chatted with VOGUE magazine about their efforts and its so inspirational.
This past spring, Savannah announced a new program in Akron: Women of Our Future. Along with a team of certified mentors and counselors, she will begin working with sixteen high school girls at Buchtel, her alma mater, offering one-on-one support. Her inspiration? Savannah remembers her own mother doing anything she could to help young people in need. "When I was growing up, my mom took in three or four kids just because they needed a place to go and be safe, to eat," she says. The other inspiration is Akron and its residents. "These are my friends; these are my cousins," says Savannah. "These are people who I was extremely close to and still am now; these are the kids of neighborhood kids who we saw every day at school. And if they just have the right push. . . ."

In Akron, you see a side of LeBron that the rest of the world doesn't. Everybody knows LeBron James the basketball star. And most people understand that he is a budding player in Hollywood, executive-producing his own television series (The Wall and Cleveland Hustles) and, even more famously, costarring in Trainwreck. Even LeBron James the businessman, with multiple endorsement deals, is no big news—not, for instance, to Warren Buffett. The investment guru said by phone that he thinks of LeBron as not just warmhearted and funny—James nicknamed Buffett Uncle Warren—but sharp. "If I'd had that much success that young, I'd have had trouble, but he's been able to just be sensible and keep his head on straight. I admire him greatly. He's one of my favorite nephews!"
Class acts!
Photos: VOGUE
​ ​
​ ​ ​