LaMelo Ball Is The 1st High School Baller With His Own Shoe & Reality Show + Kyrie Irving Busts Out Celtics Gear After Saying Goodbye To Cavs
​
Sep 01 | by _YBF
​ ​ ​ ​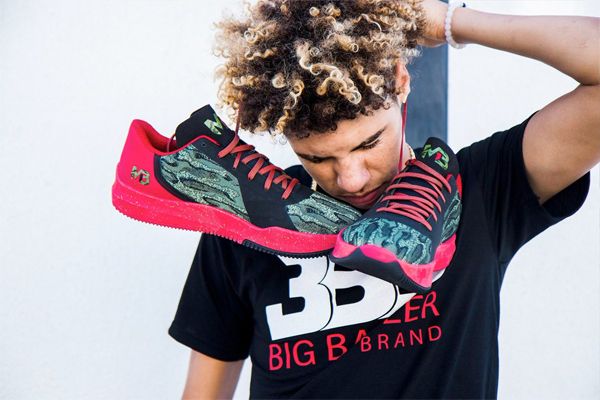 LaMelo Ball, brother to NBA rookie Lonzo Ball, is making history as the first high school basketball player to have his own sneaker and reality show. Meanwhile, Kyrie Irving says farewell to Cleveland Cavaliers and gets introduced to the Boston Celtics now that the trade is finalized. More inside…
LaVar Ball is putting in overtime to make sure his sons are overly successful. His eldest son Lonzo Ball was recently drafted to the LA Lakers and his a signature shoe to his name. Now, the youngest Ball brother is setting out to follow in his footsteps.
The Big Baller Brand – founded by their dad LaVar Bell – announced LaMelo Ball, a high school junior at Chino Hills (Calif.), will have his own shoe on the market soon. And the big announcement was made on the same day their "Ball In The Family" premiered on Facebook. Yes, the Ball family has a reality show to chronicle everything that's happening in their lives.
Today, LaMelo Ball becomes the 1st high school player ever to have his own signature shoe. The "Melo Ball 1" pic.twitter.com/3EpJuBA1EF

— Big Baller Brand (@bigballerbrand) August 31, 2017
LaMelo's shoes will run you about $395, $100 less than his big brother Lonzo shoes. He's the first high school basketball player to have his own sneaker.
While having his own sneaker is big news, the sneaker venture could jeopardize his potential eligibility:
Big Baller Brand announces high school junior LaMelo Ball will have his own shoe on the market. Could make him ineligible. pic.twitter.com/rjzjmxSYz1

— Darren Rovell (@darrenrovell) August 31, 2017
Yikes.
The middle Ball brother, LiAngelo, is an incoming freshman at UCLA (where Lonzo played for one season). He doesn't have his own signature sneaker, but we wouldn't be surprised if his sneakers were coming out next.
This family gets tons of criticism, mainly for how their dad brings new meaning to helicopter parenting, but can we really be mad at a father having so much pride in his sons' abilities? At the very least, he's making sure they are making money off themselves, as opposed to letting agents and managers get majority.
There are plenty of mainstream (i.e., white) brands who charge this amount or more out the gate...before proving or making a name for themselves. And no one bats an eyelash. Just food for thought.
In other basketball news...
Now that the blockbuster Kyrie Irving trade is finally finalized, the former Cleveland Cavaliers player is officially saying goodbye.
The NBA point guard took to his Instagram page to thank the city of Cleveland and its fans for holding him down the six years he spent on the team. Check out his Thank-You letter above.
After saying goodbye to Cleveland, Kyrie said "Hello" to his new leigon of fans:
New team, new look.
Today, a clean shaven Kyrie (alongside Godron Hayward) sat before the media to be introduced as one of the newest players of the Boston Celtics:
Full panel pic.twitter.com/l3hznCLQx7

— Brian Robb (@BrianTRobb) September 1, 2017
He revealed he hadn't spoken to LeBron James since news broke that he requested a trade. However, he did talk about how much he learned from playing with one of the greatest players of all time.
"My intent is to be happy and with a group of individuals I can grow with...that's not meant as a knock on Cleveland," he said.
Respect. Check out the full press conference below:
Photos: Big Baller Brand's Twitter
​ ​
​ ​ ​