IT'S GOING DOWN! Yung Joc - 'I Had To Man Up & Put On A Dress'
​
Sep 14 | by _YBF
​ ​ ​ ​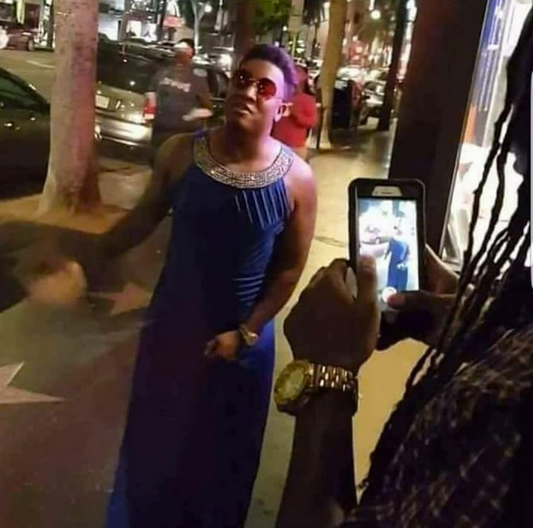 Yung Joc was spotted trekking through the streets in a dress…with cameras rolling. And social media is having a field day. He later explains himself, but folks are still confused AF. More inside...
We're not exactly sure what's going on, but Yung Joc was spotted in the streets of Atlanta wearing a gown. The shock from folks isn't necessarily a man in a dress, as hes surely not the first or last to do so. If that's your steez, so be it. It may be the fact Joc never had this particular steez previously.
We noticed cameras were rolling, so maybe we'll see this on an upcoming episode of "Love & Hip Hop: Atlanta"...or something else.
See him in action below:
As expected, folks are sounding off about Joc in a dress:
Yung Joc cross dressing for a role to play................................................................. OK pic.twitter.com/lEEbzmacTG

— 540DRE RHODES (@drerhodes) September 13, 2017
Yo yung joc out here tripping pic.twitter.com/f003WEP1Hn

— blvck (@blvckNC) September 13, 2017
I was going to question why Yung Joc wearing a dress but I remembered he's from Atlanta pic.twitter.com/yjwb5ur4AT

— (@Kayya___) September 13, 2017
Give us Tommy From Power and y'all can have Yung Joc he out here rocking a maxi dress. "Meet me at rainbow it's goin down" pic.twitter.com/bZU4nvBDuJ

— Negrotiator (@1EntreProNegro) September 13, 2017
After his picture went viral, the "Love & Hip Hop: Atlanta" star hopped on Instagram to explain why he was wearing a dress. From what he said, it sounds like he could be working on a new show. Or, he lost a bet. We're not exactly sure. He also said he wants people to stop being so judgemental. It's just THREADS!
"For those who are so quick to call on the Illuminati and say I sold my soul, tell me how I sold my soul? Yeah I f*ck around, sh*t had to happen, I had to man up and put on a f*ckin' dress. Guess what it's just a thread. I'm man made," he said. "All I'm saying is quit being so judgmental."
Check out the clips he posted then deleted below:
By the way, Joc is in a new VH1 series called "Scared Famous," premiering Monday, October 23rd. Is it possible this was a challenge?
Based on the premise below, it's quite possible this could have been a challenge of his: Legendary rapper Redman is named the Master of Scare-a-Monies for 10 of the biggest reality stars as they try to endure gruesome challenges and terrifying scares that pay homage to recent horror hits. Over 2 weeks, these celebrities will move into an eerie estate in Savannah, Georgia, one of America's most haunted cities, and test their limits for a chance to donate $100,000 to his or her favorite charity. They must rely on alliances, strategy and friendships, but supernatural forces beyond their control may be their true undoing.
Thoughts?
Photo: Instagram
​ ​
​ ​ ​