Why Everyone Thinks Matt Lauer's Firing Is Karma For Tamron Hall & Ann Curry - The Disgusting Sexual Assault Details
​
Nov 30 | by _YBF
​ ​ ​ ​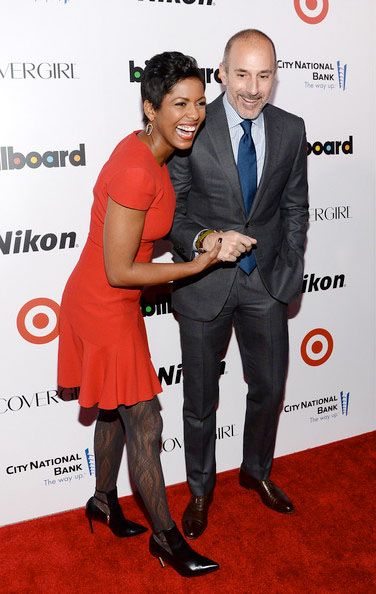 The Internet's level of chill is on zero after TODAY show anchor Matt Lauer was fired due to sexual assault allegations. Folks are saying it's karma, which is being served colder than ever. Also, the disgusting details of what he did have spilled and he has since issued an apology. Get it all inside…
Shock waves jolted through the media when NBC announced they had FIRED long time "TODAY" show co-host Matt Lauer over sexual assault allegations. He was the highest paid host on TV and had been with the network for 20 years.
Peep the emotional announcement from Hoda Kotb and Savannah Guthrie below:
Now, the Internet is having a field day with jokes about his firing, dubbing it as karma for the network (shadefully) letting go Tamron Hall and Ann Curry. You'll recall, Tamron left the network earlier this year (and we don't think it was amicable) only to be replaced by medicore Megyn Kelly. In 2012, Ann Curry was ousted from the morning show, and folks everywhere say it was to appease Matt Lauer.
Well, like that old saying goes, what's done in the dark always comes to light. And Twitter is letting him have it. Peep the tweets:
#Matt Lauer fired....Tamron Hall, Ann Curry...........are like pic.twitter.com/uaTEpdgytI

— Joyce Ward (@patrob123) November 29, 2017
Now that douchebag Matt Lauer is gone, somebody call up Ann Curry and Tamron Hall to give them back their hosting jobs.

— Dominic Jenkins (@theDomJenkins) November 29, 2017
Somewhere Ann Curry and Tamron Hall watching Matt Lauer trend on Twitter: pic.twitter.com/V8tC5n0tkQ

— Kyle Knight (@kyleknightmusic) November 29, 2017
Matt Lauer fired?!?!? Tag yourself: I'm Ann Curry and Tamron Hall at home like pic.twitter.com/5k5fKz7bas

— c (@Caroline_3_21_) November 29, 2017
Ann Curry and Tamron Hall were basically let go from NBC to make room for Matt Lauer's selfishness and Megyn Kelly. How did that work out for the network.

— Shea Jenkins (@iamsheajenkins) November 29, 2017
Jokes aside, the details of his alleged sexual misbehavior are disgusting AF. Matt's firing came after a current NBC employee spoke up about inappropriate sexual conduct from the married Matt while they were reporting from the Sochi Olympics in 2014. She claims the abuse continued over several months.
It's also reported he sexually harassed several other female colleagues. In one incident he reportedly gave a female employee a sex toy as a present along with a explicit letter detailing how he wanted to use it on her. In another situation, he allegedly dropped his pants, showing his penis while a female colleague was in his office. After the female employee declined to engage in any sexual acts with him, he reprimanded her.
Variety gives more details of his alleged inappropriate behavior:
He would sometimes quiz female producers about who they'd slept with, offering to trade names. And he loved to engage in a crass quiz game with men and women in the office: "f—, marry, or kill," in which he would identify the female co-hosts that he'd most like to sleep with.

These accounts of Lauer's behavior at NBC are the result of a two-month investigation by Variety, with dozens of interviews with current and former staffers. Variety has talked to three women who identified themselves as victims of sexual harassment by Lauer, and their stories have been corroborated by friends or colleagues that they told at the time. They have asked for now to remain unnamed, fearing professional repercussions.

Several women told Variety they complained to executives at the network about Lauer's behavior, which fell on deaf ears given the lucrative advertising surrounding "Today." NBC declined to comment. For most of Lauer's tenure at "Today," the morning news show was No. 1 in the ratings, and executives were eager to keep him happy.

It's not clear if NBC is paying Lauer through the end of his contract, which expires in 2018. Lauer couldn't be reached for comment.
Oh, and there's more.
According to The New York Times, NBC has received two more complaints filed against Matt. The site reports:
On Wednesday, NBC received at least two more complaints related to Mr. Lauer, according to a person briefed on the network's handling of the matter. One complaint came from a former employee who said Mr. Lauer had summoned her to his office in 2001, locked the door and sexually assaulted her. She provided her account to The New York Times but declined to let her name be used.

She told The Times that she passed out and had to be taken to a nurse. She said that she felt helpless because she didn't want to lose her job, and that she didn't report the encounter at the time because she felt ashamed.
This morning, Matt issued a public apology via his public relations team, claiming some of the stories are "untrue." He likely could be talking about that "secret button" at his desk that closes and/or locks the door. While some reports made this button out to be the way Matt trapped women in his office, it's actually a button all execs and major employees have at their desks at almost all networks as a way to quickly turn a meeting into a closed one. Here's what he said:
"Some of what is being said about me is untrue or mischaracterized, but there is enough truth in these stories to make me feel embarrassed and ashamed. I regret that my shame is now shared by the people I cherish dearly."

"There are no words to express my sorrow and regret for the pain I have caused others by words and actions," Mr. Lauer wrote. "To the people I have hurt, I am truly sorry. As I am writing this I realize the depth of the damage and disappointment I have left behind at home and at NBC."

"Repairing the damage will take a lot of time and soul-searching and I'm committed to beginning that effort. It is now my full-time job. The last two days have forced me to take a very hard look at my own troubling flaws. It's been humbling. I am blessed to be surrounded by the people I love. I thank them for their patience and grace."
We hear you. But...Boy, bye.
Photos: Getty
​ ​
​ ​ ​