Colin Kaepernick Is In The Running To Become The 'TIME' Person Of The Year + Is Eagles Player Malcolm Jenkins (And NFLPA) Getting Paid To Stop Protesting?
​
Dec 04 | by _YBF
​ ​ ​ ​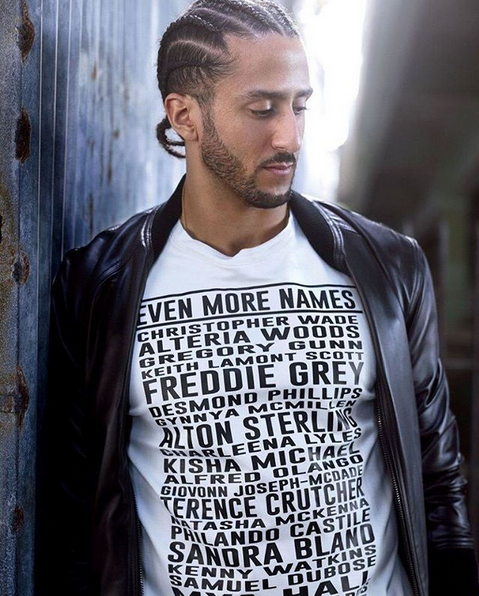 NFL free agent Colin Kaepernick might become TIME's Person of The Year for launching the national anthem protest. Meanwhile, NFLer Malcolm Jenkins is being called a sellout for not continuing to participate in the protest. Deets inside...
The awards just keep trickling it in and rightfully so.
Colin Kaepernick put his career on the line when he launched his silent national anthem protest. While it has apparently cost him his job (since the NFL is seemingly blackballing him), his efforts haven't gone unnoticed.
The 28-year-old baller is now 1 of 10 candidates in the running for TIME's 2017 Person of the Year. Woot!
Each year, the magazine recognizes the person or group of people who most influenced the news during the past year, for better or for worse. We know who'd win for worse....
The former 49ers quarterback will be going up against Donald Trump, Kim Jong Un, the #MeToo movement, and Amazon's Jeff Bezos, just to name a few. Check out the full list here.
We're putting our vote in for Colin!
This news comes on the heels of Colin being awarded Sports Illustrated's Muhammad Ali Legacy Award and nabbing GQ's Citizen of the Year Award.
Speaking of the national anthem protest...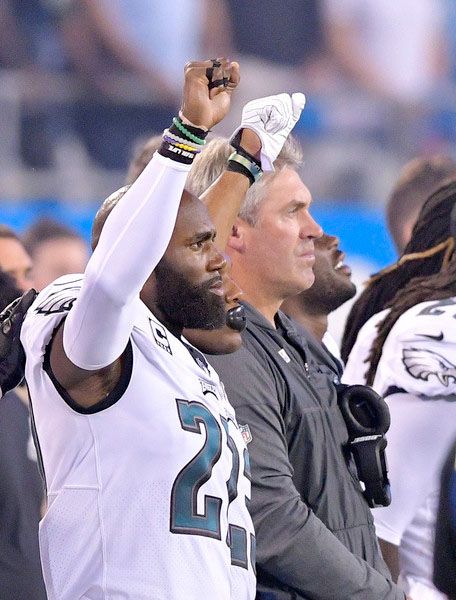 Folks are coming at Eagles player Malcolm Jenkins' neck after he announced he would no longer participate in the protest. Instead of taking a knee, Malcolm would raise his fist in the air during the national anthem. But, we will not be seeing him do it any longer.
Why? MULA.
He claims his ultimate goal was to raise awareness "social injustices that plague our country." And since he says he's done that, he's finished with protesting.
But, his announcement to not protest surely came at a eyebrow raising moment, being that the NFL JUST donated $89 million to the NFL Players Coalition over seven years to "address social issues considered important to African-American communities," namely education, criminal justice and law enforcement reform. And it just so happens that the Philadelphia Eagles safety is the unofficial Players Coalition spokesman.
The money will be split up as follows:
All but $16 million of that total has been "vetted and approved" for national funding of the Coalition, which is now a fiscally sponsored project; Dream Corps, an organization aimed at aiding the impoverished and underrepresented; and the United Negro College Fund, which offers scholarships to black students.
A large chunk of the money will go directly to the NFLPA, but reportedly, a board of 5 NFL players will be joined by 5 owners and others in "determinign how to spend it."
Hmm…hush money or nah?
In a lengthy letter to CBS Sports, Malcolm addressed those who are calling him a "sellout." He said instead of continuing to protest, he's looking to "get the media coverage and attention on the tragedies we need to fix – those in our juvenile justice system, unjust bail policies, mass incarceration of young black men in this country and lack of employment opportunities in low-income communities."
So we can't do both?
Read excerpts from his letter below:
It has been my goal for the past two years to raise awareness about some important social injustices that plague our country. The PEOPLE who have been unjustly disenfranchised by our criminal justice system and the PEOPLE who daily fight for them always have, and always will be, the inspiration and focus of my efforts. I'm proud of what my peers and I have been able to accomplish by using the platform we have these last two years. I'm proud to be part of a group of men who are standing up because we can help others. I'm proud of the men who may now disagree with me and our direction, but still played a significant role in getting results through our actions. We will not be deterred from fighting for justice. There are many players across the league who have joined these efforts toward new legislation, reestablishing trust with our police and helping to create educational and economic opportunities in our communities. I welcome anyone who wants to join us.

I wholeheartedly support and respect those who want to continue to protest. My hope and my focus now will be on getting the media coverage and attention on the tragedies we need to fix – those in our juvenile justice system, unjust bail policies, mass incarceration of young black men in this country and lack of employment opportunities in low-income communities – not whether I'm raising a fist before taking the field.

What the NFL has done is a good first step – it's not going to solve the massive problems we have in our cities and states across this country, but it's a start. And, more importantly, I'm glad we were able to get them to acknowledge their responsibility and role in trying to help solve these problems and injustices. They are making a major commitment, more than they have done for any other charitable initiative, to provide us with the marketing platform to educate millions of fans about social justice, racial inequality and the work players are doing in criminal justice reform, police accountability/transparency and education/economic advancement.

For myself and the Players Coalition, it was never about the money or having our voices bought. To hear people call me or anyone else a sell-out is insulting. It has always been, and will always be, about lifting the voices of the people and the work of those that fight for them. God Bless.
Read the full letter here.
Thoughts?
BONUS:
Will be better next week in all areas I apologize to #GiantsNation for my postgame comments and not getting it done today. pic.twitter.com/RIDmVwlwCW

— Geno (@GenoSmith3) December 4, 2017
Just one day after Eli Manning was benched by the NY Giants head coach Ben McAdoo and black QB Geno Smith started in his place, McAdoo and black GM Jerry Reese have been fired. The benching of Eli, who has led the team for 210 consecutive games, caused an uproar all week. The owners seem to be more pissed at him being benched for Geno than they are about this 2-10 season.
Go figure.
Photos: GQ/Getty
​ ​
​ ​ ​