Another Day, Another Set Of Tyrese Claims: He Married Ex-Wife So She Can Stay In The US, Was Offered 'Fast & Furious' Spin-Off First Before The Rock
​
Dec 06 | by _YBF
​ ​ ​ ​
Tyrese is publicly speaking out via media interviews for the first time to address everything that went down during his social media meltdown while he was being investigated for child abuse.
Find out what he said about his ex-wife Norma Gibson and the Fast & Furious spin-off. Plus, deets on Dwayne "The Rock" Johnson getting a star on the Hollywood Walk of Fame and more inside…
It has been a rocky couple of months for singer/actor Tyrese as his ex-wife Norma Gibson brought him up on child abuse allegations and his public social media meltdowns. By the way, he blames his outbursts on him taking psych meds, speficially Rexulti.
Now that the dust has settled and he has received joint custody over his daughter Shayla, the Fast & Furious actor is speaking out for his first on-air interviews about what actually was going on behind the scenes.
The Black Rose singer stopped by HOT 107.9 to chop it up with "The Rickey Smiley Morning Show" about why he ultimately put a ring on his ex-wife Norma Gibson's finger. And it had nothing to do with love. In fact, it was more about being able to have his daughter near him so he wouldn't have to fly out of the country to spend quality time with her.
"Now I could say to [Norma], 'Listen. Norma, I love you. I appreciate you. I appreciate what we did. We had an angel but I married you to keep you in the country," he explained. "I never married you because I was happily married. You're from London. I married you because we had a baby on the way and I had to do whatever I had to do so that I'm not travelling all the way to London to spend quality time with my baby'."
Ouch. We're not sure about the statute of limitations on marriage fraud but um....
Ty went on to say his ex-wife suffers from pathological enmeshment as well as parenting alienation. He claims Norma is doing everything in her power to get their daughter Shayla to hate him, and he said manipulating their child mentally, emotionally and psychologically is child abuse.
Check it:
Ty also stopped by "The Ed Lover Show" where he addressed the story about him asking Will & Jada Pinkett Smith for money (he said he's NOT broke), why he said his wife was pregnant and his relationship with his co-star Dwayne "The Rock" Johnson. He also revealed he and Ludacris were offered a spin-off FIRST, but he turned it down because he felt like the franchise wasn't about him. He said he expected The Rock to do the same, but as you can see, that didn't happen.
Can't say we believe it, or would even believe Tyrese if he told us the sky was blue, but to each their own.
Also....
Tyrese also claims there's a Four Brothers sequel in the works. He made the announcement on Instagram, writing, "Paramount has officially greenlit a sequel to Four Brothers ( no lies here lol ). It's all over the net the script is almost done to the sequel and it's magic- Gonna be cool as hell just getting back with the crew."
He might not be lying about this one. Comingsoon.net also reported a sequel could be in the works. Time will tell....
By the way, Tyrese has wasted no time getting involved in Atlanta politics. He was spotted cheesing hard after councilwoman Keisha Lance Bloom became the 60th mayor of Atlanta HERE.
While we barely believe even the breath coming out of Tyrese's mouth these days, he does have one friend. His former TGT groupmate Tank. Go figure. Tank went on "The Real" today to promote his new album Savage and he had some words of support for his homie. Check it:
Speaking of The Rock, he remains unbothered by Tyrese speaking out. Becuase he's super busy and super booked.
Dwayne "The Rock" Johnson will be honored with a star on the Hollywood Walk of Fame. And he couldn't be happier. Peep the video above to watch how he found out about nabbing the honor. He'll receive his star on December 13th.
On the magazine front...
The former wrestler is featured in InStyle magazine's January 2018 issue. Below are a few excerpts from his interview:
LB: I want to know, quite honestly, how the eff you do everything you do with such rigor and positivity.

DJ: Thank you for that. I start with gratitude. I'm in my 40s now, my fourth level, you know, and for me, in my 20s, I thought I knew everything—didn't know shit. In my 30s, things started to cave in a little bit, and I began questioning myself and the decisions I was making. Divorce happened. Fatherhood was taking a challenging left turn. I was trying to figure out what kind of dad I wanted to be, so there was a lot of shit happening. Now, in my fourth level, I can honestly wake up every day, be present, and be grateful for everything. And I keep the tougher times I've had in the forefront of my mind—like when I was 14 and we were evicted from our house, or when I had 7 bucks in my pocket. The gratitude motivates me. I like to get up before sunrise, before the baby [Jasmine, 2] wakes up, so I can get my work done and get going.

LB: And what makes you feel weak?

DJ: When I'm unable to see a mistake I made right away. Maybe this is my Taurus mentality, but sometimes I don't see it and I don't see it and then, before you know it, I finally see it, and I'm like, "How the hell did I not see that? It was right in front of me all this time." And I have to look at the wake I left behind, the disappointment. That makes me feel weak.

LB: What role do you see yourself playing in the culture now and going forward into your fifth level?

DJ: I think the most important thing is authenticity, just being as real as I can be. But also flexible and open to change and other ideas and thought processes. Back when you and I last talked, I was at a turning point in my life, and I was having a tough time. I was hiding it, but I had a really hard time just being me. So now it's important that I'm just me.
You can read his full interview here.
The other night...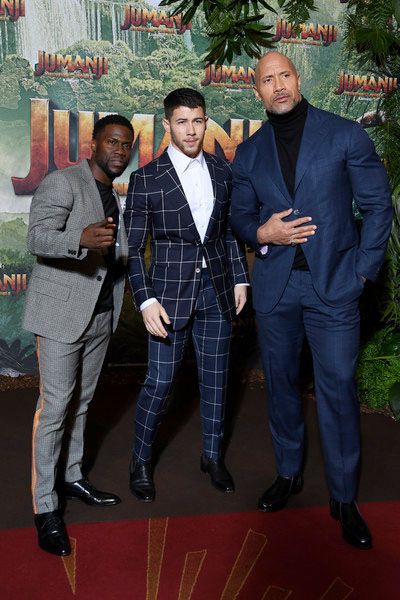 The Rock hit the red carpet with his co-stars Kevin Hart and Nick Jonas for the Jumanji: Welcome to the Jungle premiere at Le Grand Rex on December 5, 2017 in Paris, France. The film hits theaters December 20th.
Photos: Ty's IG/Getty
​ ​
​ ​ ​