Kevin Hart Escorts Eniko For 1st Post-Baby Appearance, The Rock Shows Off Girlfriend's Baby Bump At 'Jumanji' Premiere + Gabby, Yara & Janelle Do ART In LA
​
Dec 13 | by _YBF
​ ​ ​ ​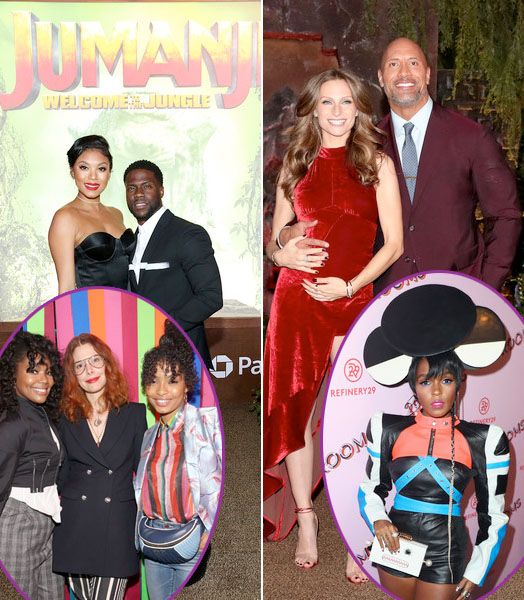 Post baby bods, growing baby bumps and Black Girl Magic! Peep pics of Kevin and Eniko Hart, Dwayne "The Rock" Johnson and his pregnant girlfriend Lauren Hashian on the red carpet, plus shots of Gabrielle Union, Yara Shahidi, Janelle Monae and more at another event inside…
Kevin Hart had his wife Eniko Hart on his arm for her first public post-baby appearance. He brought his wife (and the new mom) as his date to the Jumanji: Welcome To The Jungle Hollywood premiere.
Eniko gave birth to her first child (and Kevin's third) almost a month ago, and as you can see, she's already snapped back to her pre-pregnancy bod. As most celeb moms do, she has been keeping her fans up to date on her post-pregnancy progress on Instagram.(Don't come for us about that not being important. We're just reporting on the main thing chick talks about.)
The 33-year-old first time mom showed off her post-pregnancy curves in a black strapless Jason Bolden gown with a split, a white Chanel clutch and she finished her look with a red lippie.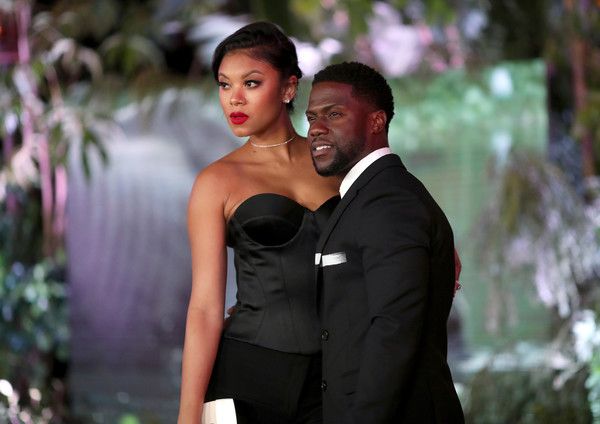 While making his way down the carpet, Kevin was asked what he wanted from Santa this year and he actually answered very openly, touching on his rough patch with that sex tape extortion scandal.
"Have I been naughty or nice? That's definitely a tough question for Kevin Hart right now, it was a tough year for me," Kevin told PEOPLE. "I had some bumps in the road," he continued in a more serious tone. "But the good thing is you take great steps backwards to take great steps forward. So now, I've recovered from some not nice times and now what I basically want is for Santa to know that I'm doing good and I'm doing better. Just to know I'm good guy."
Let's hope he learned his lesson.
Speaking of babies...
Oh baby!
Dwayne "The Rock" Johnson is about to be a dad again!
The wrestler-turned-actor is expecting his third baby with his longtime girlfriend Lauren Hashian, who is the mother of his 2-year-old daughter Jasmine Lia. The Rock has a 16-year-old daughter named Simone Garcia Johnson (whom he shares with his ex-wife AND MANAGER Dany Garcia).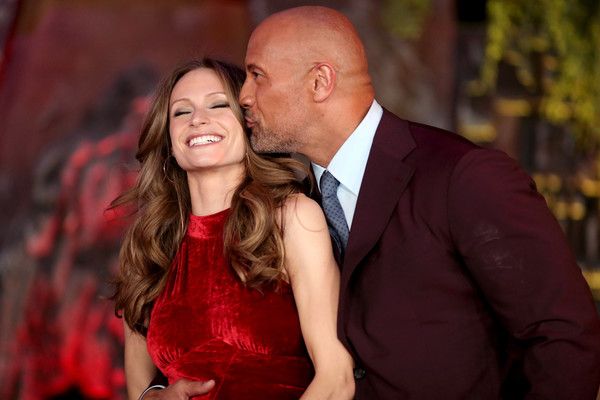 More pink will be decking the halls of the Johnson household as the couple is expecting another baby girl! They made the announcement via Instagram with their help of their daughter Jasmine.
Aww! Congrats to the couple.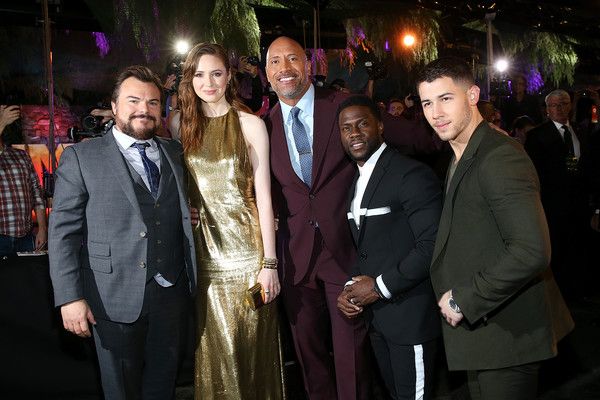 It wasn't all standing still and snapping pictures during the premiere. The movie's lead stars walked to fans to sign autographs:
Gotta love it.
Other YBF celebs hitting up the Hollywood premiere:
"Window Warriors" host Garcelle Beauvais brought her twin boys, Jaid and Jax, along as her dates.
Are we feelin' the plaid Christmas color suit?
"black-ish" stars Marcus Scribner and Deon Cole came out to show support.
Comedian/actor Bill Bellamy brought his whole family out for the family flick.
Actor Jason George is currently filming a new thriller titled Breaking In (also starring Gabrielle Union). But, he took time from his busy schedule to take his kiddies to see the family friend flick.
Speaking of Gabrielle Union....
The "Being Mary Jane" star linked up with "black-ish" starlet Yara Shahidi (who will be premiering her spin-off "Grown-ish" in January) for some fun at Refinery29's 29 Rooms: Turn It Into Art Opening Night Party held at ROW DTLA.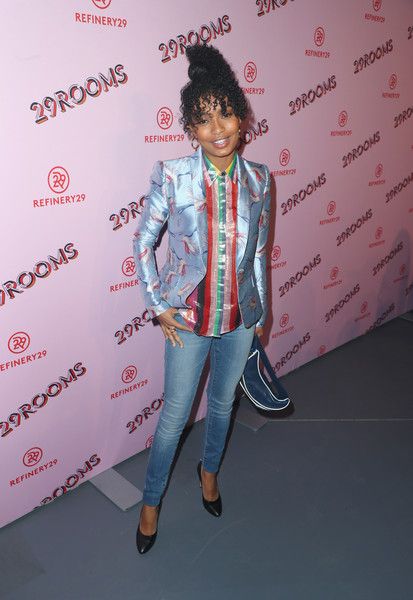 Gabby served up sophisticated fab, while Yara kept her ensemble young, fly and fresh.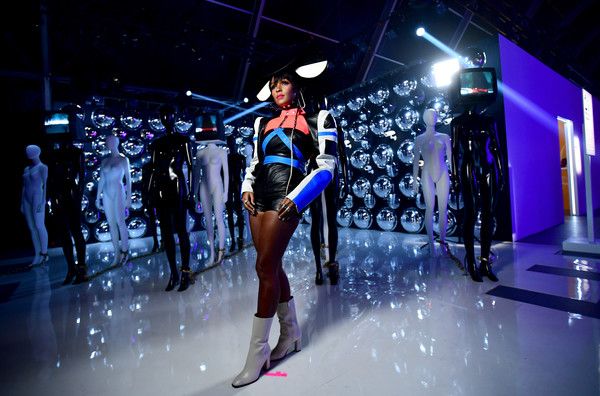 No surprise here. WONDALAND honcho Janelle Monae served up futuristic fab for the art event. On Instagram, she dished on the event writing, "wHaT'S YOuR fREQUeNCy? When @refinery29 asked me to collab on an installation , i was inspired by the ongoing conversations i had been having with my friends & fam around mass surveillance, cultural uniformity, and the weaponization of technology . The question that always comes up is is modern society waging an invisible war against the individual ? I wanted to speak on that . I wanted to create a space that allowed us to talk to ourselves and perhaps one another as we examine our own complex humanity."
"Thank you @Refinery29 for inviting me into the #29rooms space and giving me an opportunity to think out loud & collab w/ u on an installation inspired by questions we as a culture and i as an individual Are still trying to find answers to . Thanks everyone for coming and supporting . Check it out if you couldn't make opening night . It's up for the next 2 weekends @ The Row DTLA . It's interactive , enjoy"
Garcelle was also at the event, styling in a floral red DVF jumpsuit.
Beyonce's artists Halle x Chloe brought some funky looks to show some of their art. They captioned on Instagram, "last night!! so happy to have collaborated with @benjaminshinestudio on our audio visual piece for @refinery29 #29Rooms. representing harmony x sisterhood.. (sound on )"
The ladies caught up with Steve & Marjorie Harvey's daughter Lori Harvey, who was showing off her toned abs in a denim ensemble.
X-Men actress Alexandra Shipp hit the carpet in a blue Alcoolique ensemble.
EMMY winning writer Lena Waithe, the first black woman to win an EMMY for comedy series writing, was also in the mix.
Photos: Getty/Kevin's IG/Eniko's IG
​ ​
​ ​ ​