REAL TEARS: Former Friends Magic Johnson & Isiah Thomas Prove You Can Go From Decades Of Dislike...To Brothers Again
​
Dec 20 | by _YBF
​ ​ ​ ​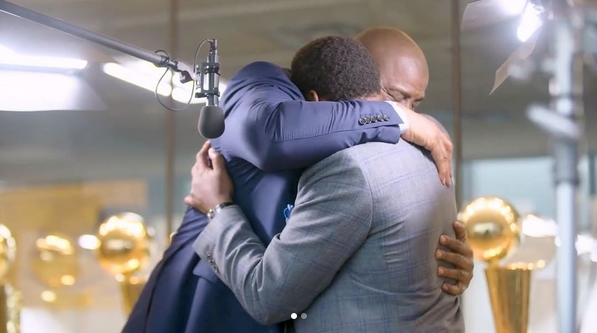 Three decades of not talking to each other ended in a very emotional reunion between Magic Johnson and Isiah Thomas. Peep their must see reconciliation inside…
Y'all know how it is. Your friend says or does something that really gets under your skin, soemone retaliates due to (justified) hurt feelings, and you all simply stop talking. You're both stubborn and carry out the disagreement way longer than it needed to go.
But when time passes and life happens, perspective and true friendship become everything.
That was the case between former friends/Hall of Famers Magic Johnson and Isiah Thomas. It all started in the 1980s when the Los Angles Lakers (Magic) and the Detroit Pistons (Isiah) played each other in two consecutive NBA Finals. The Lakers took home the championship trophy in 1988 and the NBA's then-resident bady boys, the Pistons, won the following year.
Outside of basketball, the two were beefing after Isiah made some slick comments and gay slurs about Magic when he learned the NBA icon had contracted HIV. Magic threw some shots back, calling him an a**hole and said he didn't want him on the Dream Team. In fact, it's reported Magic admitted he helped keep Isiah off the 1992 U.S. Olympic Dream Team in a book co-authored with Larry Bird.
Much time has passed, and much life has happened. The two have now reconciled, and we get to see it all happen in a must-see tv special.
The NBA icons let bygones be bygones in an emotional reunion on "Players Only Monthly" special that aired on NBA TV.

"This has been a tremendous day," Magic said. "My wife, my mother, my father have been saying y'all need to get back together. So when everybody called, I said no question we're going to do this. And just to sit across from you and relive those moments of fun, excellence, working hard, dreaming big. Who sits up at 19 or 21 dreaming of stuff we wanted to do and now we are here doing it."

"You are my brother. Let me apologize if I hurt you, that we haven't been together and God is good to bring us back together," Magic said.
The two former NBA ballers embraced through tears, and even shared a laugh over their troubled past. It's nice to see these two bury the hatchet after so many years. Congrats to them on rebuilding a friendship they both thought was over.
Check it:
"Let me apologize to you. If I hurt you. That we haven't been together."#PlayersOnlyMonthly pic.twitter.com/nDpfDfZek8

— NBA TV (@NBATV) December 20, 2017
Isiah Thomas also has a 19-year-old son, Zeke, who has told his story about being a gay man who was previously sexually assaulted. Zeke even dated Magic's son, EJ Johnson, on a recent season "Rich Kids of Beverly Hills."
Congrats to Magc & Isiah on mending their broken friendship! Definitely a powerful and teachable moment, and a rare moment of emotion we love to see black men express.
Photo: Screenshot
​ ​
​ ​ ​