SHEESH! Freedom Fighters TRASH H&M Stores In South Africa Over 'Racist' Hoodie, So The Country Closes All Stores After Model Boy's Mom Says 'Get Over It' + G-Eazy Walks Away From H&M
​
Jan 14 | by _YBF
​ ​ ​ ​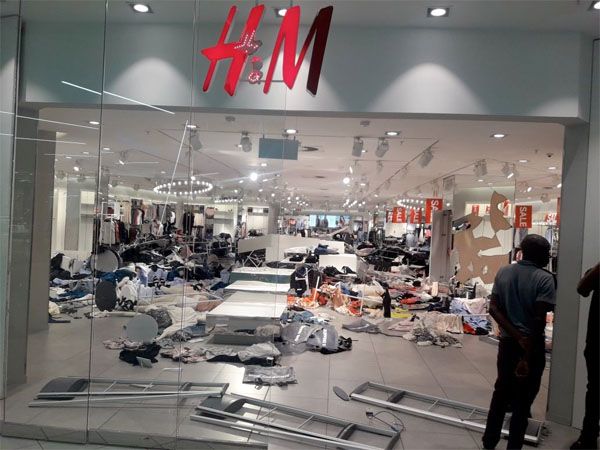 We've got all the latest updates in this H&M racist hoodie fiasco. Get it all inside…
Tensions boiled over in H&M stores in South Africa over the weekend as people organized to protest against the H&M's racist "coolest monkey in the jungle" hoodie ad.
Economic Freedom Fighters -- a radical and militant socialist political party started by expelled former African National Congress Youth League (ANCYL) President Julius Malema – rolled up in several H&M outlets in and around Johannesburg to trash them in protest against the racist kid's hoodie.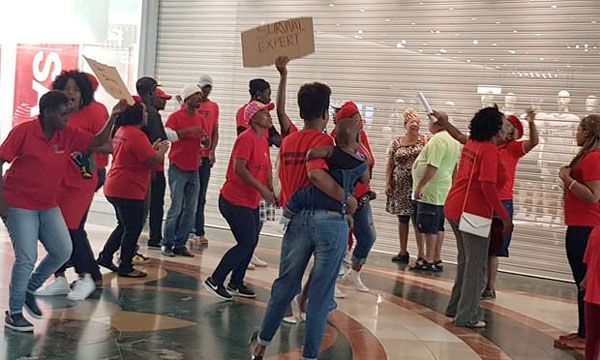 In pictures and videos floating around online, you can see protesters totally trashing the store, kicking down displays and yanking clothes off of the racks.
Check it:
EFF supporters at H&M WATCH the trashing... pic.twitter.com/Kw0xUaG4Cb

— Yusuf Abramjee (@Abramjee) January 13, 2018
EFF supporters protesting at H&M in @MenlynSA / @EFFSouthAfrica @Julius_S_Malema #NoToRacism pic.twitter.com/aOU6Sber5m

— Yusuf Abramjee (@Abramjee) January 13, 2018
Here is what the H&M shop in menlyn mall looks like. EFF member in Tshwane have given the shop 24 hours to close its doors permanently, they say failure to do so, will mean protests will continue outside of the store indefinitely. @TeamNews24 pic.twitter.com/DZpwfowbeV

— Alex Mitchley (@AlexMitchley) January 13, 2018
#EFF #H&M A group of EFF supporters earlier protested at the V&A Waterfront's H&M store against an ad using a black child to model a hoodie with the slogan "coolest monkey in the jungle" @BrandtKev - KB pic.twitter.com/Pt2X6LpzVT

— EWN Reporter (@ewnreporter) January 13, 2018
Doesn't look like they're accepting H&M's apology.
Floyd Shivambu from EFF spoke about the protests tweeting:
That @hm nonsense of a clothing store is now facing consequences for its racism. All rational people should agree that the store should not be allowed to continue operating in South Africa. Well done to Fighters who physically confronted racism. pic.twitter.com/cgdedYGoOj

— Floyd Shivambu (@FloydShivambu) January 13, 2018
[IMPORTANT NOTICE]: All the stores of that racist retailer @hmsouthafrica are CLOSED. Racism must fall and we will never tip toe around racists. pic.twitter.com/eqmw885k6X

— Floyd Shivambu (@FloydShivambu) January 13, 2018
The EFF also made it clear that they did not steal or loot any of H&M's merchandise:
What is left out in the entire public narrative on #EFFprotest against H&M anti-black racism is that Not Even A Single Item was Stolen or Looted by EFF Ground Forces. How much more peaceful and orderly can a protest be? #Asijiki

— EFF (@EFFSouthAfrica) January 14, 2018
While the EFF is wrecking havoc over the ad, the model's mom doesn't think it was racist at all: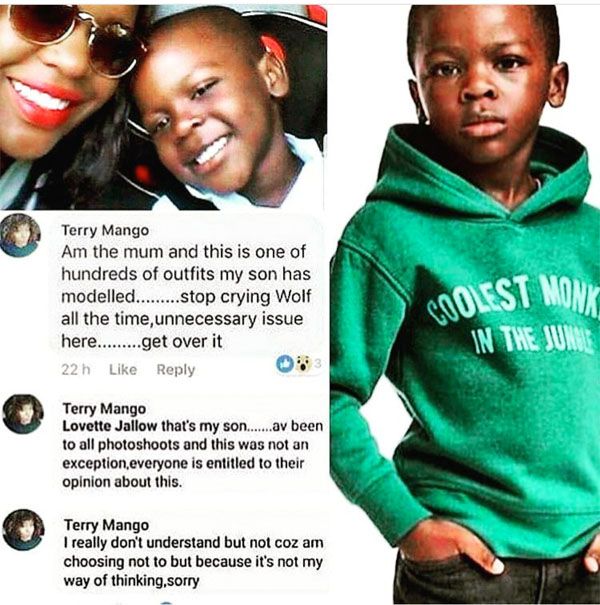 The young model's mom - who lives in Sweden - has gone on social media to respond to all the backlash. She doesn't feel like the ad was racist and she wants people to "stop crying wolf" and to "get over it." Peep her responses above.
Of course, people came for her neck over her Euro-African mindset about the situation. So she made her social media pages private.
By the way, there was a story going around that Diddy offered the young boy a $1 million Sean Jean modeling contract. However, the "report" originated from what seems to be a satire site. And it barely held water to begin with. Thank us later.
Also...
Rapper G-Eazy is following behind The Weeknd and has cut ties with the clothing giant. He first put up a Twitter post announcing he's detaching his name from the brand:
In regards to H&M pic.twitter.com/EuvWMmZ6XA

— G-Eazy (@G_Eazy) January 9, 2018
Then, he stopped by Power 105's "The Breakfast Club" to fully explain why he decided to end his partnership with the brand.
"I was excited about H&M to put clothes all around the world and do something that I liked and was cool with, and then I saw that happened, and it was like I'm not cool with it." He said felt the image was disturbing and "so racially and culturally insensitive."
Peep his interview above.
Now's a greater time than any to buy black.
Photos: Reuters/@JacaNews
​ ​
​ ​ ​