Meek Mill's Judge Reportedly Did NOT Urge Him To Fire Roc Nation, Find Out Who Did! + Jailed Meek Donates 10K To Colin's #10For10 Pledge
Jan 29 | by _YBF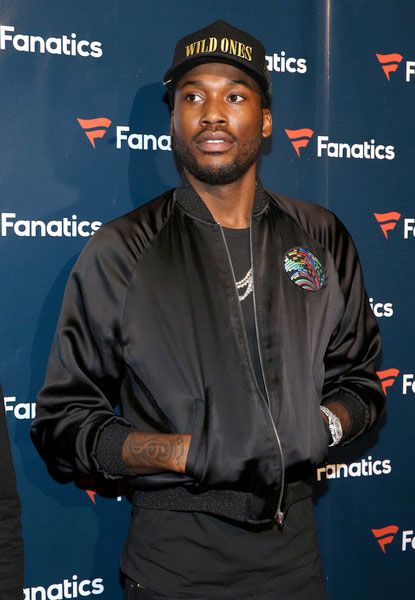 The facts about Judge Genece Brinkley, who presides over Meek Mill's case, are coming out and she reportedly was not the person who suggested Meek to get rid of Roc Nation. Find out who did and get the deets on his donation to Colin Kaepernick's cause inside…
Meek Mill's legal team has been putting in work to have his case thrown out, but apparently they aren't doing a good job at it. He's currently serving a 2 to 4 year sentence for a probation violation.
A while back, his team revealed Judge Genece Brinkley had requested the MMG rapper drop his management team, Roc Nation, for her friend/Philly native/manager Charlie Mack. He's a legend in Philly and even helped Will Smith at one point in his career.
Well, that's not true, according to legal documents.
TMZ got their hands on the court transcript and it wasn't Judge Brinkley who made the management suggestion. In fact, it was his probation officer who tried to get him to ditch Roc Nation.
It's said the probation officer tried to convince Meek saying Charlie Mack was a good influence on him and could help him turn his life around.
"What I like about Charlie, he is not invested in Meek Mills. He is invested in Robert Williams [Meek's real name]," the probation officer is quoted.
Back in December, Meek's lawyer called for the FBI to investigate Judge Brinkley. While it was believed she was the one doing some funny business, in court she tried to distance herself from it all.
"I don't want the record to suggest who your management is or is not," the judge said.
Meek's team of lawyers tried to get the sentence thrown out, arguing she was inappropriate, but that doesn't seem to be working in their favor.
Also, there's another formal court investigation that has been launched after a court clerk slipped Meek a note asking for money to pay for her son's tuition. WTH! Just fire everyone in the Philly court system and start over. This is nuts.
In good news...
The "Dreams & Nightmares" rapper chopped it up with former 49ers QB Colin Kaepernick while in jail and offered up $10,000 to contribute to his #10For10 pledge where Colin matches the donation. $20,000 will go to Philadelphia's Youth Service Inc., an organization Meek has worked with in the past. Peep the clip above of Colin sharing the news.
Photos: Getty/YouTube