Meek Mill's Lawyer Whips Out Court Receipts To Try To PROVE Judge Is Biased + Now That DMX Is Back In Jail, Here's What He's Doing
​
Feb 01 | by _YBF
​ ​ ​ ​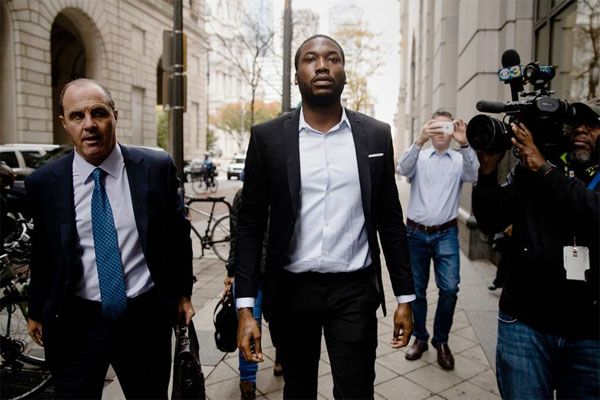 If you're confused about what's going on in the Meek Mill case, his lawyer is setting the record straight when it comes to Judge Genece Brinkley's alleged inappropriate behavior in the court room. Get those deets, plus find out the reason why DMX relapsed and is being hauled off to jail AGAIN inside…
Earlier this week, it was reported that Judge Genece Brinkley, who presides over Meek Mill's case, that the rumors about her making a suggestion about who should manage his career weren't true.
Previously, Meek's team made claims that Judge Brinkley suggested he fire Roc Nation and re-hire her friend/Philly native Charlie Mack.
In the report and court docs that came out earlier this week, it stated that Judge Brinkley was actually not the person who made the management suggestion and that it was his probation officer.
But, not so fast. The transcript TMZ got their hands on wasn't the FULL transcript.
Now, Meek's lawyer has come forward with ALL the receipts to prove what they've been saying the entire time.
According to his lawyer Jordan Siev, the MMG rapper (who's currently serving a 2-4 year prison sentence for violating probation) terminated his managerial contract with Charlie Mack back in 2011. He said over the course of several years, Meek's probation officer (who was appointed by Brinkley), the assistant district attorney and Judge Brinkley have made multiple references to Charlie Mack and issues with his new management team.
"What we see repeatedly is not just a request...for Meek to replace his management. Time and time again specifically mentioning [Charlie Mack]," Siev tells Angie Martinez during her radio show recently.
Siev whipped out court transcripts from 2012 and pointed out numerous times where Charlie Mack was mentioned in regards to Meek's management.
Siev said the judge is acting inappropriately in this case and needs to step down from it.
"She's [Judge Brinkley] assumed a role that's gone beyond the judge's judicial function and getting involved with things like his management. It's just simply not appropriate and she can't fairly provide over this case," Siev said.
Meek's lawyer said they sought a recusal motion that she still has not responded to two and half months later. Siev said he couldn't comment on whether or not the FBI is investigating her.
Check out his full interview for all the details below:
It's one thing for the judge to recommend he get new management if she wasn't pleased with the way they were handling his probation guidelines, but is it another to keep specifically mentioning who he should hire as his manager? Or is this just more proof she's looking out fr his best interest and trying, again, to save him from himself?
By the way, that court clerk who slipped Meek a note requesting money to pay for her son's college tuition was fired.
In other legal news...
Troubled rapper DMX is back in jail for the umpteenth time.
The father-of-15 was hauled off to jail from the court house after failing a drug test, which is a direct violation of his probation in his tax evasion case. Sighs…
Judge Jed Rakoff said X is a flight risk, so he'll be sitting behind bars until his sentencing on the tax evasion charge in March. TMZ reports X tested positive for opiates, cocaine and oxycodone.
So, what drove the NYC rapper to relapse? Well, his attorney, Murray Richman, argues X took drugs to cope with his one-year-old daughter being hospitalized with a 104-degree fever. Umm…with 15 kids, we're sure he has gone through one of his children having a fever before. Come on, X!
Apparently, he will also be going the super healthy route this time around in prison to aid in him trying to fix his life.
The "Party Up" rapper had promised the judge to obey bail conditions and was even admitted himself into rehab. It's reported he left the rehab center to see his daughter in NYC.
What will it take for X to get his ish together?
BONUS:
Rapper Troy Ave just released visuals for his track "2 Legit 2 Quit." And apparently, the animated video treatment alludes to him testifying in court against Taxstone. In case you didn't know, Taxstone plead guilty in the Irving Plaza shooting.
GOD said "u ain't killing shit" pic.twitter.com/xdob2MCPOv

— TROY AVE (@TroyAve) February 1, 2018
In the clip, Troy touches on the Irving Plaza shooting and another incident where he was shot in a vehicle. A character in the clip is wearing a #UNSAFETHO sweatshirt, which appears to be a parody of Taxstone's tagline "#BeSafeTho," according to VLAD. Peep the video above.
Today, Troy Ave posted this:
No fuk niggaz formed against me shall prosper - https://t.co/YjE4QpDmVl pic.twitter.com/C4IK7VbtQj

— TROY AVE (@TroyAve) February 1, 2018
Welp.
Photos: AP/Getty
​ ​
​ ​ ​