(Hologram) Prince Will NOT Be At The Super Bowl, Neither Will Janet Jackson
​
Feb 04 | by Natasha
​ ​ ​ ​
While Janet Jackson's and Prince's names have been brought up a million times before tonight's big game, neither will have anything to do with the Super Bowl. Deets inside on what Janet just said, and Prince's family and friends shooting down halftime hologram rumors...
No, Janet Jackson is NOT showing up for halftime at tonight's Super Bowl, despite folks really trying to make fetch happen.
Halftime performer Justin Timberlake said late last week he would not be bringing Janet on stage for a surprise performance. The rumors continued anyway. Folks thought they may reunite and Justin may do her an apologetic favor of giving her stage time to "make it right" after she was dragged for filth for their precious Nipplegate scandal.
But, nah. Janet's got better things to do. She posted to her social media:
— Janet Jackson (@JanetJackson) February 4, 2018
So there you have it. By the way, folks are still protesting the NFL and now, also, Justin Timberlake who they feel doesn't deserve a second chance since Janet wasn't given one. #JanetJacksonAppreciationDay is trending on Twitter instead:
Ha.
As for the Prince rumors, TMZ gave out a spoiler alert yesterday after one of their "sources" allegedly saw JT's dress rehearsal. The site claimed the singer would be incorporating a hologram of the late Prince - on the biggest stage in his home of Minneapolis, Minnesota - during his halftime show.
Folks lost their sh*t. Not only is it well know Prince hasn't the biggest fab of the likes of Justin Timberlake, but he also thought holograms were demonic and wanted no parts.
I do think it's possible they could do a tasteful tribute. JT is genuinely a fan. But if they screw it up… Prince said, in a 1998 Guitar World interview, that some of the posthumous virtual performances were "demonic". pic.twitter.com/eZL52Rdv2G

— Anil Dash (@anildash) February 3, 2018
Sheila E. in particular was pissed at the news.
Prince told me don't ever let anyone do a hologram of me. Not cool if this happens! https://t.co/khtCjXr2mY

— SheilaEdrummer (@SheilaEdrummer) February 3, 2018
Twitter was on fire with pissed fans who already think JT is a culture vulture in the worst way, and now he would be exploiting a dead black artist for his own benefit? Hmph. Sheila seems to have gotten in contact with Justin, and now its not happening:
Family, I spoke w/Justin 2nite and he shared heartfelt words of respect for Prince & the Purple fans. I look 4wrd 2 seeing what I'm sure is going 2 be a spectacular halftime show. There is no hologram. pic.twitter.com/mhVXBfBa1B

— SheilaEdrummer (@SheilaEdrummer) February 4, 2018
Prince's family also chimed into the convo saying: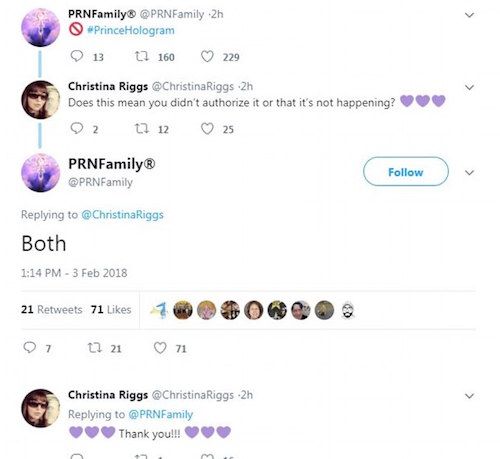 It's unclear if the rumor was just wrong to begin with, or if Justin changed his mind. Either way, Prince will not be sharing a stage with Justin Timberlake tonight. Or, probably, ever.
Photos: Getty
​ ​
​ ​ ​