The (Gorgeous) New SI Swimsuit Edition Cover Model Made #BlackGirlMagic History – And Michael B. Jordan DEF Noticed
​
Feb 13 | by Natasha
​ ​ ​ ​
Black History Month just got a little more beachy...and topless. Danielle Herrington is the 2018 Sports Illustrated Swimsuit Edition cover girl, and she's only the third black woman to do so. See how Tyra Banks surprised her with the news, and how Michael B. Jordan already made it KNOWN he's a fan. Mmhmm....
Well.come.on.through.then.Danielle!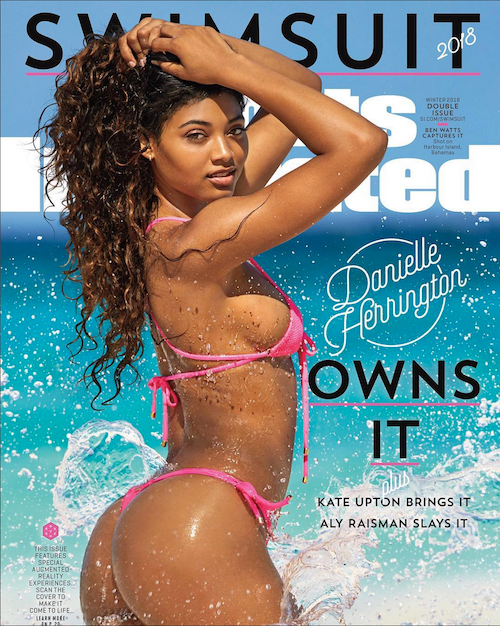 You don't need to make a major business move or invention or kill it in a sport or on-screen to go down in the Black History Month books. If you can slay a bikini this well, you get Tyra Banks, Michael B. Jordan and a Sports Illustrated Swimsuit Edition cover.
24-year-old Danielle Herrington came out of nowhere to become only the third black woman to grace the cover of SI's iconic Swimsuit Edition. Oh, and she's from Compton.
As one of the freshest faces to hit this issue, she could have fooled us. Chick's whole spread is Pro Status. Even Tyra Banks, one of the three brown queens to grace the cover (Beyonce is the other), took notice. She surprised an emotional Danielle with the news in the Tyra-ist of ways - extra AF. But we love it.
Michael B. Jordan is still on a mission to convince us he doesn't mind a little sprinkle of black girl magic in his life. So he crashed her Facebook Live she was doing this morning from the set of "Good Morning America."
Peep the 2:28 mark below:
"Keep doing what you're doing, it's an inspiration," Jordan told Danielle after the two hugged it out.
In other words, "Hey big head. Proud of u!"
Mmhmm. We're not even mad Mike. We hear she's single, btw.
Between Danielle and Meghan Markle (and the Williams sisters, of course), Compton girls are killing the typically-reserved-for-white-women game. Keep sprinkling ladies.
Swipe though 25 of our fave pics from Danielle's spread below. Including a few topless gems. Thank us later.
Photos: Ben Watts
​ ​
​ ​ ​