Oprah & Tiffany Haddish Are Too Booked & Busy To Worry About Trump – Their EPIC Meet Up & Tiff's HUGE New MTV Hosting Gig
Feb 22 | by _YBF
Grab your tissues because Tiffany Haddish will have your eyes tearing up after you see her meet Oprah...again. Also, Tiff has a huge new hosting gig coming down the pipeline. In political news, Lady O has responded to Trump's shade and she's totally unbothered. Get it all inside…
It's one thing to meet someone you've always admired. It's another to meet OPRAH.
We've said this before, but 2018 is clearly going to be Girls Trip star Tiffany Haddish's year. Like seriously.
The comedienne appeared on the "Ellen Degeneres Show" today…the same day media mogul Oprah appeared as well. When Tiff sat down with Ellen, the daytime talk show host assured her Lady O had already left the building, but wanted to know everything about her "business plan" she came up with for a company with O.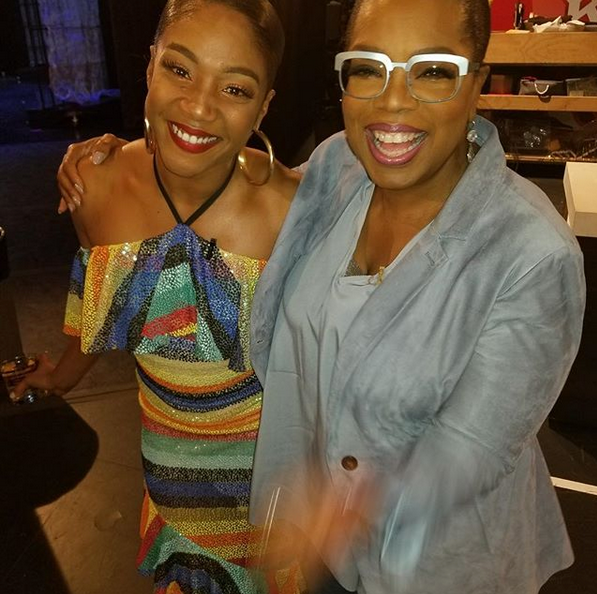 If you didn't know, Tiffany is really into vegetables and grows her own in her backyard. And as most of us know, Oprah is a veggie fanatic as well. During the interview, Tiffany shared it would be a dream to team up with Oprah to sell some of their vegetables at farmers' markets across the nation.
Then, the Girls Trip breakout star shared her story about her first run-in with Lady O when she was an extra on Their Eyes Were Watching God, which Oprah produced. The media mogul noticed Tiffany and walked up, spoke to her and wished her luck on her career. After the meeting, Tiffany said she wrote Oprah 6 letters, but never got a response.
Well, Lady O explains just why she never responded, walking out on stage as a surprise to Tiffany. Let's just say, our eyes were filled with tears of happiness to see the reunion.
Check it:
Ugh. We can't even lie. We would be the exact same way.
Not only did Tiffany get to chit chat with Lady O, she also did a cooking segment where she made her special "Joyful Collard Greens." So appropriate since they're both veggie lovers.
Y'all, this segment will have you laughing your *** off. It's hilarious. Check it below:
Hirlar!
By the way, Tiff reposted her picture with Oprah on her Instagram page THREE times. "O JUST SO YALL KNOW I POSTED IT THREE TIMES BECAUSE I AM THAT DAMN HAPPY! YES! YES! YES I CRIED AND YES I ASKED HER TO BE MY AUNTIE! SO ALL THANKS BE TO GOD FOR ALWAYS COMING THRU YOU HEAR MY PRAYS AND ANSWER ACCORDINGLY AMEN!," she captioned.
Switching gears...
Oprah finally offered up a response to No. 45's social media shade he posted earlier this week. In case you missed, he called Oprah insecure and bias. Peep the tweet:
Just watched a very insecure Oprah Winfrey, who at one point I knew very well, interview a panel of people on 60 Minutes. The questions were biased and slanted, the facts incorrect. Hope Oprah runs so she can be exposed and defeated just like all of the others!

— Donald J. Trump (@realDonaldTrump) February 19, 2018
He's so immature and annoying AF. However, Lady O isn't wasting her time on negative energy.
She responded, "I woke up and I just thought … I don't like giving negativity power, so I just thought, 'What?!'"
Find out everything she did (yes, she went back to see if what he said had any merit) when she found out about the tweet in the video above.
UNBOTHERED.
In other news...
Like we said, Tiffany's year has kicked off on an epic start. Outside of all the new movies and TV shows she has coming down the pipeline, she starred in a Groupon commercial during the Super Bowl (and she's the new spokesperson), she met her idol Oprah. And now she's about to host an awards show. Thankfully, because we're so over the same white men hosting awards shows.
"The Last O.G." actress will be hosting this year's MTV Movie & TV Awards! Woot! She'll be bringing the laughs during the show going down in LA, set to air Monday, June 18th on MTV.
By the way, "The Last O.G.," also starring Tracy Morgan, premieres April 3rd at 10:30p EST on TBS.
EXTRAS:
1. Word on the curb is that Yara Shahidi is in negotiations to star in The Sun Is Also a Star movie adaptation. STORY
2. Ginuwine will star in "Your Husband Is Cheating On Us," a behind-the-scene look at creating the JD Lawrence play of the same name, set to premiere Sunday, April 1 at 9pm ET/PT. We see the former "Celebrity Big Brother" star is flexing those acting chops.
Photo: Ellen Show/Oprah's IG