Is Bow Wow Pulling PR STUNTS? There's A Viral Video Of Him Getting Ambushed & He's (Kinda) Firing SHOTS At Chris Brown. What's Really Good?
​
Mar 14 | by _YBF
​ ​ ​ ​
Bow Wow just turned 31 and here he is doing the most. He's making headlines over a video of him getting ambushed going viral AND he's firing shots at his (former?) friend Chris Brown...kinda. More inside…
What's really good with Bow Wow?
Well, we know he has a new album titled Greenlight 6 coming down the pipeline and he just recently celebrated his 31st birthday. Now, he's all up in the headlines for foolery.
The Internet is abuzz over a video of Bow Wow getting ambushed has surfaced. Word on the curb is that a rapper named Cheeks Bossman ran up on him allegedly over some words Bow Wow may have said about rapper Future. A man in an orange shirt yells out, "Whats up with that Future shit?" as he proceeds to trample him.
A few months ago, there was speculation that Future was messing around with Bow Wow's daughter's mom Joie Chavis. And Bow Wow being the person he is threw hella shade on Twitter. As y'all already know, Bow Wow and Future used to date Ciara as well. It's still unclear why this rapper Cheeks Bossman got himself involved, if its really him.
Peep the clip below:
Following the video being leaked, Bow Wow hopped on Twitter and Instagram Live to respond. From what we gather, the incident happened about 5 months ago backstage at a concert. It didn't go down how it looked in the video, though, at least that's what Bow Wow claims.
He swore on his daughter "that sh*t didn't slide like that." He said there was a girl live tweeting who actually saw what went down and she can tell the full story. Peep the receipts below:
REAL niggas dont condone nor accept sucka shit specially by sucka ass niggas clout chasing. We on this music. 5 month old edited ass vids. Stop it 5

— Bow Wow (@smoss) March 14, 2018
And here are the live tweets from the alleged young lady who witnessed the altercation in November: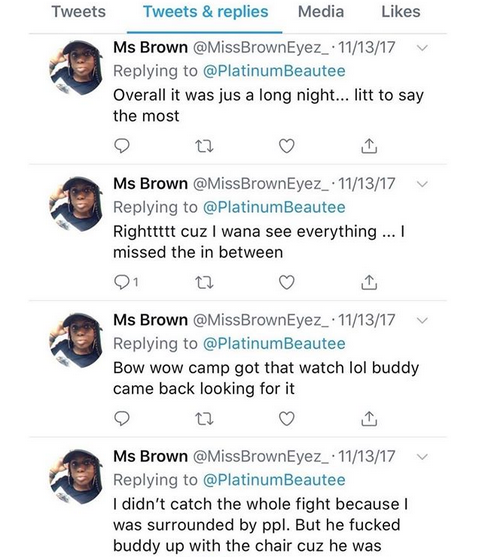 Cheeks Bossman also responded to the video and says what you saw is what really happened:
Oh, and there's more...
Despite announcing he was retiring from rap, Bow Wow aka Shad Moss is back on the music scene.
He just released the first track "Drunk Off Ciroc/Emotional" where he lets everything off his chest about his "beef" with his "brother" Chris Brown.
"I skipped a show just so I could see you Chris/Day ones, me and you been through a lot of sh*t/No matter what you gonna always be my little brother/And it kill me when we in public and we ain't speaking to each other/ This sh*t crazy/Oh my fault, Brown, this shit brazy/We grown men, let's turn this shit around."
Peep the full video above.
Shad also hopped on Instagram to explain the process behind "Drunk Off Circo/Emotional":
However, Breezy seems totally confused:
Soo... Bow Wow is now writing love songs to Chris Brown sayin he misses him?! Chris's comment has me hollering pic.twitter.com/4GhmGNJdCG

— (WhoIsKeahJai) March 13, 2018
So what do you all think? Stunts for album sales, or nah? He IS the king of the #BowWowChallenge, afterall.
Photos: Bow Wow's IG
​ ​
​ ​ ​