Cari Champion Asks What We All Want To Know About Colin Kaepernick v. Johnny Manziel, Johnny Uses His White Privilege To Respond
​
Mar 25 | by Natasha
​ ​ ​ ​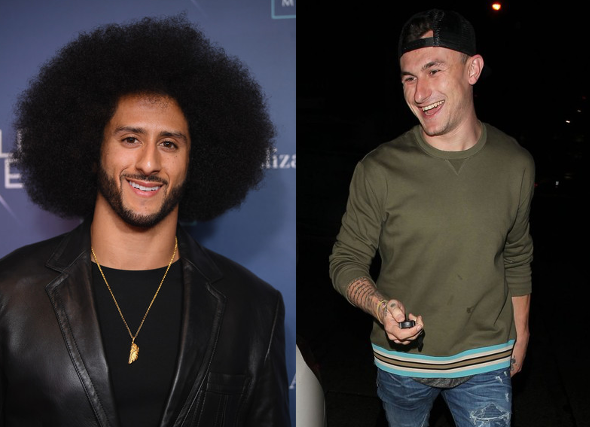 While mainstream media has been damn near drooling over troubled former NFL QB Johnny Manziel making a comeback, Colin Kaepernick, who never got into any legal trouble, is still unemployed.
Cari Champion is calling folks out, and Johnny himself used his white privilege to respond in a surprising way.
We all know Colin Kaepernick has been blackballed by the NFL. Ever since he kneeled in protest during the national anthem before games, simply as his way of raising awareness of racial injustices in America, it's been a rocky time in the NFL. And folks' true colors are showing.
Johnny Manziel, the troubled Heisman trophy QB who never quite lived up to his Texas A&M fame, has been revamping his image with a new wedding, rehab and letting folks know he wants back in. Interestingly, media is salivating and praising him even at the thought of his return, despite the fact he's been in MAJOR trouble with the law - multiple drunken issues and arrests, allegedly assaulting women, etc.
But when it comes to a certain other QB, media either jumps through hoops to give excuses for why Colin hasn't been picked up by a team, or flat out says he doesn't deserve to be back in the NFL. Colin has even made it known he still hits the gym and runs drills daily to stay in the best form possible just in case an NFL team calls. He still want to play. And deserves to.
"Sports Nation" host Cari Champion recently used her platform at her new gig to call out this hypocritical foolishness:
But it's Johnny's response that kinda has everyone shook. Unlike many of the white NFL players who choose to remain quiet and turn a blind eye to what's really going on, Johnny spoke up and agreed with Cari. Peep his tweets below:
And there it is. The only way racial inequalities will change is when white people also use their privilege to speak up in support of and amplify the voices of the marginalized.
Photos: Getty/Fame
​ ​
​ ​ ​